Wondering how to travel from Tokyo to Fuji? Here's a Tokyo to Fuji travel guide that lists all the ways you can travel from Tokyo to Fuji and back. Check it out!
Mount Fuji is one of Japan's most popular tourist attractions. It is the tallest mountain in Japan at 3776 meters. An active volcano on the Yamanashi-Shizuoka border, it dominates the landscape.
The mountain can be seen from Tokyo and Yokohama on a clear day.
The well-known location can be reached in a number of different ways. Many modes of transportation are available; you can even take a walk or climb your way to it. To help you plan a trip from Tokyo to Mount Fuji, we've put together a detailed travel guide here.
Tokyo To Fuji Travel Guide
Did you know that Mount Fuji is 100 km (62 miles) away from Tokyo? Yes! There are many ways to reach the destination. Let's talk about how you can reach there using transport and how much time it will take for you to reach the location.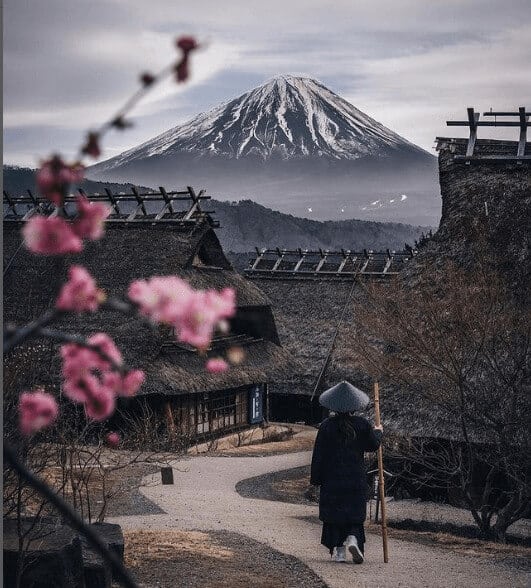 Travel From Tokyo To Fuji By Train
If you are the one to pick public transport to travel, the train is the best way to reach Mount Fuji. There are various trains that depart from Tokyo that will stop at Mt. Fuji Station. Here's a list of trains that run regularly.
 Fuji Excurison Limited Express Train : The train was recently started, and it travels from Tokyo's Shinjuku Station to Kawaguchiko. Shinjuku Station is regarded as one of the busiest in the world. Previously, passengers had to change trains at Otsuki Station to get to their destination. A one-hour and 52-minute ride to Mt. Fuji Station is now possible with the introduction of the Fuji Excurison train service. It costs $38.38 for a one-way ticket (3940 yen). This is the fastest route to the summit, so we suggest you take it.
JR Limited Express Train: This train travels between Shinjuku and Matsumoto. To reach Kawaguchiko station, you will have to change trains at Fujikyu Railways. There is an additional fee for this service. The trip takes over 2.5 hours and costs $30-$38 (3270 yen) one-way. Given the limited number of seats, you'll want to confirm whether it runs on weekdays or weekends before reserving a seat. It can vary from time to time.
JR Chuo Special Rapid Service: The Limited Express Train follows the same route as this train. The only drawback is that it will take an additional 20 minutes to get there. Additionally, it is cheaper than the other two options and you can travel for free if you have a JR pass. The ticket costs $25.13 and the journey takes 2 hours and 50 minutes (2170 yen). This train will take longer, but it is less expensive to ride.
Travel From Tokyo To Fuji By Bus
The bus is the most convenient and least expensive mode of transportation. There are numerous bus stations in Tokyo, but it's important to choose wisely. Many passengers prefer to take the bus at Tokyo's main bus station to avoid any mishaps.
The only drawback to taking a bus tour is that you might miss out on some of the more picturesque parts of the route.
Numerous buses travel to Mt. Fuji on a regular basis, as well as during the climbing season. Let's begin by looking at the regular buses.
Regular Buses
Commuters can take regular buses between Tokyo and the greater Fuji area. The bus will arrive at its destination in 2 to 2.5 hours, depending on traffic. You need to plan your day around the fact that there are more buses in the morning than in the afternoon.
To make the most of your time on the mountain, we recommend waking up early and taking the early morning bus. A single trip on a regular bus costs $18.60 (2000 yen).
While going to Mt. Fuji, these buses stop at four beautiful destinations. You can get down for some sight-seeing.
Kawaguchiko Station: This place is well known for its lakes.
Fuji-Q Highland: It has the world-famous amusement park.
Yamanakako Lake: Located near a small village, this place has the third largest lake in Japan.
All these stations are quite far from Mt. Fuji. To reach the magnificent mountain, you will have to get to Fuji Subaru Line 5th Station, which is the basecamp. From here, you can take another local bus at Kawaguchiko station that will take another 50 minutes. The local bus is scheduled every hour. 
Climbing Season Buses
The climbing season begins in July and ends in mid-September. You will get access to the climbing trails, so you can bring out your inner trekker. There is a direct bus from Shinjuku Expressway Bus Terminal, which is located outside the City Center.
From here, it will take you around 2.5 hours to reach the 5th station. We recommend that you make a reservation in advance, given that the buses fill up quickly. The cost of a ticket is $27.40 (2950 yen) for a single trip.
Traveling From Tokyo To Fuji By Air
Unfortunately, there are no commercial flights from Tokyo to Mt. Fuji. The only way you can travel by air is on a private chartered plane. The duration is 1.5 hours and along with it you will get breathtaking views. The mountains, the cityscape of Tokyo and many more. Before you opt for this, please check their website. 
Travel From Tokyo To Fuji By Car
Traveling by car with friends can be an excellent alternative if you don't enjoy taking public transportation. It took me about 2 hours 20 minutes to reach Fuji via car.
One route has a distance of 139 kilometers, while another has a distance of 162 kilometers.
While driving to Mount Fuji, you can make multiple stops to take in the breathtaking scenery. There are a number of villages where you can get to know the locals and learn about their culture. Along the way, you'll find rest stops and other amenities.
To get to Mount Fuji, you can save money by renting a car in Tokyo. Rent a Car, for example, is one of many car-rental services.
Please check the details of the services provided before proceeding. Some of them have rules, such as requiring the driver to be of a certain age, or requiring the person to know Japanese. To get around, you can hire a car for an hourly fee.
Check this website to get more details. 
Hiking Trails
If you like adventure, you can also go hiking. You will need to be prepared for the whole trip, given that it takes over 29 hours from Tokyo. That too, on foot! While there are popular hiking trails, it is best to go with a group. The total distance to be covered is 124 km. (Tokyo to Mt. Fuji)
It is up to you to choose the best path for your needs, even though there are many options. The weather can change at any time, so you need to be aware of the situation.Check out the hiking trails below:
In Yamanashi Prefecture, the Yoshida Trail is the most popular one. Take a direct bus from Tokyo and then start hiking. There are numerous amenities along the way that you can use. It takes six hours to ascend and four hours to descend. It's possible to take a break and catch the sunset from the top of the mountain. It can get crowded during the season, so plan your day accordingly. Stop at huts or stations and start hiking the next day, if you prefer. Our top pick for getting around here.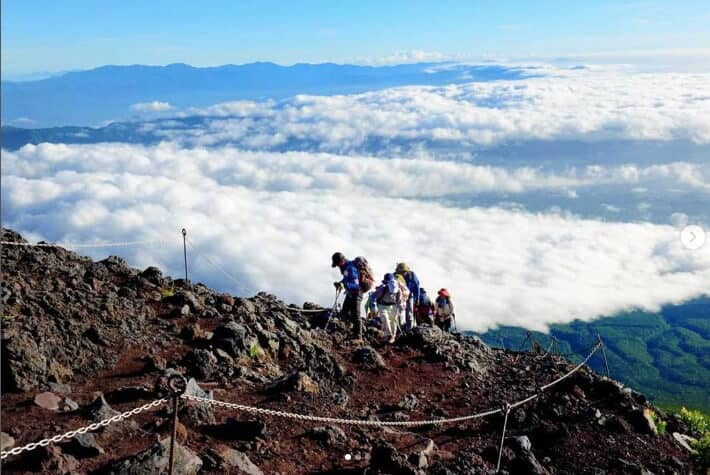 The Fujinomiya Trail is a different option altogether. As an alternative, this route is a bit more difficult, but it takes less time. There are a few conveniences to be found along the route. Ascending it will take you 4.5 hours, and coming down will take you 2 hours.
Another option is the Subashiri Trail, which is less crowded and offers a few conveniences. There's also a connection to the Yoshida Trail at the eighth station. The ascent time is 6 hours and the descent time is 3 hours.
The Gotemba Trail is the longest and most difficult route. With its lower elevation, it requires seven or more hours of climbing time to reach its top. In order to get around, you will need to bring your own food and water. It takes three hours to descend.
Conclusion
Now that you've learned about the various ways to get to Mount Fuji, you can choose the one that's best for you.
Tourists can enjoy a wide range of activities in the area around the mountain. They have beautiful train stations, and you can visit lakes, amusement parks, and even ski there. We advise that you check the weather and plan your trip at a time that is convenient for you.
It's possible that the mountain will be obscured by cloud cover on certain days. If you don't want to leave the city, you can catch a glimpse of Mount Fuji from Tokyo's observation decks.
Finally, go to the beautiful and magnificent mountain to unwind, watch the sunrise or sunset, and spend time with your loved ones!