We curated a list of made in Japan shoe brands for men. Check it out!
If you're looking to explore beyond Western shoe brands then check out some of the shoe brands made in Japan right below!
It's about time we perceive Japan as the fashion capital of the world because that's where most fashion trends emerge.
Be it streetwear, formals, premium clothing, or even footwear, the Japanese know how to craft bold designs in a sophisticated manner.
When it comes to footwear, 'Made In Japan' is a distinct trademark of its own since it gives the buyer a sense of assurance that they're paying for the finest quality products.
Japanese shoe brands have long since remained in the industry for crafting sneakers with ingenious designs and structure while still ensuring the wearer feels cozy.
| | | |
| --- | --- | --- |
| Made in Japan Shoe Brands | Best Sellers | Price Range |
| Shoes Like Pottery | 01JP High-top Sneakers, 01JP Low-top Sneakers, Mid-top, Sneakers, Slip-on Sneakers | $100 – $250 |
| Hiro Yanagimachi | The 30s High-top Sneakers, The 30s Low-top Sneakers, The 60s High-top Sneakers, The 60s Low-top Sneakers | $300 – $500 |
| Asics | Gel-Kayano 27, Gel-Nimbus 23, Gel-Cumulus 22, Gel-Quantum, Infinity 2, Gel-Excite 8 | $80 – $250 |
| Onitsuka Tiger | Mexico 66, Serrano, GSM, Ultimate 81, MEXICO Mid Runner | $60 – $150 |
| Scotch Grain | Leather Hi-top Sneakers, Leather Low-top Sneakers | $300 – $600 |
| Losers | Schooler, Schooler Low, Classic, Slip-On, Winner | $80 – $150 |
That's why we've curated some superior shoe brands that are made in Japan. Read further to know more!
Popular Japanese Shoe Brands For Men
Shoes Like Pottery
Shoes Like Pottery deserves first place on the list because this Japanese shoe brand has been cautiously hand-crafting sneakers and shoes since 1873.
Shoes Like Pottery is hands down the most unique shoe brand that originated from Japan all thanks to its out-of-the-ordinary shoe-making techniques.
This brand utilizes vulcanized rubber to craft the soles of the shoes by baking the rubber in an oven just like how it's done in pottery.
Once the soles of the shoes have been prepared with vulcanized rubber, the rest of the footwear's structure is also handcrafted using leather to ensure that the quality of the shoe is exceptional.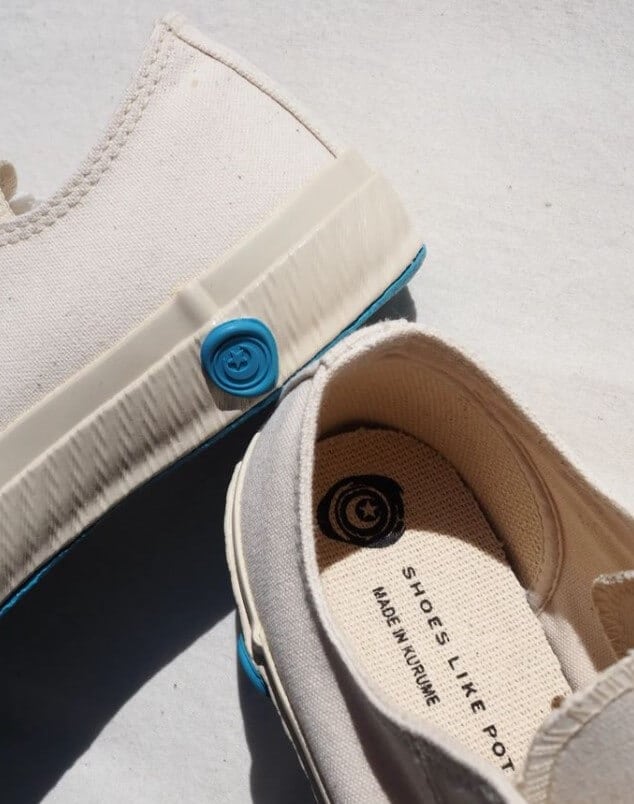 The dexterous method of crafting shoes enables Shoe Like Pottery to design flexible and breathable shoes that are comfortable to wear.
You'll never find Shoes Like Pottery sneakers to be a burden on your feet because they keep them cool and it's almost like you're not wearing any footwear at all.
Shoes Like Pottery manufactures casual shoes and sneakers for both men and women. The most popular colors of shoes sold by Shoes Like Pottery are black and white.
One notable aspect of this shoe brand is that all their shoes have sky-blue soles thus making their footwear more recognizable.
Although their shoes are in the affordable range, there are only a limited number of colors of shoes crafted by Shoes Like Pottery.
Hiro Yanagimachi
Hiro Yanagimachi is a shoe brand made in Japan and founded by Hiroyuki Yanagimachi who became a professional shoe designer in 1999.
Hiroyuki decided to expand his wisdom in shoe-making by collaborating with other popular shoe connoisseurs to develop tailor-made footwear.
After launching his first shoe store in Tokyo, Hiro and his partners extend their product line from shoes to accessories.
Since Hiro Yanagimachi shoes are hand and custom-made, every material that goes into crafting is carefully picked from the best suppliers in Japan and around the world.
This allows the Japanese shoe brand to liberally work on the structure, shape, and quality of the shoes.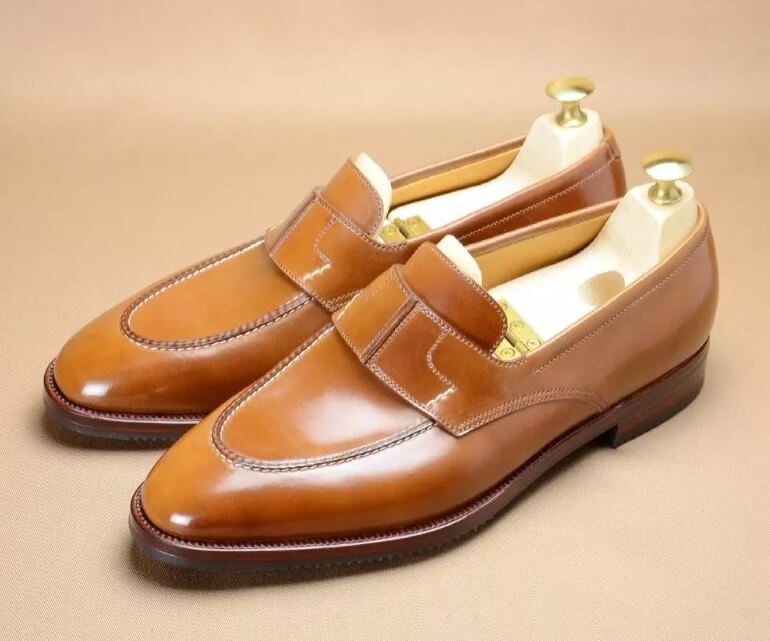 You can guarantee the durability of Hiro Yanagimachi shoes to last an eternity.
Once placing your customized shoe order at a Hiro Yanagimachi store, it's bound to take at least 3 weeks to hand-craft the shoes.
The entire process is ensured to maintain attention to detail thus the customer feels satisfied with how the shoes turn out to be.
Since Hiro Yanagimachi shoes are bespoke it only serves a niche market in Japan therefore the rates of their footwear fall in the premium range.
Nevertheless, Hiro Yanagimachi also offers shoes to the mass market.
In fact, this Japanese shoe brand also displays its classical shoe designs on its website which is worth checking out.
Asics
Asics is one of the pioneering Japanese shoe brands to attain global fame within a short period.
As a matter of fact, Asics is hands down the most preferred brand for athletes worldwide because it manufactures athletic footwear by meticulously following international standards.
This Japanese shoe brand might have the largest collection of footwear that can appeal to all ages and genders.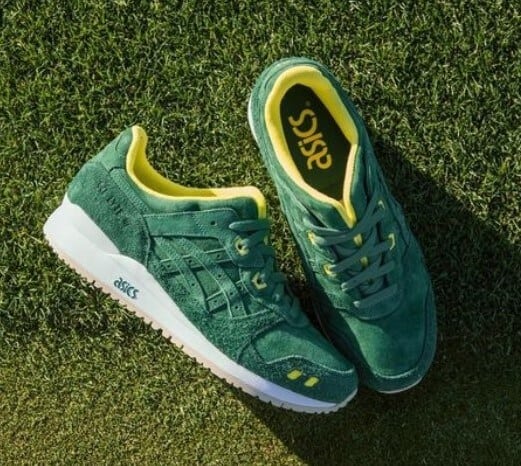 Asics initially designed performance and training shoes and eventually developed their scope to casual shoes and sneakers.
The significant reason for Asics' performance and athletic shoes gaining popularity among athletes globally is their implementation of gel pads in their shoes.
This helps to reduce the pressure, cramps, and splints athletes endure when performing while also allowing the wearer to feel ease and comfort.
Since this Japanese shoe brand has been operating in the footwear industry for decades there's no suspicion that they possess a mammoth array of shoes in all sizes and colors.
Thus you can pick from a myriad of sneakers and performance shoes. Furthermore, the price ranges of Asics shoes can vary from affordable to premium.
Depending on what sort of shoes you're looking for you can purchase a pair that suits your budget and requirements. 
Hender Scheme
Hender Scheme is a contemporary shoe brand that was made in Japan in 2010 by Ryo Kashiwazaki.
Ryo Kashiwazaki is a leather craftsman who had rather an unconventional method of crafting shoes that will go on to receive massive commends from shoe designers worldwide.
Kashiwazaki's idea of crafting shoes involved the usage of raw leather which is resistant to the daily wear and tear of the wearer.
Kashiwazaki also fancied combining traditional Japanese shoemaking practices with his preferred sneaker outlines to design the best-performing footwear in the world.
Since Hender Scheme shoes are created with raw leather, the quality of the shoes is undoubtedly top-notch and their prices are over the top.
A pair of Hender Scheme shoes is bound to last a lifetime and even after years of wearing them, they appear as good as new.
Hender Scheme offers a plethora of casual, formal, and athletic shoes in trendy designs, however, the choice of colors is only limited to white, black, and beige.
Hender Scheme has also collaborated with renowned footwear brands like The North Face, Adidas, and Nike, and the Japanese shoe brand even flawlessly duplicated Nike's Air Force One shoes.
Onitsuka Tiger
Onitsuka Tiger is a shoe brand made in Japan in the late 1940s by Kihachiro Onitsuka.
This Japanese sneaker brand specializes in crafting casual shoes with showy colors and designs that can attract anybody's attention even from afar.
Although it was Onitsuka's extreme passion to prepare only performance and athletic shoes, his plan to expand into crafting casual shoes was an immediate success.
This Japanese shoe label designs shoes for both men and women in contemporary and heritage styles and they come in an extensive collection of colors and layouts.
It was actually Onitsuka's initial athletic shoe array that was rebranded into Asics in 1977, nevertheless, the Onitsuka Tiger label still remains a renowned shoe brand in Japan and operates on its own.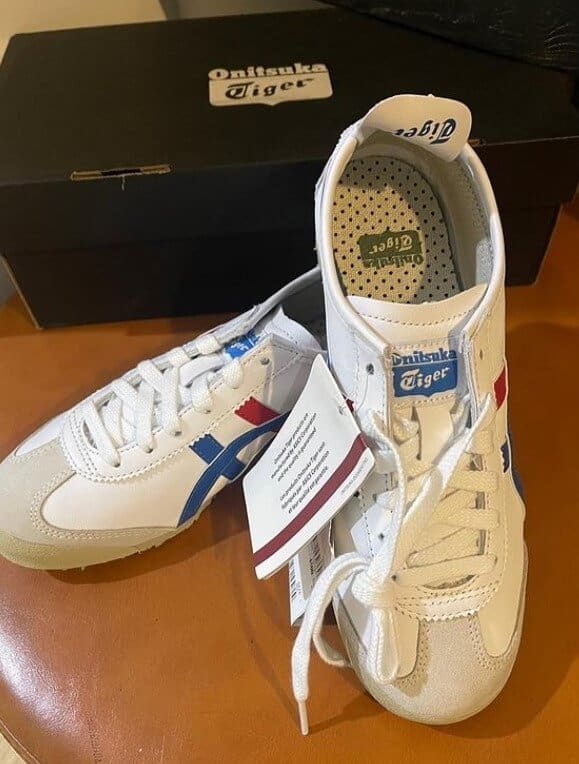 The quality of Onitsuka Tiger shoes is astonishing and are quite comfortable to put on due to their airy weight thus they make the ideal performance shoes.
Onitsuka Tiger shoes earned worldwide fame after Bruce Lee donned a pair in movies followed by Uma Thurman in Kill Bill.
Almost every pair of shoes designed by Onitsuka Tiger is inspired by the most popular styles that were a hit in the 70s and 80s.
The undying fame of Onitsuka Tiger shoes makes it a high-end Japanese shoe brand that has a high-end pricing point.
Scotch Grain
Here's yet another made-in-Japan shoe brand that focuses on crafting the best-ever formal and casual shoes.
Scotch Grain was a trademark developed by a Japanese businessman named Taito Ward along with another shoe connoisseur from Britain.
The intellect of both insightful individuals has led Scotch Grain to become one of Japan's superior shoe-manufacturing labels.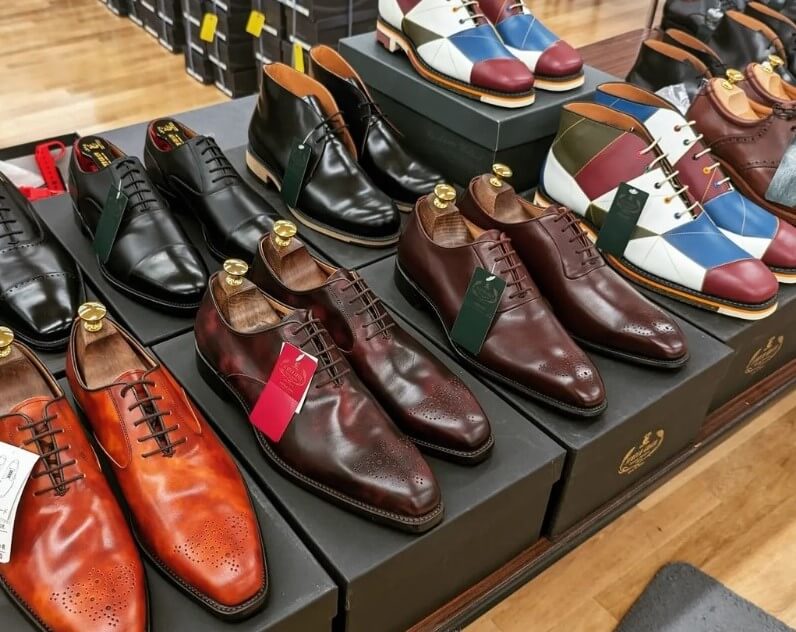 One might say that Scotch Grain is the Rolex of shoes because every pair of shoes crafted by Scotch Grain is hand-made and their price scope is above 20,000 yen onwards.
The exorbitant prices are understandable because Scotch Grain employs the most talented craftsmen from Toki-Ori to design the shoes while also utilizing authentic and durable leather in their shoe-making process.
Scotch Grain only designs shoes for men and the feature that deserves plauds in Scotch Grain shoes is their sleek design.
These shoes have the ideal ratio of performance and aesthetic and are very comfy to be worn. Scotch Grain formal shoes completely embody the class and pride of a gentleman.
There's a plethora of shoes you can buy from Scotch Grain like boots, king-size shoes, and suedes. 
Losers
Don't let the title deceive you because Losers has been a hipster shoe brand in Japan since 1975 and is still a thriving brand that designs stylish urban style and casual shoes.
The fundamental concept of Losers is "iki" which is a Japanese phrase for simplicity and elegance.
That's why this Japanese shoe brand boasts of making shoes that are inspired by designs ingrained in the Japanese culture.
Since Losers manufactures street-style and casual shoes it's a popular brand among teens and not to mention how Losers follow close attention to detail in incorporating styles that appeal to youngsters.
Most shoes crafted by Losers can be categorized as unisex and this Japanese brand crafts shoes according to seasons and holidays in Japan to meet high demand.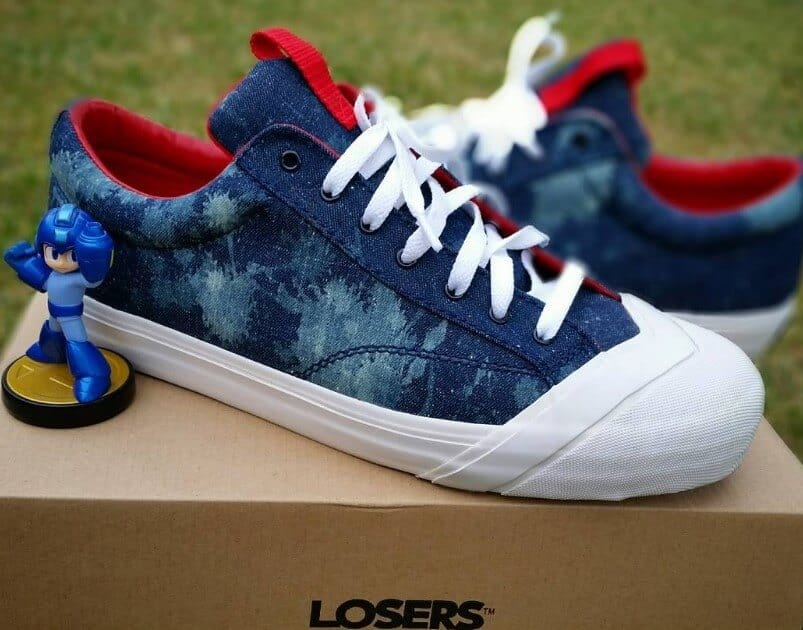 The prices of Losers shoes are easy on one's pockets. Nevertheless, it's the dedication of Losers that must be commended because they stay true to contemporary fashion trends.
Every pair of shoes sold at Losers is crafted to have unique and bold designs and that too in distinct shoe layouts.
Losers should be your pick if you're looking to purchase the most aesthetically pleasing and sophisticated casual shoes for reasonable prices.
Also Read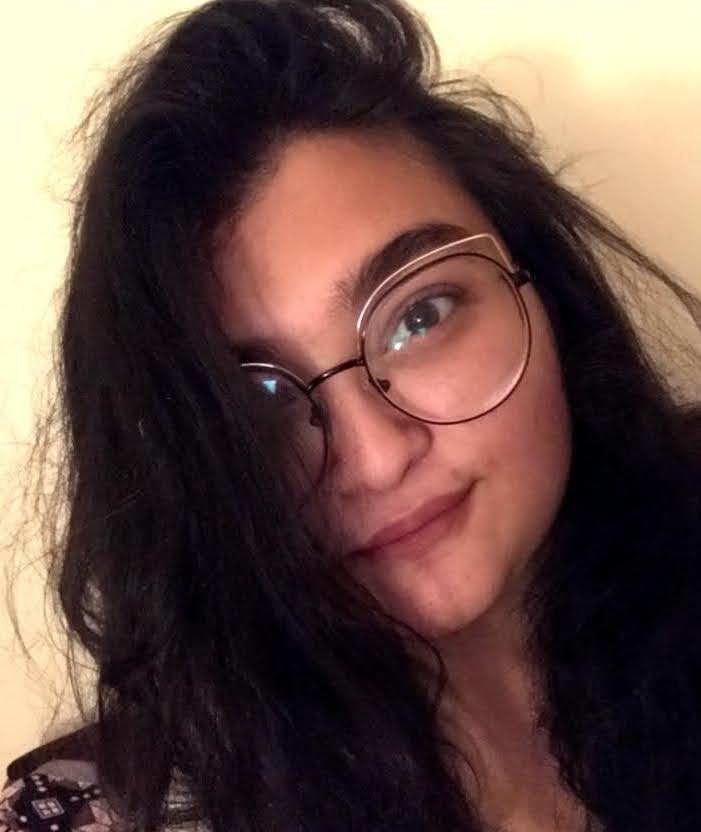 My writing focuses on the various aspects of Japanese lifestyle, from traditional tea ceremonies and flower arrangement to modern fashion trends and pop culture. Through my articles, I aim to share my passion for Japan and provide readers with a glimpse into the rich and diverse world of Japanese culture.
I believe that the key to understanding Japanese lifestyle is to appreciate the balance between tradition and innovation. While Japan has a rich cultural heritage that dates back centuries, it is also a country that is constantly evolving and embracing new ideas and technologies.
Whether you're interested in learning about the latest fashion trends in Tokyo, or want to explore the ancient art of calligraphy, my writing will take you on a journey through the many facets of Japanese lifestyle. So join me as we explore the beauty and complexity of this fascinating culture together!