Wondering how to live in a Tokyo microapartment? This guide to surviving a microapartment in Tokyo will answer all your questions!
Tokyo is infamous for its teeny tiny apartments, or you could call them "micro-apartments".
Your friends and family across the world have surely seen or lived in small sized apartments, but I'm sure that nobody has ever seen an apartment as compact as the ones we see in Tokyo.
Some are as small as 8 square feet, all in all! If you are moving to the city and looking for a new home, you're probably wondering how to fit all your stuff, live and make it work in the Tokyo micro apartments.
Don't worry, with today's modern furnishings designed for small sized living spaces and a little bit of creativity, you can totally make a nice and cosy home.
I've put down some tips below on how to live in a Tokyo micro-apartment.
Tokyo is one of the busiest and most modern cities in Japan. Young people from across the country flock to the capital in search of jobs.
During the months of April and May, you will suddenly find the city with lots of fresh faces, of those who have recently graduated. Most of these people are in their 20's and cannot really afford to pay skyrocketing rents.
Tokyo has found a solution by renting out shoe-box sized apartments, especially in the hip, hot and happening areas of the city, and the youngsters are happy to pay for these as their priority is the location.
However, even these rents are getting more expensive but that's a different story altogether. With necessity, springs up invention.
Today there are many stores that cater specifically for such apartments with innovative furnishings that can be put to more than one use.
How To Live In A Tokyo Microapartment
Size and Design of the Tokyo Microapartments
The apartments are measured in the size of Tatami Mats, each mat measuring about 1.62 metres.
For example, you will often hear realtors tell you that the apartment is the size of 3 tatami mats.
Many builders and construction companies are building apartments in the size of 3 tatami mats and fitted with a kitchenette, a shower and a toilet.
Each apartment comes with a ladder leading to a loft where you have a bed to sleep on.
Sometimes you will also come across owners and landlords advertising micro-apartments measuring about 11 square meters.
Always make sure you check if this is the grand total or just the floor space as it could sometimes include the size of the loft area.
Choosing A Micro-apartment
As is the case anywhere in the world, micro-apartments in Tokyo come in all sizes and shapes. I find that it's always best to choose an apartment that is either a proper rectangle or a square as it makes designing it easier.
Secondly, choose an apartment which has plenty of light flowing in. Large windows and high ceilings give it a more roomy and larger feel and this is very important in avoiding claustrophobia.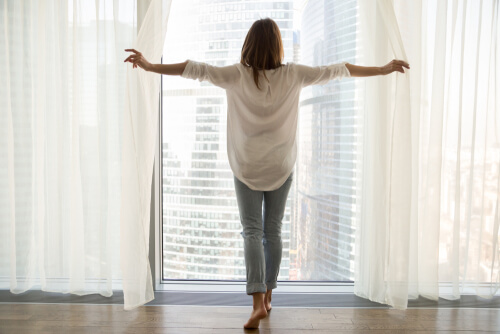 Check for storage space in the apartment. Either the apartment must come with wardrobes to fit in your clothes and shoes, or it should have enough space to get your own.
Minimalistic is Better
How often have we seen a rush in stores like Ikea or Wayfair with people spending thousands on just to fill up their large apartment spaces with furniture, decor and what not.
Having a small space comes with its benefits. All you need to invest in is a small comfortable bed and probably one desk or table or shelf (just one of the three, you might not have space for all three).
You save a lot of money on not having to splurge on carpets, side tables, dining table, a dressing table, and whatever else it is that most people want.
Needless to remind you, these micro-apartments are so much easier to clean as well!
People living in micro-apartments also don't usually own a television and use their laptops or smartphones to watch programs that they like. Here again, you save a lot of money because TVs can be quite expensive.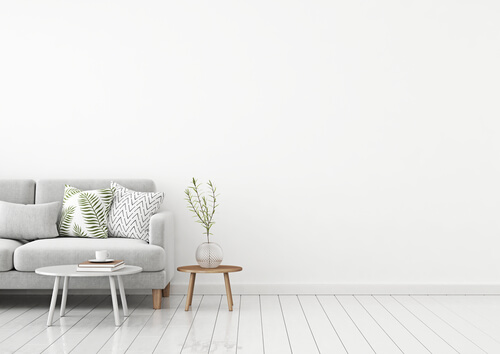 The idea is to only buy what is really essential and get rid of whatever you haven't used for a few months.
Most Japanese youngsters living in Tokyo micro-apartments don't even own a refrigerator.
Now, while that might seem very impractical to some of us who have lived all our lives depending on appliances like a fridge and dishwasher, it's amazing to see how they make it work without one.
There are loads of convenience stores in Tokyo and you get just about anything you need or want. Aside from purchasing just a couple of fruit that could last a few days, these youngsters go straight to the convenience store and only pick up what they need for that particular meal.
There is also no wastage as you don't buy large quantities and get bored of it later or forget about it once it's inside the fridge.
Multipurpose Furniture:
The micro-apartments come in neutral colours, with the same shades used for the walls as well as the floors. This makes it easy to design your space with modern furniture and fittings.
Organise Yourself Well:
It is very important to ensure that you don't clutter your apartment with too many things. Small spaces also come with the downside that it might begin to get claustrophobic if you don't stay organised.
Desk and Chair
Since your micro-apartment won't have much space, it's always a good idea to buy just one piece of furniture and put it to use for multiple things.
A small table or desk is great to own. This could function as your reading table, you could use it for your meal prep and later to even dine at it.
Skip the chair as it could occupy space and is not really needed. The Japanese usually sit down on the mats for mealtimes or when they are studying and that practice is still carried on by the youngsters today.
This habit makes it easy for them to now own extra pieces of furniture like a chair. However, if you do want a chair, buy one that can slide under the desk when you're not using it.
Another great option is to get yourself a couple of foldable chairs. These come in handy even when you have guests over. Nitori is a good place to look for such furniture.
Foldable Couch
Sometimes I get the feeling that foldable couches or futons were made just for Tokyo's micro-apartments.
These are so convenient that, when not in use, you can fold them and stack them against the wall. Getting yourself one of these futons depends on the size of your micro-apartment.
But, even if your space is large enough for a couch, I strongly recommend you get a foldable one rather than a regular couch.
Kitchenette Space:
The key to living in a small space is to be well organised. Get baskets or tubs that perfectly fit under your kitchenette and use it to store your cleaning products.
Skip the bulk buys and purchase only the small quantities that you need. Smaller apartments don't really require a 5litre can of Lysol!
Get similar organisers to place above the kitchenette for your cutlery. Your neighbourhood 100 yen stores should carry different dividers in various sizes that you can choose from.
Again, remember to only get the basic crockery and cutlery you need so that you don't run out of space. Stores like Ikea sell shelves of various sizes that can be fixed on the wall above the kitchenette.
This is a great place to store basic spices, condiments and oil that you might need, along with tea bags and coffee filters.
Some apartments may not come with a kitchenette. In such cases, employ the same ideas to the space around your sink.
Peg Boards and Hooks on the Walls
I'm all for pegboards! These are genius inventions and you can use them for just about anything. Pegboards work beautifully in a kitchenette where you do a little bit of cooking.
You can hang skillets, saucepans, spatulas and ladles on them. Pegboards work great for adding more space for your jewellery and accessories too.
Get some hooks as well to hand your belts, scarves, and maybe a mug where you can store your jewellery.
Make Your Apartment Your Home:
Last, but definitely not least, I consider it of utmost importance that you feel like you're home. Decorate your home with small items that you like.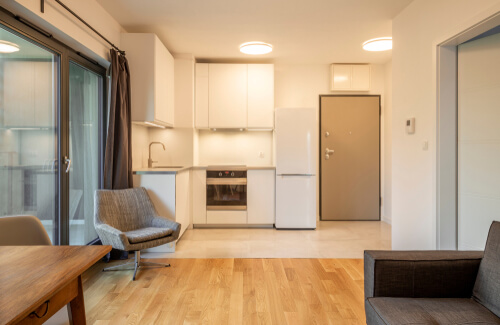 Place a small indoor plant near the window, maybe on your desk. Get pictures of family and friends and string them up with fairy lights. Do away with bulky photo frames.
Put up a painting that you like or posters of your favourite celebrities on an empty wall. Nice mirrors on the wall, both decorative and functional, give the impression of a larger space.
Nice curtains and sheets in colours that appeal to you, comfortable floor cushions and cosy blankets are certainly welcoming after the hustle and bustle of the day.
Truths to Know About Micro Apartments
Micro apartments are only meant for one-person occupancy. More than one person can lead to a crowd.
They're not pet-friendly. If you've got a pet, don't choose to live in a micro-apartment as it's not spacious enough for the pet to move around.
They're extremely easy to clean and maintain as the space is small.
Micro apartments don't mean that you're living alone, it fosters community as there are various common spaces where you can meet other solo people.
It can be expensive to furnish a micro-apartment as the cost will be borne by you alone.
Micro apartments rent are usually lesser than studio apartments in a common location.
How to Live in a Microapartment in Tokyo: FAQs
How much does a microapartment cost in Japan?
It costs about ¥50,000 to ¥80,000 a month to live in a micro-apartment in Tokyo but the range varies from lotion to location. For example: Living in a micro-apartment in Ebisu will cost much higher than in any other place.
Are microapartments popular in Tokyo?
Micro apartments are an attractive option to the young population who have moved without family because the rent is much cheaper and the locations are convenient.
How many people can live in a microapartment?
Micro apartments are usually designed for one person which is why it's ideal for bachelor and students.
Also Read: