Your skincare regimen is incomplete without an effective serum. Check out these best Japanese serum from top Japanese skincare brands and choose the one that's perfect for your skin type and concern!
Best Japanese Serum: Quick Summary
(View the product on Amazon by clicking the product name)
Serums deposit powerful, nourishing ingredients directly into your skin. Since it's made up of smaller molecules, water-based serum with high concentration of active ingredients can penetrate deep into your skin and target specific skin concerns like fine lines or wrinkles.
Check out the best Japanese serums below to take care of any skin concern you have.
Top Japanese Serum
Hada Labo Rohto Goku-jun New Hyaluronic Serum
Best Japanese Serum For Dry Skin
This Japanese beauty serum is one of the best in the market and the Hada Labo is a popular skincare brand loved by many in Japan!
This particular serum is rich in Hyaluronic acid which is known to intensely nourish your skin and provide deep hydration by boosting skin's hydration level. After application, you'll notice that your skin will look and feel smoother and luminous. 
This serum is free of any fragrance, mineral oil, alcohol, and colorant.
Key Features:
Contains a high concentration of Hyaluronic acid
Provides intense hydration to the driest parts of your face and neck
Skin appears smooth and glow-y after application 
No irritation
Non-comedogenic
Suitable for dry skin
Pros:
Doesn't clog pores
Heals skin quickly
No toxic ingredients
Affordable
Cons:
Not suitable for oily skin types
Shiseido HAKU Melano Focus Whitening Beauty Serum
Best Japanese Serum For Dark Spots
Shiseido is one of the top Japanese beauty brands and for a good reason. Their skincare range is absolutely amazing and totally worth it! This Haku melano focus whitening beauty serum by Shiseido is another one of the best serum in Japan available on Amazon!
The serum is targeted to reduce pigmentation and brighten your complexion. It helps reduce dark spots and promote a more even complexion for clear, dewy skin. 
I have personally used this serum for testing purposes and my skin really brightened in about 2 weeks of time. I was impressed that it doesn't even contain any toxic ingredients. It's one of the top serums in Japan.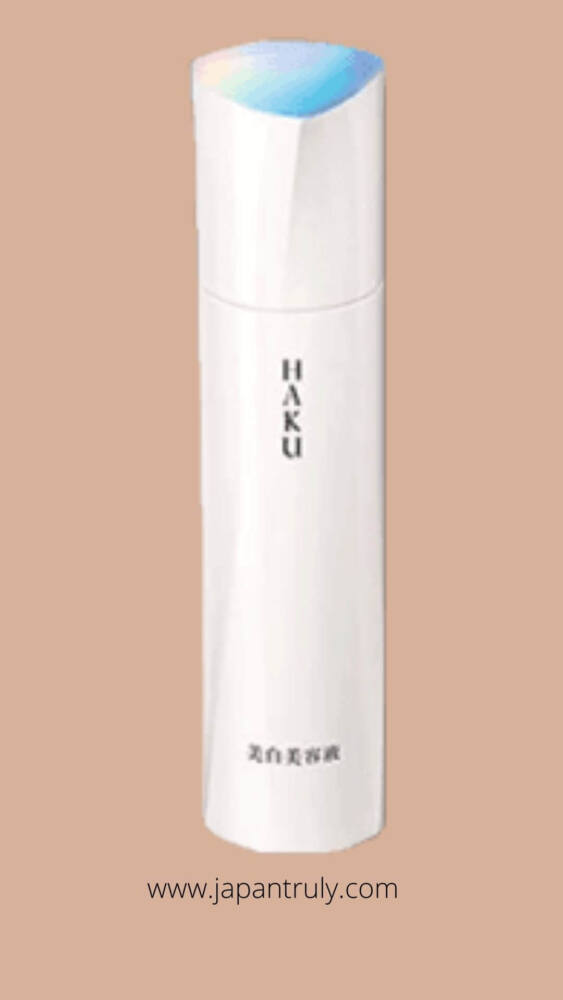 Key Features:
Serum targeted to reduce pigmentation 
Works by suppressing melanin production to target dark spots
Promotes clear, dewy skin 
Pros:
Promotes skin brightening
Visible changes in less time
No toxic ingredients
Cons:
Related: Best Japanese face washes
Haba White Lady Vitamin C Serum
Best Japanese Anti-aging Serum
The Haba White Lady Vitamin C Serum is targeted to reduce the signs of aging. It contains bamboo water and Hyaluronate that locks in moisture in your skin.
The Vitamin C content in the serum reduces the appearance of wrinkles and fine lines and work towards making your skin appear healthier and younger. It's easily the best vitamin C serum in Japan.
The serum is free of irritants like parabens, mineral oils, colorings, petrochemical surfactants. The ingredients present in the serum doesn't not irritate the skin. But rather make your skin look and feel smooth and bright.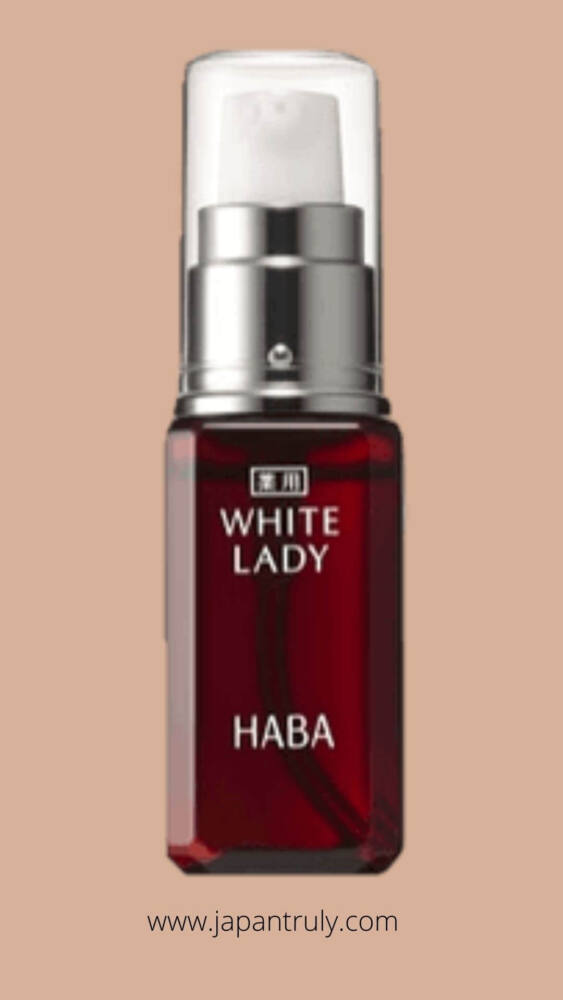 Key Features
Contains bamboo water 
Contains moisturising ingredients
Contains Hyaluronate
Contains 6% Vitamin C
Intensely hydrates the skin 
Reduces the appearance anti-aging signs
Non-irritating formula
Paraben-free
Colorant-free
Fragrance-free
No mineral oils present
Pros:
Doesn't lead to dryness
Suits sensitive skin
No toxic ingredients
Cons:
Related: Have you tried the double cleansing method? Here are the top Japanese cleansing oils you'll love!
Pola Wrinkle Shot Medical Serum
Top Japanese Serum For Mature Skin
Pola wrinkle shot medical serum has won several best beauty awards from top beauty magazines, women's magazines and @cosme in Japan. This is one of the first clinically formulated serum that works as an anti-aging solution in Japan!
This serum has visibly reduced my fine lines and wrinkles in just 4-12 weeks of use. It's the best retinol Japanese serum.
The serum is formulated with NEI-L1 – this ingredient was formulated by the company after 15 years of research on reducing signs of aging. The clinically-tested anti-aging serum is fragrance-free and colorant-free.
Key Features:
Clinically-formulated serum containing NEI-L1 
Visibly reduces signs of aging with 4-12 weeks of use
Fragrance-free
Colorant-free
Allergy-tested 
Recommended for mature skin
Pros:
Promotes skin brightening
Visible changes in less time
No toxic ingredients
Cons:
Related: Best Japanese cleanser for oily skin
Albion Japan, Eclafutur Skincare Serum
Best Japanese Serum For Damaged Skin
This serum repairs skin cells to their optimum condition – thanks to Albion's proprietary ingredient Nanocesta BL that has effective cell-repairing properties. This serum healed my skin in just about 10 days and made it glow. I'd really like to call this as one of the best serums in Japan.
It intensely moisturizes your skin leaving it smooth and firm after application. Eclafutur serum prepares your skin for the rest of the skincare products to ensure that your skin is ready to absorb all the goodness of your moisturizer and other products.
Key Features:
Contains a proprietary ingredient by Albion called Nanocesta BL
Cell-repairing formula 
Moisturizes skin 
Prepares skin for other skincare products that follow for maximum absorption 
Pros:
Good for ageing and damaged skin
Deep penetration in skin
Great packaging
Cons:
Kao Curel Japan Face Care Serum 
Best Japanese Serum For Oily Skin
This Curel face serum uses Ceramide Care Technology and eucalyptus extract. These ingredients help the serum penetrate deep into the skin. The serum deeply hydrates your skin and boosts the moisture concentration in your skin.
It also works around the contour of your skin as it's effective on areas with thinner skin as well. After application, your skin will become visibly softer and moisturized. I loved using this serum as it's non-sticky and keeps my skin hydrated for long hours.
It contains a moisturizing ingredient that is derived from plants and it's milky gel texture spreads easily on the skin. It's the best Japanese retinol serum as it has antiaging properties.
Key Features:
Milky Gel Texture spreads evenly
Uses Ceramide Care Technology 
Contains Eucalyptus extracts
Contains moisturizing agent derived from plants
Penetrates deep into the skin 
Skin appears supple 
Deeply moisturizes the skin 
Pros:
Ideal for oily skin
Great consistency
Long lasting effect
Cons:
Related:Best Japanese collagen supplement!
OBAGI PROFESSIONAL-C SERUM 20%
Top Japanese Serum for Oily Skin
This serum contains the purest form of Vitamin C – L-ascarbic acid. It's known to strengthen your skin defenses against anti-oxidants and fights oxidative stressors. It also has anti-aging properties that help your skin look younger, and brighter. Definitely, the best vitamin C Japanese serum.
After regular use, your skin will appear brighter with improved skin texture. Your skin will visibly look and feel smoother. Since it has anti aging properties it also reduces the appearance of fine lines and wrinkles. 
Key Features:
Contains L-ascarbic acid, purest form of Vitamin C
Strengthens skin anti-oxidant defenses
Fights against oxidative stressors
Has anti-aging properties
Reduces fine line and wrinkles in 2-3 weeks of use
Skin looks visibly smooth and clear after consistent use 
Pros:
Good for elderly crowd
Quick results
No toxic ingredients
Related: Best Japanese collagen products
SK-II Genoptics Spot Essence
Best Japanese Serum For Dark Spots
What I absolutely love about this serum from Japan is the sleek packaging. And when it comes to the product it definitely won't disappoint you either! The hydration levels on this Japanese serum is great! It's formulated with Nicotinic acid amide W, D-pantothenyl alcohol.
Because of the alcohol content, it's not the best solution for dry skin but works great for other skin types. It prevents spots and makes your skin real smooth. It's easy to apply and spreads well too. The serum gets absorbed into the skin very well and pretty quickly!
Check out this best serum in Japan below!
Key Features:
Sleek packaging
Hydrates skin very well 
Prevents Spots
Formulated with Nicotinic acid amide W, D-pantothenyl alcohol
Gets absorbed into the skin easily
Pros:
Sleek packaging
Restores skin hydration
Long lasting effect
Cons:
Kikumasamune Sake Rich Moisture Lotion Toner
Best Japanese Serum For Dry Skin
This best serum in Japan hydrates and smoothens the skin. The serum is also rich and alcohol-free so it's good for dry skin. However, the formula is slightly acidic to protect the skin barrier. This best Japanese serum is suitable for most skin types.
My skin felt like heaven after using this Japanese serum as it's so smooth on the skin. It's formulated with fermented rice water which is great for the skin. I'd definitely recommend this  product to you.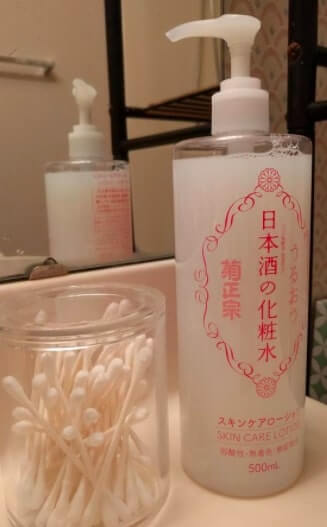 Key Features:
Hydrates the skin 
The formula is rich
Alcohol-free
Slightly acidic for skin barrier protection
Pros:
Ideal for all skin types
Great quantity
No toxic ingredients
Cons:
Slightly acidic- not for acne prone skin
Which is the best Japanese serum?
We tested 20+ Japanese serum on the basis of it's texture, ingredients as well as efficacy, and rated them on a scale of 1 to 5. We found Pola wrinkle shot medical serum to be the best.
Pola wrinkle shot medical serum is a clinically-formulated serum that contains the company's proprietary ingredient called NEI-L1 that was a result of 15 years of research in anti-aging solutions. The serum from Japan helps reduce signs of aging with consistent use of at least 2-3 weeks. It is free of artificial colors and fragrances. It is especially recommended for mature skin.
How To Choose A Serum:
Skin type: The first thing you should consider when choosing a serum is knowing what your skin type is. If you choose a serum that doesn't suit your skin type then it might lead to worse effects. Check the product label and see if it's suitable for your skin type and only then consider buying the serum.
Ingredients: Ingredients form the base of any serum, hence looking for the right ingredients is as important. Look for natural and plant based ingredients like vitamin C, hyaluronic acid, retinol, rosehip oil, etc. Don't opt for anything that has ingredients that can harm your skin like alcohol, parabens, phthalates, mineral oil etc.
Skin condition: If you have any skin condition like eczema, psoriasis, wrinkles etc, make sure that the serum benefits and heals the condition rather than worsening it. Also, consult your doctor before using any serum on your skin with condition.
Reviews: Consider reading reviews of the products from the buyers before actually buying the product to know how the product actually is.
How to apply Japanese serum?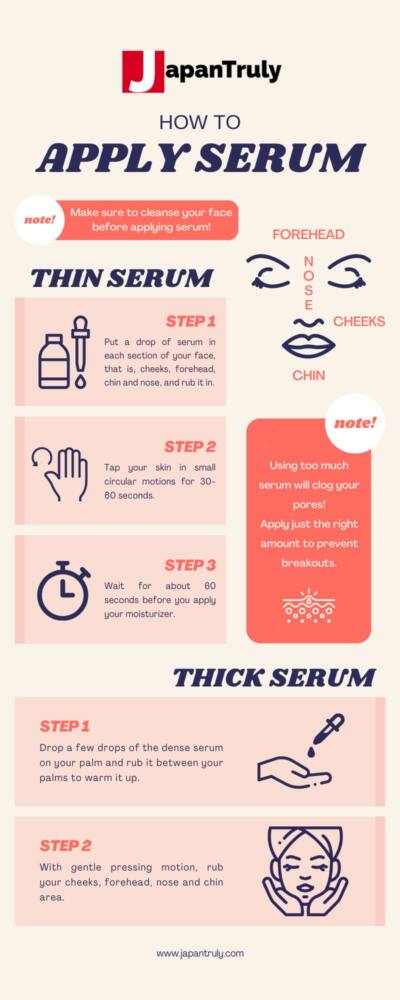 Before you apply a serum you first have to cleanse your face. Use your regular cleanser or face wash to get rid of impurities on your face. To apply the serum, put a drop of the serum in each section of your face, that is, cheeks, forehead, chin, and nose, and rub it in.
After you've applied the serum, tap your skin in small circular motions for 30-60 seconds. After this, wait for about 60 seconds before you apply your moisturizer. The moisturizer will lock in the serum and its nourishing properties.
But if you're using a thicker serum then drop a few drops of the dense serum on your palm and rub it in between your palms to warm it up. Then with gentle pressing motion rub your cheeks, forehead, nose, and chin area.
Make sure that you don't put too much serum as all the extra serum that skin can't absorb will simply stay on the top layer of your skin and eventually clog your pores leading to breakouts.
When to use a face serum?
Use a face serum twice a day after using face wash and before moisturizer for best results. You can also apply SPF before applying face serum if you're going outdoors.
Do you use serum or moisturizer first?
Use serum first that delivers your skin with essential ingredients and deeper level absorption of activated ingredients that benefit the skin. After serum, use a moisturizer that locks in moisture. 
Also Read: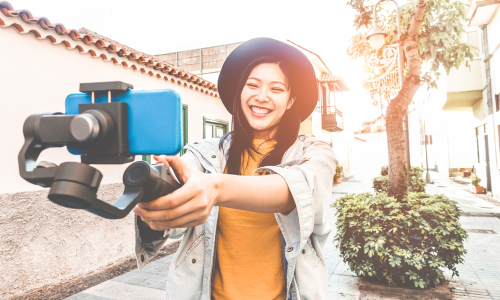 Hiya! I'm the main author of Japan Truly. I love everything Japan and love testing out Japanese products, be it skincare and makeup or gadgets! You'll find reviews of some of the best selling Japanese products (tried and tested) right here!