Want to learn Japanese? Here's the best app for learning Japanese. Check it out!
Learning a new language can be quite a daunting task, especially if it is something as vast as Japanese. I remember the first time I started learning Japanese; I was always on the lookout for the best materials that could help me grasp the intensity of the language.
Best App for Learning Japanese — Quick Summary
When looking for the best ways, I came across the best apps to learn Japanese. The learning apps are perfect for those who do not want to spend the time going through the pages of textbooks.
These apps contain a range of resources that help you learn everything related to Japanese including conversation, grammar, and vocabulary. I have brought to you some of the best apps that I have personally used and loved. If you are serious about learning the language, I highly recommend that you try these learning apps today!
Top App For Learning Japanese
Japanesepod101
Japanesepod101 is one of the most popular Japanese learning apps out there. The reason for loving this app is manifold.
The one aspect that I absolutely love about this app is the audio lessons that come along with that. These audio lessons really help me understand Japanese in a very different way. I could easily understand everything that was being explained.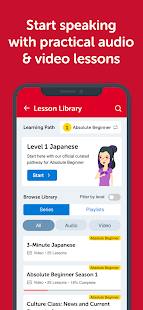 Apart from the audio lessons, there are several other features and resources that help you dig deeper into the language. These resources make sure that you are getting a thorough and detailed explanation about everything. I love the vocabulary, pronunciation, and reading sections of the app, however, I was not highly impressed with the writing aspect.
The speakers in the audio lessons help break down the grammar and vocabulary part of the context that makes it very easy to understand everything. The sentence structure is also well explained.
Another reason why this app became one of my most favorite ones is that it helped me learn so many new Japanese words and grammar. These were taught in such a manner that I could use them in my daily conversations.
The lessons contain sentences vocabulary lists, grammar guides, and more. There are hundreds of lessons available that are perfect for both beginners to advanced levels.
Pimsleur
Pimsleur was not available as an app until recently. It is a highly effective app that uses the conversational technique to help you learn Japanese. I love the unique method used by the app. The call, response, and feedback method is extremely beneficial because this helps you practice Japanese.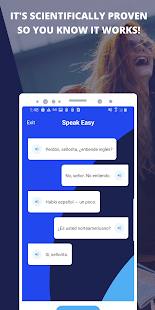 I was able to write my own answers and form my own sentences with the help of this method. The app also lets me practice how to speak Japanese. The way that is used in this app is so good that it feels like you are actually speaking face-to-face with a native Japanese speaker.
The app also made learning Japanese quite fun. I learned the proper way of using Japanese grammar in conversations with the help of this app. If you are just starting out on your Japanese learning journey, you will first begin by learning hiragana. For this, the app contains a lot of reading texts that help you grasp it from the grass root level.
Along with the text, native audio is also played so that it becomes easier for you. Once you are done with hiragana, you start learning Kanji. I personally believe that this is the best method of learning Japanese.
Related: Best Japanese Online Course
WaniKani
I had high faith and trust in this app because it is approved by the Japanese Ministry of Education. The app contains more than 200 thousand words that have been taken from the official Kanji guide.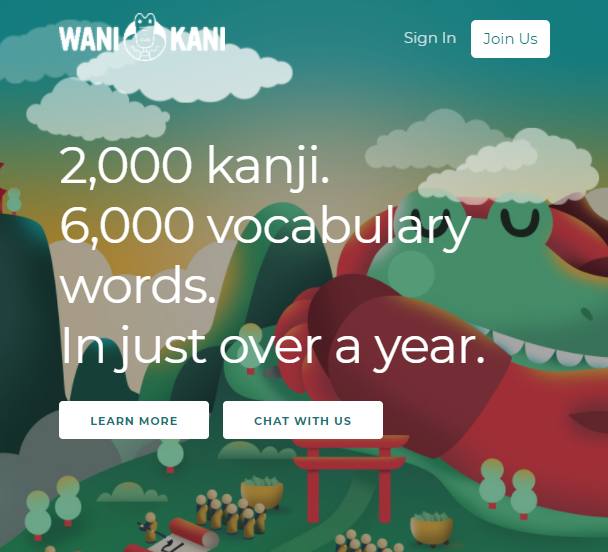 There are so many levels that you can go through and on the basis of your memory, you have to assign them to each level.
However, I would not recommend this app for a complete beginner. If you want to use this app, make sure that you are well versed with hiragana and katakana. If you are thorough with it, using this app becomes very easy. This app lets me learn the words by using them in various examples sentences.
I also did not have to worry about my learning process because it let me learn everything at my own pace. I could also reset my level, so if I was not clear with something or if I had my own doubts, I usually reset my level and went back. The first three levels of this app are completely free; if you want to proceed forward, you will have to pay a small monthly fee.
Duolingo
I really do not need to introduce Duolingo. This is one of the hottest language learning apps in the world right now that is used and loved by millions all around. I love the fun vibes given by Duolingo.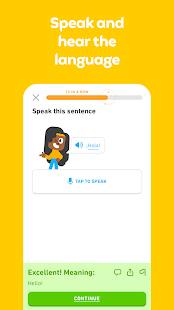 This app did not require me to have any prior knowledge of hiragana and katakana. The lessons are extremely fun and they range from different themes. The app, however, cannot make you a complete pro at the Japanese language.
However, I included it here because it is one of the best ways to learn new Japanese words and vocabulary. The different themes such as family and subculture really grab your interest and help you learn without putting any pressure on you.
Kanji Recognizer
Although Kanji Recognizer is a very simple app, it is highly powerful. I remember when I first visited Japan, I had a very hard time understanding the Kanji characters that were spread everywhere in the nation. That is when I came across this app.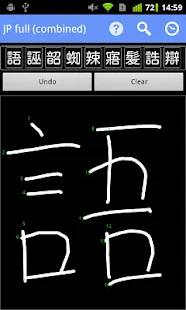 The app lets me handwrite the Kanji characters and when I do that, it gives me the exact reading, radicals, stroke, and basic meanings. Along with the Kanji Recognizer, I like using the Anki app to find out more examples and to understand the context better.
You can also use a Dictionary app such as Imiwa that I have included here to get excellent results. The one reason why I absolutely love Kanji Recognizer is that it really recognizes your handwriting without any problems. So whenever my dictionary cannot interpret Kanji characters well, I come to this app and scribble away to get a detailed explanation.
Imiwa
Imiwa is a Dictionary app that lets you use its features even without the internet. It was because of the offline features that I downloaded it. I absolutely love this app because It helped me find so many words easily. The app is extremely user-friendly and you can work it out without any issues.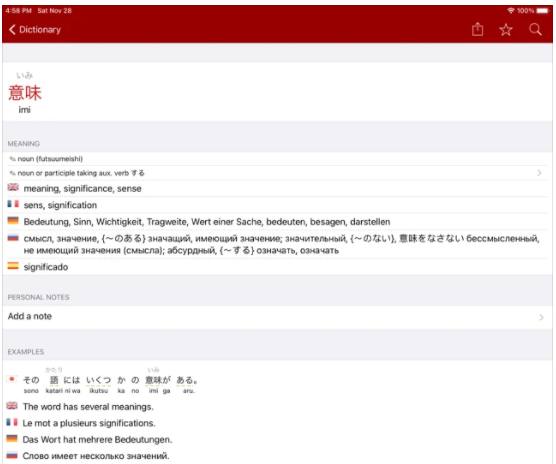 The app also lets you create your own list of favorite words. You can copy these words to the clipboard or even export them to email. If English is not your first language, you do not need to worry because the definitions and examples given in this app come up in multiple languages.
Another wonderful feature that absolutely drew me in was the automatic lookup of any text that you have copied. For example, if you are browsing through any website and you do not understand any Japanese word that is written on it. you can use Imiwa way for it. All you have to do is copy the text, open the Imiwa app and you will instantly get the results.
Obenkyo
If you are a complete beginner, I would highly recommend that you download Obenkyo. This app lets you learn the basics of katakana and hiragana before you move on to something of a higher level.
Once you are done with the basics, you can move to Kanji as well as vocabulary that are all available within the app. The app contains several quizzes that come with multiple-choice questions as well as a writing tests.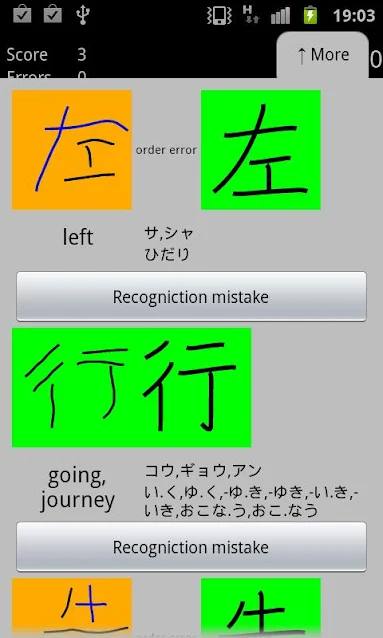 I found this to be highly beneficial because it lets me check my level of knowledge. If you are looking to prepare for JLPT level examinations, I highly recommend that you get this app today.
This app helped me learn a wide list of vocabulary as well as different types of words. I have also learned a lot of grammatical topics such as verbs. However, the one feature that is extremely important and is available in this app is the handwriting recognizer.
You can simply write on it and the app helps to correct the form as well as the stroke order. This is important because it also helps you with your writing aspect of learning the language.
How to Choose the Best App for Learning Japanese
Does not skip grammar
The Japanese language is quite complex because it contains a system of honorifics, different word orders, and sentence objects. and more. This is completely different from the English language and so, it can be a little time consuming and more difficult to grasp. It is impossible to directly translate your English sentences word by word into Japanese. That is why, when you're learning Japanese, you need to have specific focus on the grammatical part. The best app is one that teaches you grammar and breaks down the language making it easy for you to understand and learn.
Fucus on the writing system
Also, the best app also focuses on your writing structure and the writing part in general. You need to make sure that you are learning writing in a practical way so that you can use it on a daily basis. Written Japanese means that you need to learn Kanji, hiragana, and katakana.
Your way of learning Japanese!
These were some of the best apps that I have personally tried and tested. These apps are pretty amazing at helping you learn Japanese in a fun manner. This contains features and resources to help you grasp the basic knowledge and build a solid foundation upon which you can build on. If you are serious about learning Japanese, I highly recommend that you try out these apps.
Also Read