Interested in Kokeshi dolls? Before you start collecting them understand their history. Here's everything you need to know about the significance of the kokeshi dolls.
The culture and tradition of Kokeshi dolls is greatly emphasised in the Japanese culture. It is believed that the history of Kokeshi dolls began during the Edo Period when the first Kokeshi dolls were made by kijishi.
Generally, Kokeshi dolls are mostly used as children's toys, although they are also considered as symbols of hope for bountiful harvests, good luck and fortune and a great appreciation of craftsmanship and culture.
Kokeshi dolls are differentiated into several subdivisions according to their sizes, designs, and shapes. This article will discuss in detail the history of the Kokeshi dolls, the symbolic meanings behind them, and the various types of Kokeshi dolls that exist today.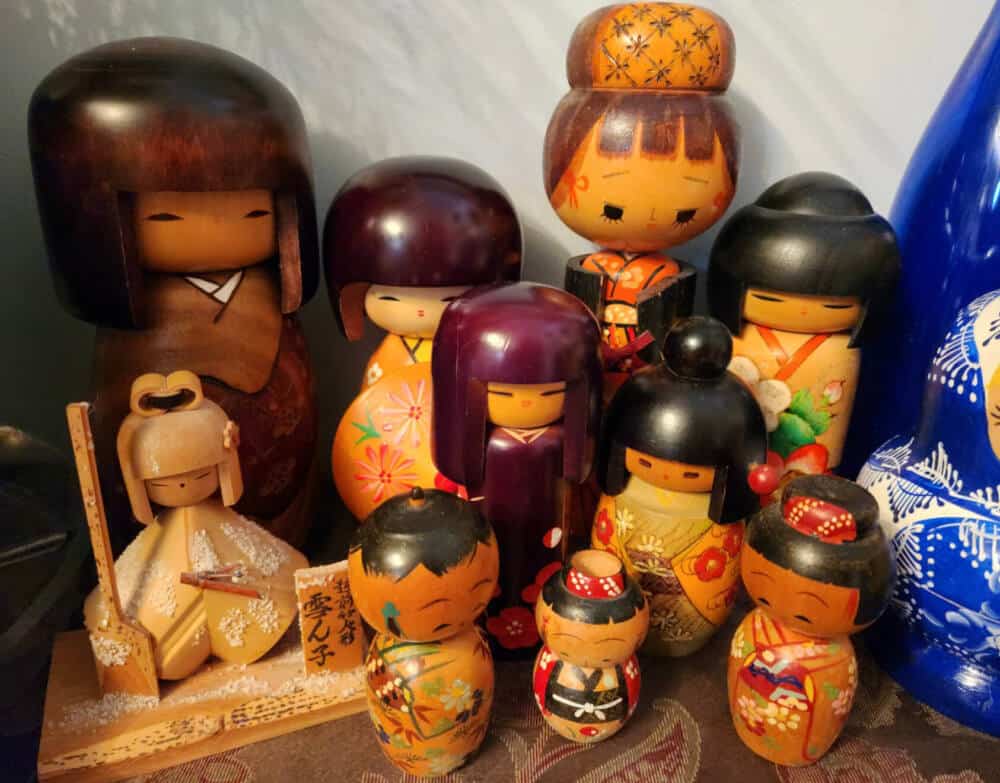 Furthermore, it will also look into their significance and importance in the Japanese culture of today.  We will explore how Kokeshi dolls have changed over time and how they are used in modern society.'
Cultural Significance of Kokeshi Dolls
Kokeshi dolls are an ancient, treasured symbol of Japanese culture, with a fascinating history that spans hundreds of years.
Originating in the Edo period, they were first made by kijishi, highly skilled single-wood artisan carvers from the Tohoku region of northern Japan. 
Kokeshi dolls are still a source of joy and nostalgia today, mostly used as children's toys. But Kokeshi dolls are much more than toys; for centuries, they have served a number of significant roles in Japanese culture.
Kokeshi dolls are considered to be symbols of wishes for bountiful harvests, wishes for good luck and fortune, and great appreciation for craftsmanship and culture.
There are a range of different types of Kokeshi dolls, each with their own unique designs, all featuring a round head atop a cylindrical body with no arms or legs. The hairstyles, clothing, and design all vary depending on the region they were made in, and they all possess a distinct beauty.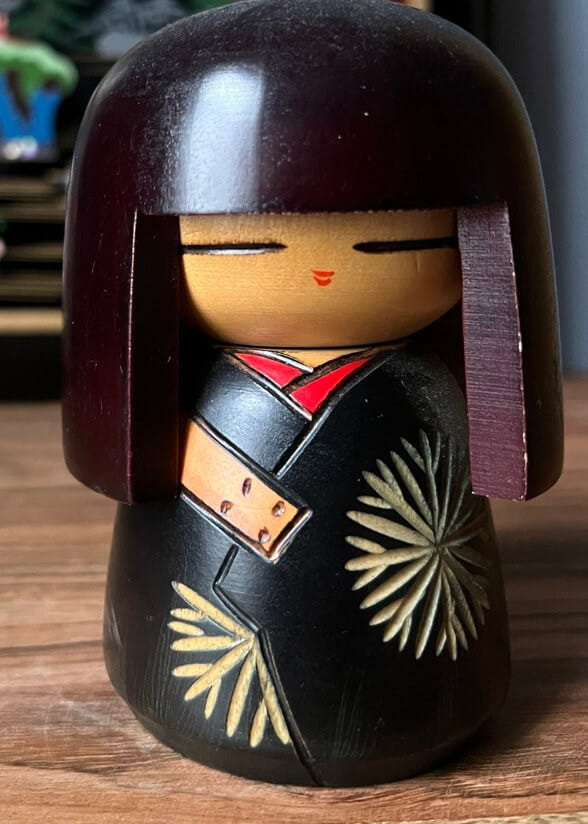 The Kokeshi's charm has been captivating people for centuries. Owners of Kokeshi dolls tend to become emotionally attached to them, forming a deep connection between them and their live-like dolls.
 The simplicity of Kokeshi dolls carries a special meaning and adds to their unique appeal. There is something special about the hand-crafted nature of these dolls that has led to them becoming a much-admired symbol. Even after such a long history of production, Kokeshi dolls still bring joy and hope to thousands of people today.
History of Kokeshi Dolls
The enchanting Kokeshi dolls have a fascinating history that stretches back over a century. In their simplest form, these recognizably Japanese figures are wooden dolls crafted by a specialist called a kijishi. 
Traditionally they were first made during the Edo period (1603 – 1868) in hot springs regions in northern Japan.
While they are nowadays mainly used as children's toys, they originally were symbols of hopes for bountiful harvests, wishes for good luck and fortune, and great appreciation for craftsmanship and culture.
The dolls come in many shapes and sizes, each with a unique style and wearing a colorful kimono. Simple "Hinomaru Kokeshi" dolls have a round head and a plain red and white color scheme, representing the colors of the Japanese flag.
The most famous type, named Naruko Kokeshi, has a cylindrical head and a bold patterned kimono. Other types have conical or triangular heads, multi-coloured hair and complex robes.
Kokeshi dolls are characterised by their slender body and lack of arms and legs. As a result, when you look at them, you imagine the life and lifestyle of Japan's historic past. Not only are Kokeshi dolls a great reminder of a bygone era, but they also make beautiful and unique pieces of art that are treasured by people all over the world.
Production and Design of Kokeshi Dolls
The production and design of Kokeshi dolls have a long and fascinating history. First made by kijishi during the Edo Period (1603–1867), Kokeshi dolls were initially sold as souvenirs to pilgrims at hot spring resorts.
These quaint wooden dolls featured a round head and cylindrical body.
Over the years, Kokeshi dolls began to be seen as more than just children's toys. As Japan's culture and craftsmanship evolved, the design of each Kokeshi doll was adapted to reflect the area it was made in.
For example, the Tohoku region (Japan's northern-most region) has become renowned for its Kokeshi dolls called Naruko Kokeshi, which have black hair and red-painted faces that reflect the area's traditional style.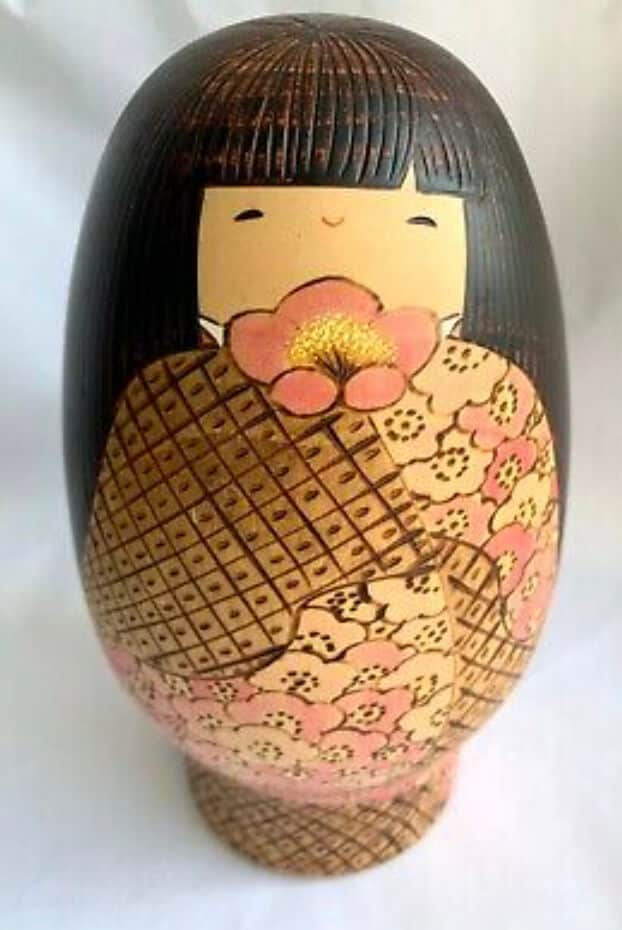 Today, a wide variety of different kinds of Kokeshi dolls are available, from traditional-style dolls made from single blocks of wood to colourful, more modern-style ones crafted from multiple pieces of wood and finished with elaborate patterns.
No matter the style, most Kokeshi dolls evoke a sense of nostalgia and are steeped in Japanese culture and tradition. They are often seen as symbols of hopes for bountiful harvests, wishes for good luck and fortune, and great appreciation for craftsmanship and culture.
These precious pieces of Japanese art are still being crafted by skilled kijishi to this day, reminding us all of the importance of tradition and culture in Japan.  As such, Kokeshi dolls continue to be increasingly popular both in Japan and around the world.
Pop Culture Representation of Kokeshi Dolls
Kokeshi dolls are often used as toys for children, however, they have also come to symbolize something much deeper than that. These dolls have been featured in pop culture for decades and continue to be recognized in the modern era.
Kokeshi dolls are not only popular amongst children, but adults appreciate their true meaning as well.
Kokeshi dolls have become a widely recognized symbol for Japanese culture and much more. In modern popular culture, many viewers can note their presence in various mediums, from TV shows to posters.
For example, the Pokémon character Eevee from the media franchise has a Kokeshi-inspired design. 
Another notable example is Totoro, the beloved protagonist of the 1988 Studio Ghibli classic "My Neighbor Totoro". Kokeshi dolls have been used to represent Totoro and his cuteness. This has only grown the appeal of Kokeshi dolls, with more people looking to own one.
Kokeshi dolls can be found in many places, from local and online shops—to decorations lining shelves, coffee tables, and windowsills.
Though primarily used as children's toys, the true artistry of these dolls can be seen in many forms, from paper and plastic to wood and ceramic. All these forms are symbols of the Edo period, in which the Kokeshi dolls were first created by kijishi (craftsmen).
Kokeshi dolls are more than just toys, they signify hopes for bountiful harvests, and wishes for good luck and fortune—a recognition of craftsmanship and culture. Nowadays, they are recognized as part of the traditional Japanese aesthetic, while serving as playful reminders of hope and luck, no matter where they appear in the pop culture.
Collecting Kokeshi Dolls
Collecting Kokeshi dolls is a unique way to bring beauty and culture into your home. Kokeshi dolls have a rich and fascinating history that dates back to the Edo period when they were first made by kijishi (woodworking artisans).
The traditional craftsmanship can be seen in the intricately detailed faces, elaborate hairstyles and delicate designs of Kokeshi dolls. The round shape of the body symbolizes the circle of life, and these dolls are mostly used as children's toys. 
They are also symbols of hopes for bountiful harvests, wishes for good luck and fortune, and great appreciation for craftsmanship and culture.
There are many types of Kokeshi dolls to collect, from vibrant patterns and bright colors to the elegant simplicity of the Edo period Kokeshi.
Each doll has unique craftsmanship and individual character, making collecting them a rewarding experience. The variety of sizes, shapes and designs means that you can choose one to perfectly match the vibe of your home and personal style.
Kokeshi dolls are beautiful, meaningful and exciting to collect. The process of collecting Kokeshi dolls can be a rich, fun and rewarding experience, from learning about the history, to choosing from the different styles, to giving them as gifts.
Expressing your style and creativity through Kokeshi dolls is a great way to showcase the beauty, culture and history of Japan.
In conclusion, the Kokeshi dolls are a symbol of tradition and legacy that have been treasured for centuries. Originating in the Edo Period, the first Kokeshi dolls were made by kijishi and have gone on to become a deeply cherished, traditional art form.
They are often used as children's toys but they are also seen as symbols of hope for bountiful harvests and wishes for fortune and good luck.
The different types of Kokeshi dolls have been intricately created by artisans and they showcase the craftsmanship and culture of Japanese people. So the significance of Kokeshi dolls is that they have a special place in Japanese culture and can be considered pieces of history.
Also Read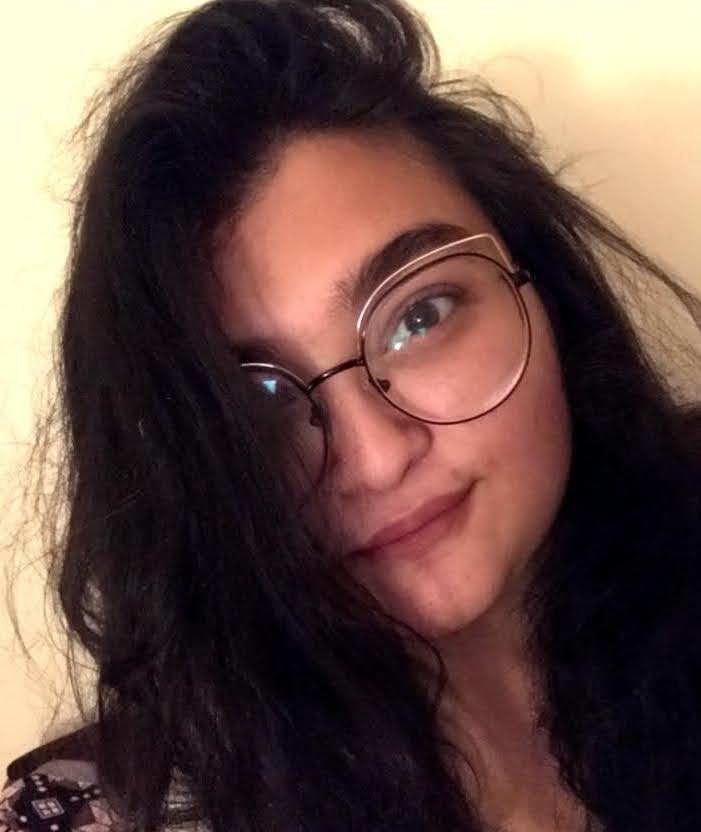 My writing focuses on the various aspects of Japanese lifestyle, from traditional tea ceremonies and flower arrangement to modern fashion trends and pop culture. Through my articles, I aim to share my passion for Japan and provide readers with a glimpse into the rich and diverse world of Japanese culture.
I believe that the key to understanding Japanese lifestyle is to appreciate the balance between tradition and innovation. While Japan has a rich cultural heritage that dates back centuries, it is also a country that is constantly evolving and embracing new ideas and technologies.
Whether you're interested in learning about the latest fashion trends in Tokyo, or want to explore the ancient art of calligraphy, my writing will take you on a journey through the many facets of Japanese lifestyle. So join me as we explore the beauty and complexity of this fascinating culture together!