Here's a guide on how to pay for things in Japan. Are you heading to Japan on vacation anytime soon? Did you ever wonder about the payment options? Can you use your credit cards? Can you go cashless? 
It's crucial to know how to pay for things in Japan so that you do not offend anyone. It's no brainer that Japan is a very organized and highly structured society.
So, by understanding their way of conducting business and economy will help you to be more mindful and respect their cultural practices. There is a lot of confusion because one payment method may not work everywhere. Worry not.
Whether you are visiting this beautiful country for business or pleasure, we got you covered and will be  breaking down the basic information about Japanese conversions and currency, the payment options, proper etiquette while paying for things ! So sit back, relax, sip on some coffee and let's get started.
How To Pay For Things In Japan
Japanese Currency & Conversion Rate In Japan
Japanese Yen or JPY for short denoted by the symbol ¥ is the currency used in Japan and is considered as the third most foreign exchange currency after the US Dollar and Euro. One US Dollar is worth roughly 136.24 Japanese Yen.
One euro is worth roughly 142.99 Japanese Yen. The Yen conversion rates fluctuate on a daily basis so make sure to check and compare with your home country currency before your trip.
Paying In Cash in Japan
Cash is the easiest and most preferred payment option in Japan. As a tourist, it may even surprise you by the amount of cash being carried around by the locals, even something as high as tens of thousands of yen in the wallet.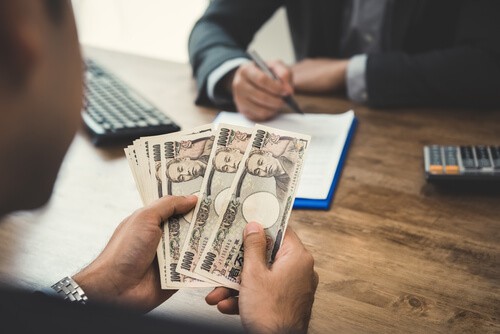 Cash is the most convenient method for many business owners, restaurants, retailers, etc despite the fact that japan is a highly developed and industrialized nation.  
Just be more cautious, do not forget your wallet somewhere. Keep in mind that many shops still do not accept credit or debit cards. Some temples and shrines opened for tourism only accept small bills. Some food outlet chains like McDonalds and Burger King accept cash only.
Make sure you have some coins ready when you want to go sightseeing without your luggage as most coin lockers accept cash only. Another interesting thing is that the vending machines that are convenient to buy snacks, beverages and other items run on small paper bills and coins.
Where can you get yen and the use of big and small bills: Although you can convert your currency at the airport, the rate may be poor. So you can go to the banks, large railway stations or post offices.
Remember to use small bills in tiny shops or for taxi fares. Do not use a big note 10,000 yen as most drivers do not have change. Big bills are accepted almost anywhere in Japan
Pros
Payment flexibility is great
Very convenient and easy
Cons
Difficult to manage expenses
Higher chances of robbery/theft
Using CREDIT & DEBIT CARDS To Make payment in Japan
Do not forget to notify your bank or card providers before leaving the country or else they can freeze the card for suspicious activity. Also, be aware of the withdrawal limits too.
Credit cards are being widely accepted mostly in the city or large establishments like malls, hotels, department stores, restaurants, stores, train stations, taxi services and so on.
Credit card companies like Mastercard, American Express, VISA, Japan Credit Bureau ( JCB) are popularly used. Most of the trains, buses and taxis accept credit card payment.Most places have a simple logo or seal indicating credit card payment.
Debit cards on the other hand are less popular payment option in Japan. Try to opt for a debit card that waives off the international ATM fees and  forein transaction fees such as  a Discover Debit card and Citibank Debit card.
If you would like to withdraw some money, look out for Postal ATMs or 7-Eleven bank ATMs that are found all across the country and accept foreign cards.
Pros
Both protected by a secure PIN & chip
Debit cards help with managing your budget
Credit cards are accepted worldwide and have perks on spending like frequent flier program, 0% purchases and so on.
Credit cards can be replaced if lost and you can access funds up to the limit.
Cons
Both cards have international ATM fees and currency conversion fees.
You Can Use Prepaid Travel Cards & Forex Cards To make Payments in Japan
A travel card and forex card can be a cost-effective solution and less expensive alternative to a credit or debit card. It is a pre-loaded card that allows you to pay with minimal fee or no fee for currency conversion.
They can be used in the same places where VISA and Mastercard are accepted and best suited for making online payments in the hotels, restaurants, shops and other places.
Although it is a convenient way of making payment, most of the smaller shops do not accept card payments at all. Remember to reload the card properly as it can take upto three to more working days for funds to clear.
Pros
Protected by secure PIN & chip
Accepted in almost all countries
Very low markup fee or no fee for transaction
Preload exchange rate in multiple foreign currencies
Option for backup cards and emergency card replacement
Cons
Local ATM fee is applicable
Reloading time is long
You Can Also Use Mobile Payment Apps To Make Payments in Japan
Mobile Payment apps are very popular in the country as they are used to pay bills or receive and send money to anyone with the same app. So, this is a great alternative to a tourist and super easy to operate.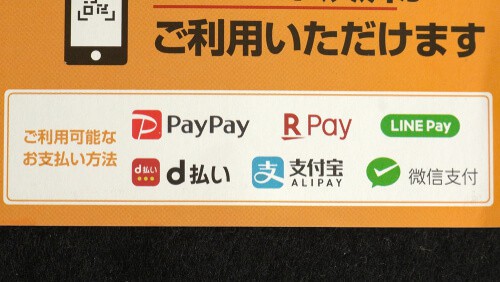 To name a few:
R Pay or Rakuten Pay: This can be downloaded from any of the Japanese app stores and can earn double the points. If you do not have a credit card, all you gotta do is top up the balance with your bank account.
PayPay: It is like a prepaid debit card which is free to download from the app stores. All you need is a Japanese phone number for this and link your bank account to make payments. It is widely used in Japan and offers customers discounts with participating stores.
Pros
Accepted in many places
Super quick mode of payment
Cons
The apps are completely in Japanese
You Can Also Use IC CARDS To Pay in Japan
This microchip plastic card is a great payment tool for most transportation fares, vending machines, restaurants and local stores. They are very easy to use and can be purchased at the railway stations and recharged easily.
They cost around 500 yen. Some of the best IC Cards used in Japan are- Toica, Sugoca, Pasmo, Suica, Kitaca, Nimoca and more.
You can use these cards for coin lockers in the train stations or to purchase snacks from the vending machines so your trip can be more convenient if you could get your hands on one of these.
Pros
Convenient
They can be recharged easily
Cons
Japanese Etiquette While Paying For Things:
You must always take into account the cultural practices to avoid any embarrassing or offensive behavior.
Tipping is not a custom and can be considered rude or insulting with a few exceptions like a private tour guide but make sure you put the money in an envelope and seal it and hand it over to them with both hands.
If you are waiting for change, the cashier usually will count it in front of you to make it visible so pay close attention and recounting it is considered offensive.
Whenever you need to make a payment, it is common courtesy to wait in line and patiently wait your turn.
Making Payments in Japan: FAQs
Can Apple Pay be used?
With the advancement of iPhone and iWatch, Apple Pay has become very popular and one of the easiest ways to pay. Many restaurants, stores, metro stations, taxis, vending machines, and so on do  accept Apple pay. You even have the option to add your credit or debit card to Apple Pay like American Express, SoftBank, JCB, Credit Saison, Aeon Orico, MUFG.
In general, which is the best mode of payment to pay for things in Japan?
The best way to pay for things is by using cash as most stores, small shops, food stalls prefer using it.
Is it using the IC Card?
Although the IC card is easy to use and has to be bought and loaded way in advance, using cash is a better option. 
What is the most common mobile payment app in Japan?
You need to keep in mind that some stores may accept it and some do not. The most accepted payment include-Paypal, Line Pay and R pay.
Do taxis in Japan accept credit cards?
Taxis in Japan do accept credit cards but only in the big cities like Tokyo accept this mode of payment.
Conclusion:
I hope this guide was helpful and you have gained some perspective into the payment options available in Japan. Now you can enjoy your time here without any worry. Just make sure you plan ahead , keep these tips in mind and have enough throughout the day. 
Also Read