Here are the best Japanese baseball players every baseball fan needs to know about! Check it out!
The baseball community needs no introduction to Japanese players, as the Land of the Rising Sun has won two World Baseball Classic Titles. For 30 years from 1964, MLB did not see Japanese sportsmen due to an agreement that barred American teams from negotiating with NPB players. 
Hideo Nomo's agent took advantage of a loophole in 1995 to sign him with the LA Dodgers, which led to a posting system to be formed which enables MLB Teams to sign NPB players for a fee. Here we take a look at the influx of talent from the east over the past three decades:
Top Japanese Baseball Players
Shohei Ohtani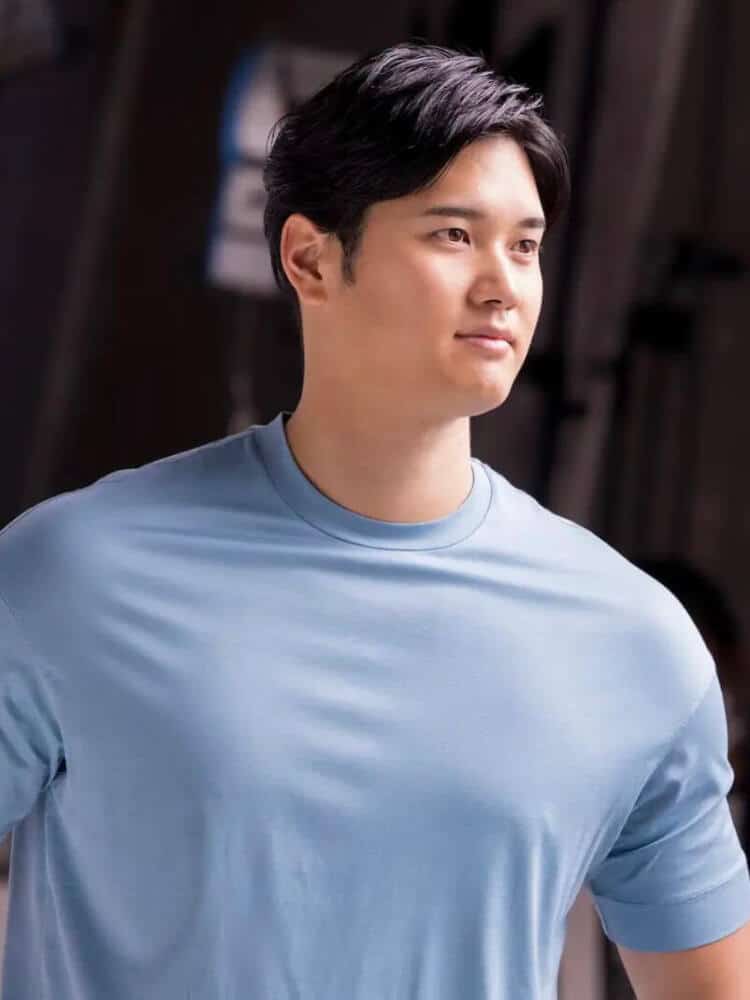 Shohei Ohtani is widely regarded as one of the best Japanese baseball players of all time. Ohtani, a professional baseball pitcher, has had an outstanding career that just keeps climbing.
At the age of 25, Ohtani has already achieved a level of excellence that many Major League Baseball players dream of. He has impacted the game through his immense talent, jaw-dropping power and unorthodox techniques.
Ohtani's rise to stardom wasn't an easy path to take. When he was 16, he faced coaching that was brutal, highly criticizing his unconventional pitching style and ability. But instead of listening to their demands, Ohtani stuck to his guns.
He proved his pitching style could achieve success – and achieve success it did. His stand-out performance earned him a resume boasting the Ryukyu High School Baseball Championship in 2012.
After this win, Ohtani was quickly dubbed "The Japanese Babe Ruth" or "The Japanese Shoeless Joe Jackson." He was scouted by the professional team Fukuoka Softbank Hawks, and went on to sign a four-year contract with the team in 2013.
From then on, Ohtani burst onto the scene, enhancing in just a few short years his already impressive set of skills.
Ohtani has been the recipient of numerous awards and achievements, including the Japan Series MVP Award in 2015. He's also been named to the Pacific League All-Star team 4 times out of the 5 years he's been playing, and in 2018 he was awarded the Sawamura Award, which is Japan's version of the CY Young Award. 
In 2019, Ohtani became the first Japanese-born pitcher to start and win a Major League Baseball World Series game.
Furthermore, Ohtani has never shied away from challenging himself and pushing the limits.
His prowess in both pitching and hitting have inspired countless baseball players around the world to follow in his footsteps. 
He may still be in the early stages of his career yet, but Ohtani has left an unforgettable and profound impression on Japanese baseball. There's no doubt that the talented prodigy will continue to amaze us with his brilliant mastery of the game.
Hisashi Iwakuma
As an ace pitcher, Hisashi has done it all: he's won the Sawamura Award given by the Nippon Professional Baseball to the top pitcher in the league, he's won three Japan Series championships with the Fukuoka SoftBank Hawks, and been selected to six All-Star Games.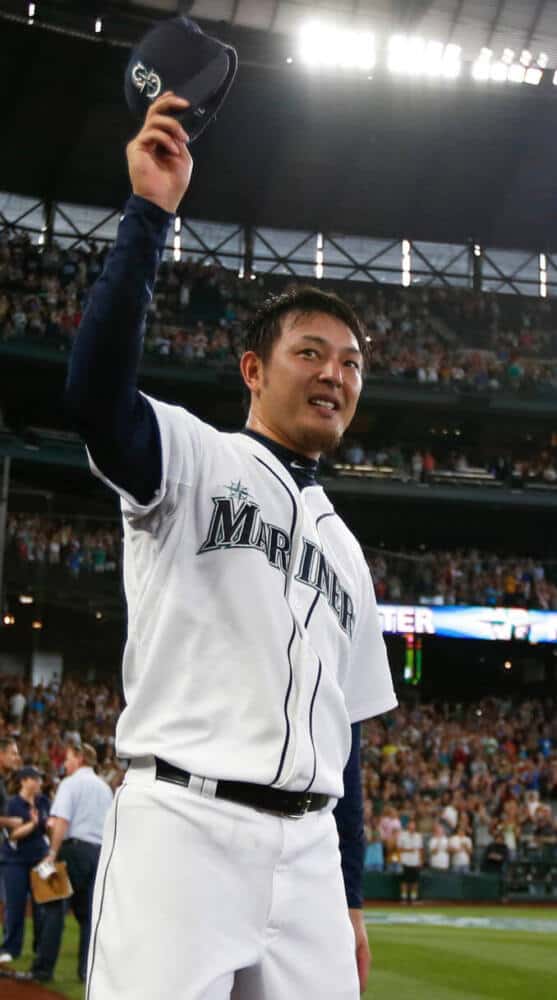 However, his greatest achievement has been his domination in the international arena, with his most remarkable achievement being a bronze medal win for Japan in the 2006 World Baseball Classic.
Hisashi Iwakuma has been a staple in Japanese baseball for the past fourteen years. In 2002 as a youngster he had brief stints in Japanese professional baseball for the Kochi Fighting Dogs and the Yokohama BayStars before being drafted by the Hawks in 2006.
While with the Hawks, Hisashi molded himself into one of the elite starting pitchers in the league.
He has posted an ERA of under 3.00 in seven of the swiftest fourteen seasons in NPB history, won the league's most prestigious pitching award six times, and achieved an impressive 16.5 career winning percentage, making him the all-time leader amongst Japanese starting pitchers.
Hisashi Iwakuma has become a legend on the international stage, as well. As mentioned before, he was on the Japan national team at the 2006 World Baseball Classic, where he earned a bronze medal.
A few years later, he helped bring the country a gold medal in the 2009 Baseball World Cup, where he was named the tournament MVP. He also led the team to another Bronze Medal in the World Baseball Classic in 2013.
Hisashi Iwakuma has left an undeniable impact on Japanese baseball, and his statistics and list of accolades are the stuff of legends.
Hisashi is a four-time Sawamura Award winner and Japan Series MVP, with an impressive career record of 186-99. He's one of the all-time leader amongst starting pitchers with a career winning percentage of 16.5, and his 2.33 ERA currently ranks third all-time in Japanese professional baseball. 
Hisashi has thrown 12 complete games during his career, with each one being a gem—Hisashi has never given up more than three runs in a complete game.
Ichiro Suzuki
Ichiro's transition to the MLB came after a nine-year stint with NPB's Orix Blue Wave. Signing for the Seattle Mariners in 2001 at age 27, Suzuki picked up the American League MVP and Rookie of the Year Awards in his first season in the MLB.
With a batting average of .311, he bagged All-Star selections and AL Gold Gloves for 10 consecutive years, starting his first season. He went on to rack up more than 200 hits in each of his first ten seasons, bagging AL's highest number of hits for seven of those ten seasons.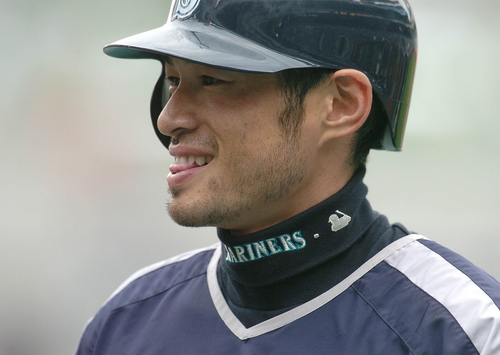 If Ichiro's NPB stats were to be combined, he would have the most hits of all time (4,367) at a professional level. On being the 30th player to reach the 3,000-hits mark in the MLB, Ichiro is a favourite to be inducted to the Hall of Fame, for which he becomes eligible in 2025. 
Yu Darvish
Yu Darvish's final season in the NPB saw him being the highest paid player in Japan at the time, having signed a ¥500 million contract (~ US $6 million) with Nippon Ham Fighters. In 2012, the Texas Rangers added the 25-year-old to their roster on a $60 million contract.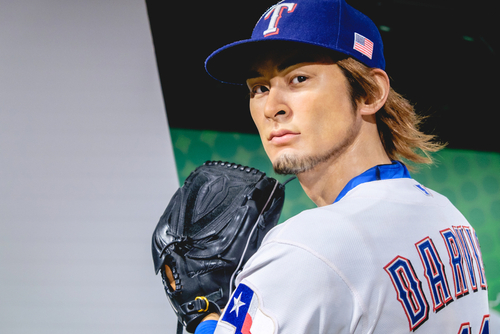 The strapping price-tag did not prove to be a steal, as Yu's time in the MLB has since been riddled with injuries. His Batting Average at .194 and Strikeouts at 277 were the highest in the AL in his second season, but it only pushed him as far as runner-up for the AL Cy Young Award.
Darvish would then move on to play half a season for the LA Dodgers and three seasons for the Chicago Cubs, and his best comes with 11.1 strikeouts per 9 innings. He reached the 1000-strikeout mark in 812 innings, which is faster than anyone else in MLB.
Masahiro Tanaka
Tanaka's stellar performances in his seven seasons with Tohoku Rakuten Golden Eagles in the NPB put him on New York Yankees' radar, who had failed to make it to postseason in 2013. 
Coming off a championship-winning, 24-0 season with Rakuten, Masahiro was offered a seven-year contract worth $155 million in 2014. He failed to achieve his NPB best of 1.27 ERA, clocking an average of 3.74 over his 7 years, with his personal best in the MLB being 2.77 in his first season with the Yankees.
He did, however, have more success in the playoffs, where he went 5-3 with a 2.13 ERA between 2015-19. He ended his stint in the MLB with 78 wins to 46 losses in 2020, moving back to Japan to play for Rakuten again.
Hiroki Kuroda
Hiroki Kuroda played 11 seasons with the Hiroshima Toyo Carp before making a move to the City of Angels. The Dodgers signed the 33-year-old in 2008, who was later sold to the Yankees for the 2013-14 seasons.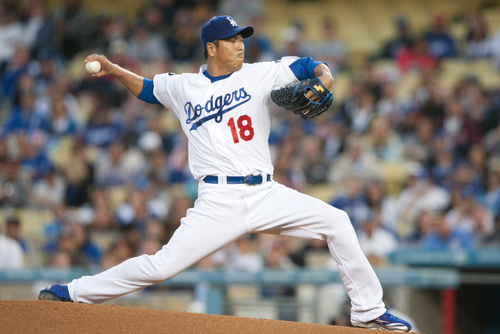 His career in America saw him earn 986 strikeouts in 1319 innings, bagging an above-average 3.45 ERA. Hiroki ended his career in the MLB with a 79-79 record, before returning to Hiroshima as the highest-paid player in Japan in 2016. 
Hiroki Kuroda #18 in action during the MLB game between the Atlanta Braves & the Los Angeles Dodgers on April 9 2011 at Dodger Stadium in Los Angeles.
Hideo Nomo
Although Hideo Nomo was nicknamed "The Tornado" (Tatsu-maki in Japanese) owing to his windup delivery, he managed to whirl things up off the field as well: four years into his career, he got into a contract dispute with his team (Kintetsu Buffaloes), following which, his agent loopholed him into "retiring" and returning him to active status as a free agent.
In 1995, he signed for the Dodgers and would go on to have what was his best season in the Majors, being the first in NL for his batting average of .182 and no. of strikeouts at 236.
He was also selected for NL All-Star, and nabbed the Rookie of the Year Awards by National League as well as the Baseball America Major League.
He became the first Japanese player to throw a no-hitter, having the Colorado Rockies firing blanks at Coors Field in 1996. He went on to throw another no-hitter with the Red Sox against the Baltimore Orioles in 2001.
Hideo played for 7 teams in America: the LA Dodgers, NY Mets, Boston Red Sox, Milwaukee Brewers, Detroit Tigers, Tampa Bay Rays and Kansas City Royals, before ending his career with the MLB with a record of 123-109, 1918 strikeouts and 9 shutouts.
Hideku Matsui
A Yomiuri Giants hitter for 10 years, Hideki Matsui made clear his intention to move to the MLB when he turned down a record contract in the NPB and instead joined the Yankees for a $21 Million deal in 2003.
The nickname "Godzilla" caught on well before his jump to America, no doubt a reflection of his eye-catching power. In his first three seasons, he scored 70 home runs, not missing a single game for the Yankees.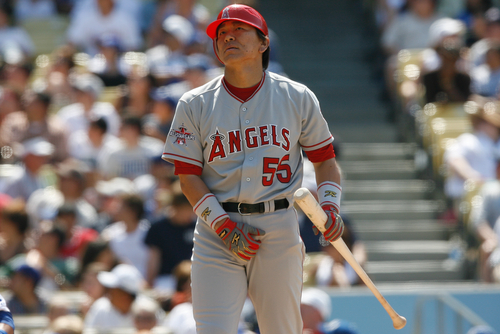 This led to him being offered a $52 million contract that made him the highest-paid Japanese player in America. He entered the limelight during the 2009 World Series, when he was named MVP thanks to a batting average of .643 which came from 8 hits off 13, including 3 home runs. 
The Yankees won the series 4-2 against the Philadelphia Phillies. The Japanese Hall-of-Famer went on to play for Los Angeles Angels, Oakland Athletics and Tampa Bay Rays, hitting .282 in 1236 games over 10 seasons before retiring.
Koji Uehara
After 10 successful seasons with Yomiuri Giants, the Baltimore Orioles signed Koji Uehara in 2009. Although he did not find his groove immediately, his best seasons came in 2012 and 2013, when he had an excellent ERA of 1.75 and 1.09 respectively.
He also won the World Series with the Boston Red Sox in 2013, while recording the final out (Matt Carpenter) of the series win against St. Louis Cardinals in Fenway Park.
To add to his achievements in 2013, he struck out 101 batters while walking just 9, thus becoming the first player in MLB history to strike out more than 100 while walking fewer than 10. 
Although he was signed as a starting pitcher, he evolved into a reliever, producing 95 saves in his MLB career, and striking out 572 hitters in 480.2 innings. 
Kazuhiro Sasaki
Kazuhiro made the switch from Yokohama Bay Stars to Seattle Mariners as a free agent in 2000. Holding the NPB record for all-time saves leader, Kazuhiro showed the same prowess in the MLB by setting a rookie record with 37 saves.
He followed up by setting a team-record of 45 saves (since broken) in 2001 and in just 4 seasons with the team, he became the Mariners' all-time saves leader. He cut short his time in America by returning to Japan, having produced 242 strikeouts in 223.1 innings.
After retiring in 2005, Kazuhiro went on to be added to the Japanese Hall of Fame in 2008.
Daisuke Matsuzaka
Daisuke "Dice-K" Matsuzaka's prolific performances across eight seasons with the Seibu Lions led to Boston Red Sox signing him in December 2006, on a contract which included a then-record $51.1 Million posting fee.
The starting pitcher helped the Red Sox to the World Series in 2007, which they would then go on to win against the Colorado Rockies, where Dice-K won Game 3. His injury woes began the following season, thus making Daisuke's career a rocky one in the MLB. 
He completed his Majors career with a 50-37 record and 4.45 ERA, and striking out 720 batters. In 2015, he chose to return to Japan with Fukuoka Softbank Hawks, and has then moved on to Chunichi Dragons and is, at present, on his second stint with the Seibu Lions.
He was also named MVP while representing his national team in the World Baseball Classic in both 2006 and 2009. 
Daisuke Matsuzaka of the Boston Red Sox throws his first pitch of the 2010 season during a game at Camden Yards on May 1, 2010 in Baltimore, Maryland
Kenta Maeda
Kenta Maeda completed eight seasons with the Hiroshima Carp before being picked up by Los Angeles Dodgers for a $20 Million posting before the start of the 2016 season.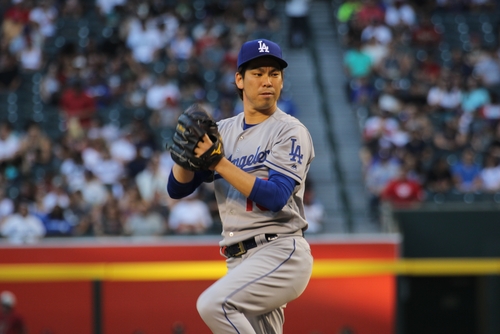 Kenta amassed 641 strikeouts in his four seasons with the Dodgers, but it wasn't enough for the team to keep him as part of their powerful arsenal of pitchers. In 2020, anticipation rose around his skill as he almost threw a no-hitter against the Milwaukee Brewers for his new team, the Minnesota Twins.
His current numbers show a 55-38 with 749 strikeouts. He provided an impressive 6-1 with a 2.0 ERA in his first season with the Twins, and his true potential seems to be yet unchecked as the season has been disrupted by the ongoing pandemic.
Kenta Maeda, pitcher for the Los Angles Dodgers at Chase Field in Glendale, AZ.