Is Curel Makeup Cleansing Oil worth the buy? Read my honest Curel Makeup Cleansing Oil review to find out more!
Iam a big lover of makeup! From mascara to eye shadow, foundation to concealer, the whole deal, I use it all because I feel like it brings out the best in me and makes me feel amazing
I use makeup not because I don't feel beautiful, but because I like experimenting with different beauty products.
But what's most annoying is the part after, when you get home from work or a party and your makeup doesn't seem to come off!
So, trust me I've tried several makeup remover brands but found none really powerful enough to get rid of my makeup successfully.
Well, this was until I used the super amazing Curél Makeup Cleansing Oil and by far, this product is the best one I've used and so I had to review it for you guys!
Curél Makeup Cleansing Oil Review
Curél Makeup Cleansing Oil: What's in the box?
Well, "unboxing" this product was not anything special for sure, but the product was amazing!
I bought it on Amazon, so it came packed in the Amazon packaging, but what I really liked is that this product also came in its own box and was properly sealed and there was absolutely no leakage of the product.
I bought the product with the pump and not the squeeze tube because I find that using a pump dispenses the product easily.
Also, the product box comes with a set of instructions on how to use this product as well.
Benefits of the Main Ingredients in the Curél Makeup Cleansing Oil
Apart from castor oil, I hadn't heard of any of the other main ingredients before. So I was wondering how exactly they'd benefit my skin.
Well, let's just say that I was pleasantly surprised to see the benefits of this product's main ingredients.
Check out the main ingredients along with their benefits below: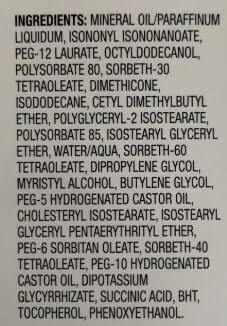 Castor Oil
Castor oil is a very common ingredient used in skincare products because of its versatility. It is rich in antioxidants and can prevent acne and other skin conditions from erupting. It also has antibacterial properties that can help keep skin conditions at bay.
When castor oil is used on the skin, it can help promote better overall skin health and fight dryness by keeping the skin sufficiently moisturized.
It can also keep the skin plump and supple and reduce puffiness to a large extent. It can also help promote a healthy glow on the skin.
Phenoxyethanol
Phenoxyethanol is actually an ingredient used to preserve skincare products and it is one of the active ingredients of this product.
It can help prevent the formation of bacteria in the product formula and can enhance the shelf life of the product, thus making it safe for use on the skin for a long time.
Tocopherol
The ingredient tocopherol is one of the purest forms of the vitamin, E. Vitamin E is one of the best ingredients for the skin because it can help keep the skin well-moisturized and can make the skin feel soft and supple.
Tocopherol is rich in antioxidants and can help promote good overall skin health and helps prevent skin damage. It can also help prevent signs of aging like wrinkles and fine lines.
It is added into several skincare products for the purpose of moisturizing mainly because it is a form of vitamin E.
Butylated Hydroxytoluene (BHT)
Butylated Hydroxytoluene, more commonly known as BHT in skin care products, is an ingredient used as a product stabilizer.
This means that it can help enhance the efficacy of the product and increase its performance. This is possible because of the antioxidant properties in Butylated Hydroxytoluene (BHT).
Using this ingredient on the skin is absolutely safe because it doesn't penetrate too deep into the skin, but can still work wonders in skincare products.
Succinic Acid
Succinic Acid is a lesser-known ingredient when it comes to skincare products but is a very effective ingredient.
It has anti-inflammatory properties that can help prevent the skin from looking puffy. Its antimicrobial properties can help inhibit the growth of bacteria and prevent acne and other such skin conditions which can otherwise be caused due to bacteria.
This ingredient can also help reduce blemishes, blackheads etc. It can also help protect the skin barrier from damage.
It is an ingredient similar to salicylic acid and can help keep the skin soft and supple.
My Experience Using the Curél Makeup Cleansing Oil
It has been just around a month now since I've been using this cleansing oil and I cannot tell you how much I love it! It is superb!
Let me first start off with how effective the cleansing of this makeup remover oil is. So in the past, I've had to use my makeup cleansers at least two times before all my makeup could come off clean.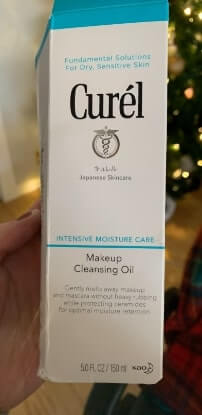 Well, with the Curél Makeup Cleansing Oil, it requires just one attempt to be able to get rid of all my makeup. Yes, just one attempt to get absolutely clean skin without any makeup residue left behind.
Next, what I really liked is the fact that it is safe for use on any skin type. Be it dry skin or sensitive skin, this cleansing oil is safe because it contains no drying alcohols.
Also, this product is super simple and easy to use that it almost takes no effort to get the makeup off! Yes, you do not need to rub the product over and over your skin to loosen up the makeup (even stubborn makeup).
You can gently massage the cleansing oil into your skin and you will no sooner find that the makeup is loosening up. What I loved is the fact that it could take off my eye makeup without causing that horrible stinging sensation.
I also liked that this product has ingredients that help keep away bacterial formation and have antioxidant properties that help keep skin conditions at bay.
It is also completely unscented and as someone who detests harsh scents, this one was perfect for me!
What I had noticed in the past while using other makeup removal products, my face always felt greasy/oily once I'd washed it off. Well, with this product, I had absolutely no such issue.
My skin felt smooth and soft. That's when I realized that this product helps retain moisture in the skin and can keep it well-hydrated.
So overall, I'd definitely say that this product is super effective and the fact that it is suitable for all skin types is an added bonus!
Is the Curél Makeup Cleansing Oil worth the price?
I bought this product on Amazon for $11.45 for a 150 ml (5.0 Fl.Oz.) bottle. Well, in comparison to other such makeup cleansing oils available for sale, in my opinion, this product is reasonably priced. So I definitely feel it is super worth it because of how effective this product is.
So would I buy it again? A hundred percent, yes! I would! Because this product is by far the best makeup removal cleansing oil I've tried.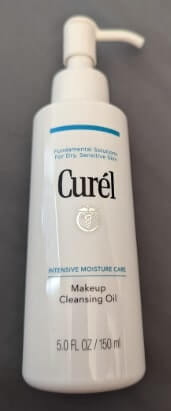 Pros Curél Makeup Cleansing Oil
Works well on any skin type, including dry and sensitive skin as it contains no drying alcohol.
Helps retain moisture in the skin and keeps it hydrated.
It has antibacterial and antioxidant ingredients that keep skin conditions at bay.
It helps make the skin feel smooth and soft.
Very easy to use and does not require too much of an effort to rub off the makeup as it loosens up in no time and washes off leaving absolutely no makeup residue behind.
This product can get rid of any type of makeup, including stubborn eye makeup.
Removes eye makeup easily, without causing any harsh stinging sensation.
It contains absolutely no fragrance, which is perfect for people who are scent-sensitive.
Relatively reasonably priced as compared to other such products. Besides, it is totally worth the price paid.
Cons Curél Makeup Cleansing Oil
None.
How to use the Curél Makeup Cleansing Oil?
This cleansing oil is super easy to use and here's how:
Step 1: Massage in the cleansing oil
Dispense four pumps of the Curél Makeup Cleansing Oil into your palm and rub your palms together. Remember that you do not need to wet your face. All you need to do is directly massage the cleansing oil onto your face, including the eye area (with the makeup on).
Continue this for a few minutes, until you start to observe the makeup coming off .
Step 2: Dab face with warm water and massage
Then, dab a little warm water all over your face and massage it in along with the cleansing oil. You will observe that the oil would have transformed into a milky-colored lotion.
Continue massaging it in for a few minutes.
Step 3: Rinsing off with plain water
Lastly, rinse your face with plain water.
Caution: In case you are someone who wears contact lenses, make sure to remove your lenses before using this product.
The final takeaway: Do I recommend it?
Well, I would undoubtedly recommend this product to makeup lovers! This product is super effective and removes makeup without any hassle. It is also suitable for all skin types, so there is no need for worry, even for those with sensitive skin.
It is relatively reasonable in cost and totally worth the price! So do not think twice, just simply go ahead and try out this product and I'm sure you will love it!
Also Read:
Curél Makeup Cleansing Oil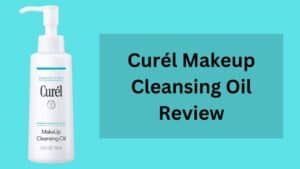 Curel Makeup Cleansing oil has ingredients that helps to keep away bacterial formation and have antioxidant properties that helps the skin
Product SKU: JAHFKEUI3678262I57
Product Brand: Curel
Product Currency: USD
Product Price: 11.39
Price Valid Until: 2023
Product In-Stock: InStock
Pros
Suitable for all skin types, including dry and sensitive skin as it contains no drying alcohol
Helps retain moisture and keeps skin hydrated.
Has antibacterial and antioxidant ingredients that keep skin conditions at bay.
Makes skin feel smooth and soft.
Easy to use and doesn't require too much of an effort to rub off the makeup as it loosens up in no time and washes off leaving absolutely no makeup residue behind.
This product can get rid of any type of makeup, including stubborn eye makeup.
Removes eye makeup easily, without causing any harsh stinging sensation.
It contains absolutely no fragrance, which is perfect for people who are scent-sensitive.
Relatively reasonably priced as compared to other such products