Wondering if Curél Hydra Therapy is worth it? Check out the Curél Hydra Therapy review to find out all about this best-selling product.
Are there some of you out there who detest the winter months because your skin gets super dry and flaky? Well, trust me; I very well know how it feels because I face the problem of dry skin all throughout the year!
Having dry skin can be quite painful because when the skin is dry, it itches and when it itches, you tend to scratch it and your skin gets bruised. So in short, you are dealing with two problems here!
So I searched all over the internet for a good moisturizing lotion and happened to stumble upon a "wet skin moisturizer" to use after you've showered.
This product was the Curél Hydra Therapy and it promised good results, so I went ahead and tried it out.
Check out my review below for all the details you need to know!
Curél Hydra Therapy Review
Curél Hydra Therapy: What's in the box?
I always buy my products on Amazon, so I got my product shipped to me in an Amazon box. But it was very well packed as the product bottle came completely sealed and had no leakages.
Also, the product itself came wrapped in a sealed plastic packet for further protection. So this is something I really found appreciable.
I bought the product that has a pump for easy dispensing and also, the bottle is plastic and is sleek enough to carry while I travel as well.
Top Active Ingredients In Curél Hydra Therapy And Their Benefits
What I noticed is that this product has quite a few powerful skin moisturizing ingredients and that's what made this product super effective for my dry skin.
Check out its top ingredients and their benefits below.
Glycerin
Glycerin is an ingredient that is a natural humectant. Thus, it has natural skin moisturizing properties that can help alleviate skin conditions like eczema, psoriasis, dry skin, flaking, etc. It can help promote effective skin barrier hydration.
It is a very effective ingredient that can help lock in moisture once it penetrates into the skin and can prevent the skin from getting overly dry.
Shea Butter
Shea butter is an ingredient that has been used for many years for the main purpose of skin hydration. It is one that can help soften the skin and keep it moisturized and supple.
It is known to keep the skin well-hydrated with moisture and can help smooth out dry skin over time.
The reason why shea butter is so effective is because it has natural emollient properties and is also rich in essential fatty acids. Thus, it works well to treat dry skin issues.
Panthenol
Panthenol is known to be one of the best moisturizing ingredients and this is because it is known to decrease "transepidermal water loss".
So, panthenol is known to protect this skin function, which is otherwise known to be the water that gets evaporated through the skin, causing dryness.
Panthenol is an ingredient that can work rapidly and hydrate the skin within no time, thus making the skin feel soft and supple sooner. It can also promote a better skin appearance.
Orange Peel Oil
Orange peel oil is a lesser-known ingredient when it comes to skin benefits. It is one that can help hydrate the skin because of its astringent properties. It can lock in moisture and can reduce dryness to a large extent.
It helps promote better skin cell rejuvenation and can improve the skin's overall texture.
Eucalyptus Extract
Eucalyptus extract is known to help promote the strengthening to the natural moisture barrier of the skin. Thus, it can help keep the moisture barrier strong and can reduce the loss of moisture, which can otherwise make the skin dry.
It helps trap moisture in the skin and can relieve dryness to a large extent. Using eucalyptus extract on the skin can reduce skin flaking and itchiness (which often comes with skin dryness).
Ceramides
Ceramides are very essential for the skin because it acts like a natural glue that can bind the skin cells and hold them together, thus keeping the skin barrier intact and in a healthy condition.
When the skin barrier is healthy, there will be reduced moisture loss and better moisture retention, thus maintaining skin hydration and reducing skin dryness considerably.
My Experience Using Curél Hydra Therapy
Well, let me start off with this – if you are still contemplating buying this product, don't wait any further, just go in for it and your dry skin will thank you! Yes, this is how much I actually love this product!
I have been using the Curél Hydra Therapy since over six months now and I thought it was just about fair time I could have used the product for, before I could give you guys my honest review. Well, I began to see the results within just a week!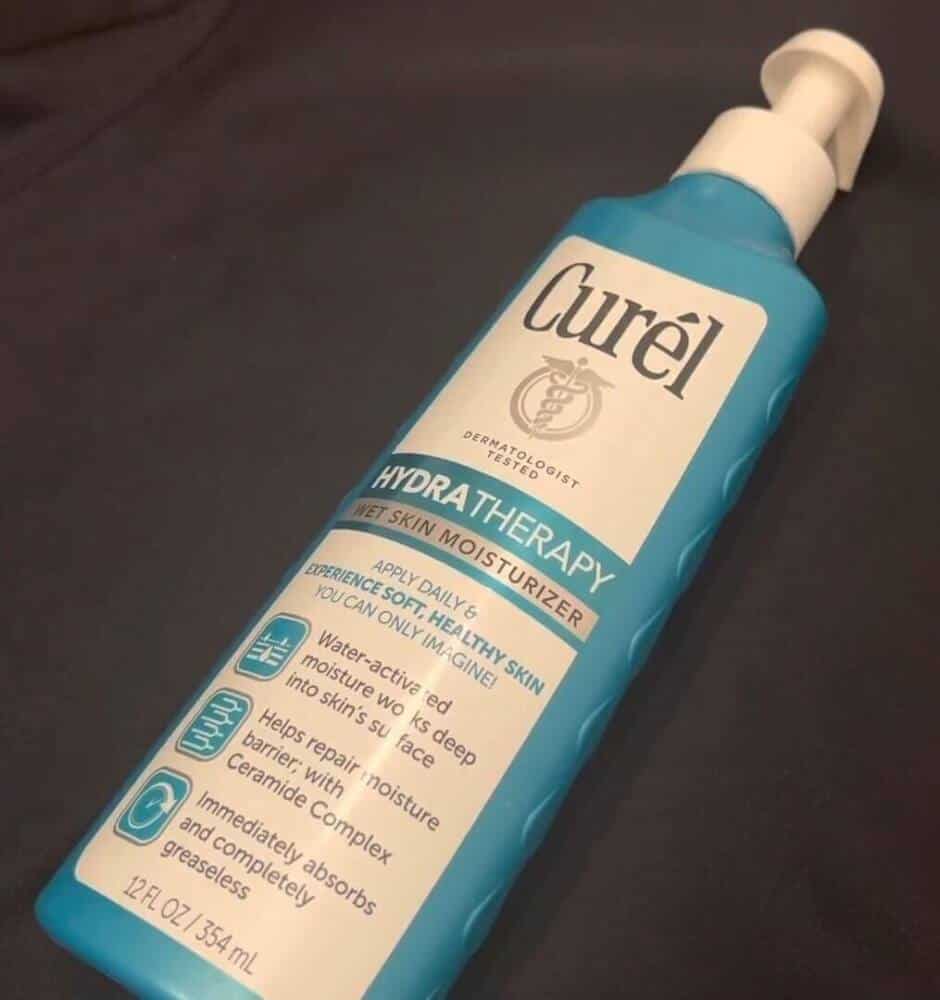 So if you told me to describe this product in one sentence it would be "A product that can transform your skin!". Yes, it can really transform dry skin into soft, supple and well-moisturized skin because of how effective it is.
In the past, I have tried plenty of skin lotions and moisturizers and I have to admit, they did work, but unfortunately, it was only temporarily. No sooner, my skin would start getting dry again.
So what I found in Curél Hydra Therapy is the fact that it has now become my permanent solution and this is what I simply love and I'm so thankful to have found this wet moisturizer.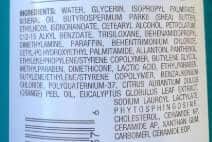 This product needs to be used right after you have showered while the skin is still wet and when your skin dries, it is not greasy or sticky at all!
This was something I hadn't experienced in other lotions and moisturizers. I always found that my skin would feel greasy after I'd applied any other such products.
Also, it is water-activated and has a very quick absorbing power and what I noticed is that it locks in moisture within no time. So, I didn't have to wait long, I could get dressed immediately after patting myself dry.
Another thing I observed after using this product is that it has long-lasting effects and it keeps the skin moisturized until your next shower.
When you use this product, a little actually does go a long way. I rub just a little lotion and it is sufficient.
It isn't too thick in texture and it is easy to spread and massage onto the skin. I have been using this product every single day and I can literally feel the change in my skin's texture.
So, all in all, this stuff is amazing and I'd recommend it to anyone who has issues with their skin becoming dry.
Is The Curél Hydra Therapy Product Worth The Price?
I paid $10.99 for a 354 ml (12 Fl. Oz.) bottle of this lotion and I honestly think it was reasonably priced. I bought it on Amazon.
Well, if you ask me if it was "worth the price", my answer is going to be "undoubtedly, yes!". No second thoughts, but a positive yes!
This product is considerably at par with other such products of its kind in terms of pricing and is not too expensive, but quite affordable.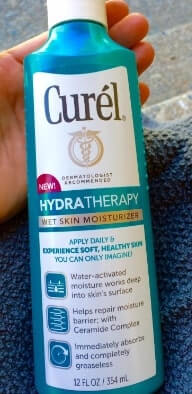 Pros of Curél Hydra Therapy
This product is water-activated and absorbs into the skin very quickly.
Very effective for use on dry skin, as it helps lock in moisture and can make the skin feel well-moisturized, soft and supple.
This product requires just a little lotion for application.
It is not greasy or sticky in texture.
This product is safe for use on a daily basis.
It is a leave-in product and doesn't require rinsing off once applied.
This product needs no reapplication as it is long-lasting and can remain on the skin until your next shower.
It absorbs quickly once applied and it allows one to get dressed without having to wait long.
It is reasonably priced and is relatively affordable as well.
Cons Of Curél Hydra Therapy
None.
How To Use The Curél Hydra Therapy?
Using this product is super easy and needs no much effort. The best part of using this product is that you can use it while your body is still wet and out of your shower.
Here's how you can use it.
So as soon as you have finished your shower, just wait for a couple of minutes until the excess water slides down.
Then, while your skin is still relatively wet, press a couple of pumps into your palms, rub your palms together and apply this lotion all over your skin and gently massage it in while applying it all over.
You will notice that the lotion absorbs immediately and you will not have to wait! You can pat yourself dry with a towel (do not rub your skin dry, just pat it dry) and go ahead and get dressed.
Also, remember that this lotion is a leave-in one and needs no rinsing off once it has been applied. No reapplication is required until your next shower.
It is recommended that you use this product once every day for the best results.
The final takeaway: Do I recommend this product?
Here's my answer in short – yes! I most definitely recommend this product to anyone who is looking for a powerful skin moisturizer.
You do not need to doubt it, because it is safe for all skin types. So simply go ahead and buy this product and I'm sure your skin will love it.
It is one that helps transform dry skin into well-moisturized, soft and supple skin within a matter of weeks!
Also Read:
Curél Hydra Therapy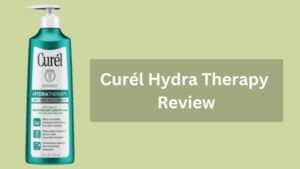 Curél Hydra Therapy has long-lasting effects and keeps the skin hydrated.
Product SKU: KJDUIWEYF394623876
Product Brand: Curél Skincare Store
Product Currency: USD
Product Price: 12.99
Price Valid Until: 2022
Product In-Stock: InStock
Pros
- This product is water-activated and absorbs into the skin very quickly.
- Very effective for use on dry skin, as it helps lock in moisture and can make the skin feel well-moisturized, soft and supple.
- This product requires just a little lotion for application.