Here's a detailed Shiseido Hair Care Adenovital Scalp Tonic review? Read on to know all about its key features, how it works, and the pros and cons of using it.
Two of the most major hair problems many people face these days are hair loss and frizzy, dry hair issues. Well, just like many, I too was a victim of these hair problems.
So when I came across the Shiseido Adenovital Scalp Tonic, I thought, was this just another product that promises super good results but doesn't deliver them? Well, it was not! It delivered great results!
Check out my review to know everything about this product, its ingredients, the packaging, its pricing, and how to use this product to attain the best results to boost hair growth and hair health.
Shiseido Hair Care Adenovital Scalp Tonic Review
Shiseido Hair Care Adenovital Scalp Tonic: What's In The Box?
I bought the Shiseido Hair Care Adenovital Scalp Tonic on Amazon and I must say that it was packed really well.
Apart from the external packaging for this product for shipment, the product bottle itself came plastic wrapped, to ensure that the cap stays firm. So I'd say the super excellent quality of packaging, with absolutely no spillages or leaks.
The product bottle is sleek and very convenient to store and can also be used for the purpose of travel, as the cap fits snug and doesn't spill out any product.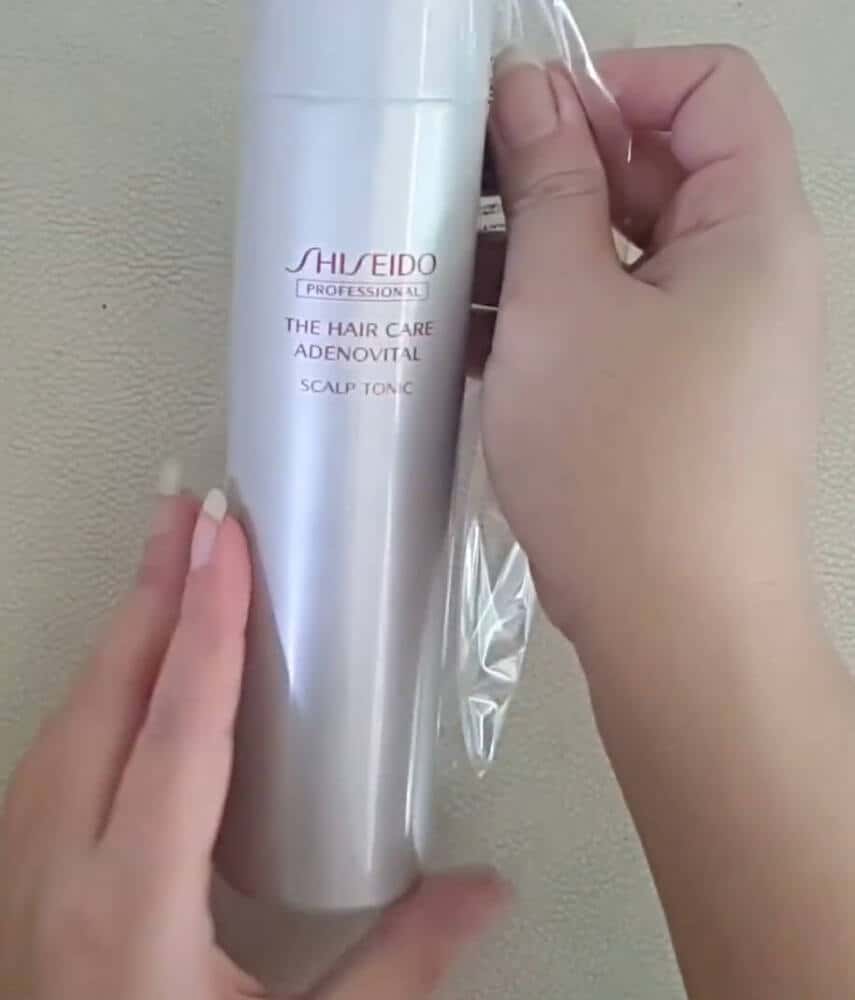 This scalp tonic comes in a sleek aerosol can type of bottle that has a mini pump with a pointed nozzle to release the product.
I noticed that this product is also available in a squeeze bottle, but I chose the aerosol can for my personal convenience.
Overall, I'd say this product was really easy to use and squirts out just the right amount of product for each use.
Shiseido Hair Care Adenovital Scalp Tonic Ingredients
I found that this product has two main active ingredients that are specifically targeted toward boosting hair growth in addition to its many other benefits. This is why this scalp tonic is known to show effective results.
This product has ingredients targeting hair loss, promotion of hair growth, improvement of hair texture, and the ability to provide relief from scalp conditions.
Let's get into a few details about these active ingredients, one being the Japanese pepper extract and the other being, hops extract.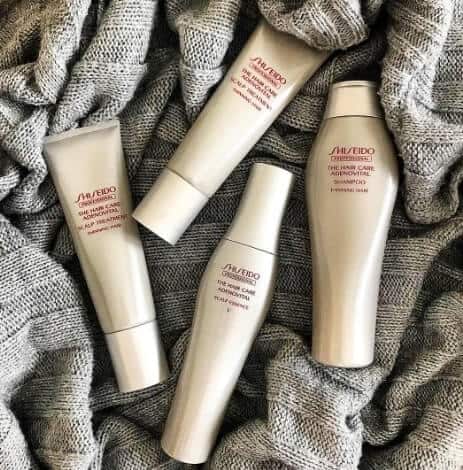 Japanese Pepper
This ingredient is a natural ingredient, scientifically known as zanthoxylum piperitum. How this ingredient is used by extracting a certain composition from this plant, in its dried form.
The reason this ingredient is added to hair growth products is that Japanese pepper in particular was known to prevent and treat hair loss which was hereditary and also any loss of hair due to any scalp conditions like dandruff, seborrheic dermatitis, eczema, etc.
In turn, using this ingredient also supports hair loss of all kinds and promotes hair growth.
Hops Extract
The second active ingredient in this shampoo is Humulus lupulus (in short, "hops" extract). This ingredient is known to be used as one of the components in hair blends that are made to boost hair growth right from the hair follicles.
Why this ingredient works well because our hair grows out from the root, in the hair follicle and thus that area needs to be targeted while using any product.
It is known to stimulate hair growth, while it also has natural properties of hair conditioning that can make the hair soft and improve its texture.
This ingredient is also known to enhance the fragrance of any product, because of its natural smell.
Adenosine
Adenosine is a natural compound that is found in all cells in the body. It is believed to promote hair growth by improving circulation and stimulating the hair follicles. Adenosine has been shown to increase the expression of certain growth factors that are involved in hair growth, which may help to improve hair density and thickness.
Ginseng extract
Ginseng is a plant that has been used for centuries in traditional medicine. Ginseng extract is believed to stimulate hair growth by improving blood flow to the scalp and providing nutrients to the hair follicles. It contains compounds called ginsenosides, which have been shown to have anti-inflammatory and antioxidant effects that may help to improve scalp health and prevent hair loss.
Arginine
Arginine is an amino acid that is involved in the production of nitric oxide, which helps to improve blood flow to the scalp and promote healthy hair growth. Arginine has also been shown to improve the health of the hair follicles by providing them with the nutrients they need to produce healthy hair.
Vitamin E
Vitamin E is an antioxidant that helps to protect the hair and scalp from damage caused by free radicals. Free radicals are unstable molecules that can cause oxidative stress, which can lead to hair damage and loss. Vitamin E helps to neutralize free radicals and prevent them from causing damage to the hair and scalp.
My Experience Using The Shiseido Hair Care Adenovital Scalp Tonic
This was my very first try at using a product by Shiseido and my second attempt at using a scalp tonic (and well, my first experience was not a good one!), so I was rather apprehensive about whether this product would work well for me or not.
But unless I gave it a try I would not know, right? So I did and here's my review for you guys.
So overall, I was pleasantly surprised as to how well this product came packed. It was really neatly packed and the bottle was super sleek and convenient to use for a person like me who loves traveling.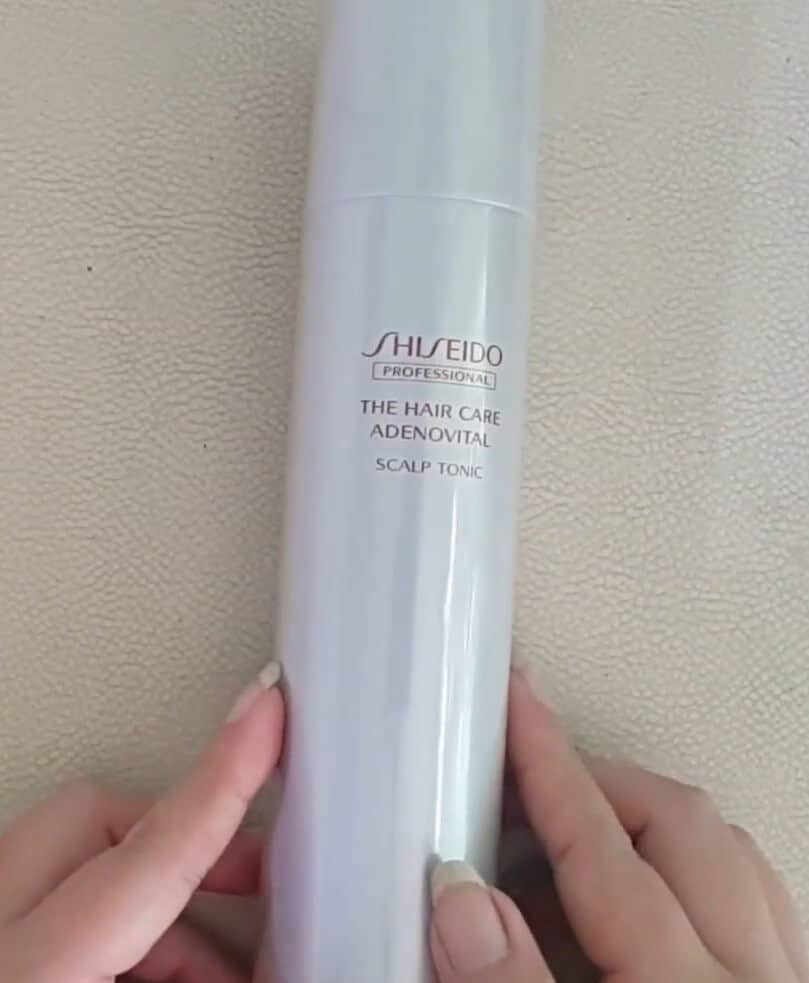 I have been using this scalp tonic for over four months now and any guesses on how I like it? Well, I love it! Yes, it is an amazing product and I actually saw good results! This is something that you do not find in all products that you try out.
My scalp has dandruff and my hair loss was quite a lot. But after using this product for two weeks, I noticed that my dandruff began to reduce, while I also began noticing that my roots had a bounce. This scalp tonic gave my roots volume!
After experiencing years of hair loss, finding that my hair fall was finally reducing and my hair was growing back, was like a miracle to me.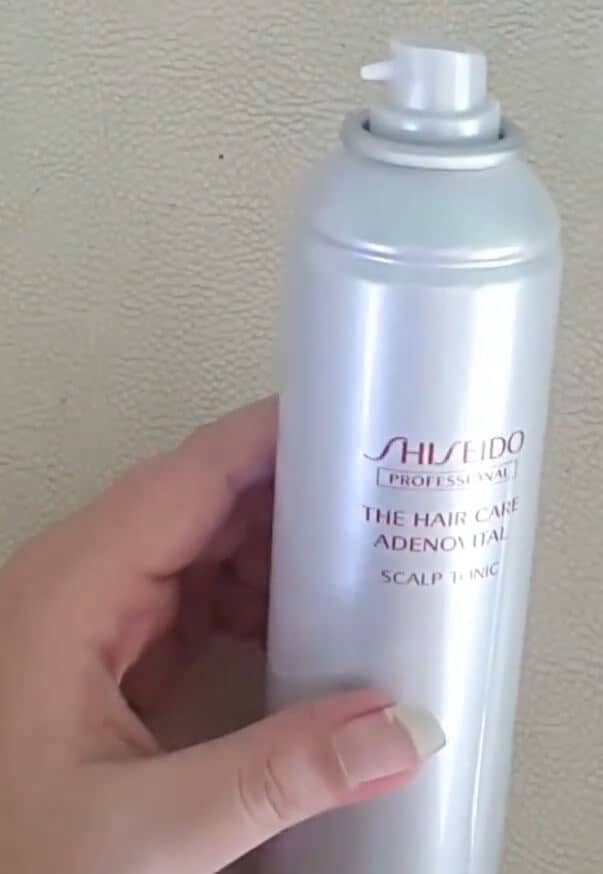 This product was really effective and I noticed the reduction in my hair fall and improvement in my hair growth after around a month of using this scalp tonic.
I also liked that it improved the texture of my dry hair and I eventually noticed my hair become softer and smoother after each use.
I really liked the texture of this product. What I liked is that it contained no microbeads, which some tonics have.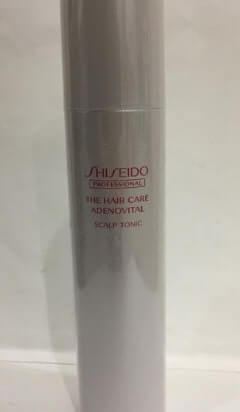 These microbeads can be harsh on the scalp. But the texture of this product was smooth and creamy. It was not liquid in consistency but was like a thick cream that was very easy to spread.

The fragrance of this product was really rice and what I liked the most was that it was mild! I am someone who is very sensitive to strong fragrances and this product has a nice smell that was not overpowering but made my scalp feel very refreshing once washed.
Talking about the product use, I'd definitely say that it is easy to use and the mini pump nozzle makes it very easy to apply this product on the partitions on the scalp.
Shiseido Hair Care Adenovital Scalp Tonic Price – Is It Worth It?
Well, I bought it on Amazon and paid a big buck for this product, $37.9, for just 200 grams of scalp tonic. Yes, it definitely is a lot!
Also, comparing this scalp tonic with other brands, I would say that the Shiseido hair tonic was rather expensive.
Well, otherwise, I would definitely think twice before buying such an expensive product a second time. But for this scalp tonic, I did not give it a second thought and I've already ordered my second bottle because it is absolutely worth it!
Pros and Cons of Shiseido Hair Care Adenovital Scalp Tonic
Pros:
· Very effective in terms of boosting hair growth.
· Can help reduce scalp conditions like dandruff and flaking.
· Improves hair texture and makes it smooth and soft.
· Requires just a little product for the treatment.
· Increases hair bounce and gives the roots more volume.
· This product has a smooth and creamy texture and consistency and does not contain microbeads.
· Has a mild and subtle smell that is suitable to those who are scent-sensitive.
· Very good product design and great packaging that is super convenient for the purpose of travel.
Cons:
· Compared to scalp tonics of other hair care brands, this product is relatively more expensive (but worth the price!).
How To Use Shiseido Hair Care Adenovital Scalp Tonic
This product is not a shampoo, it is a scalp tonic. This means that the product will have to be used once the hair has been washed with a shampoo.
Here's how you need to use this product:
Step 1: Shampoo your hair
Wet your hair well with lukewarm water. Then using your regular cleansing shampoo, apply it all over your scalp and hair and massage it in well to get a good lather.
Leave the shampoo on for a few minutes to soak in and then wash it off well under running water, so that no residue remains.
Step 2: Pat dry your hair
Before using the tonic on your hair, you need to make sure that all the excess water has been removed from the scalp and hair.
So, you can use a dry towel and pat dry your scalp and hair to get rid of the excess water.
Do not squeeze your hair or remove all the water, just the excess is sufficient.
Step 3: Apply the tonic
For this step, you need to partition your hair randomly and placing the tip of the nozzle close to your scalp, apply the tonic on 5 to 6 spots on different areas of your scalp.
Then gently massage it well onto the whole scalp and spread it along the length of your hair as well and leave it on for around 5 to 6 minutes.
Remember that this is a tonic and will not produce any lather.
Step 4: Rinsing off the tonic
Lastly, after the stipulated time, rinse off the tonic well under running water and make sure to leave no traces of residue.
To use: You can use this tonic once to twice every week for the best effects.
is Shiseido Hair Care Adenovital Scalp Tonic worth it?
The effectiveness of the Shiseido Hair Care Adenovital Scalp Tonic varies from person to person, but many users have reported positive results. Whether it's worth it depends on personal preferences and hair care needs, and it's important to use it as directed and maintain a healthy hair care routine.
Overall, it's a well-regarded product that may be worth trying for those looking to improve scalp and hair health.
The Final Takeaway: Who Should Use It?
If you are someone who has hair problems like dandruff and flaking, hair loss, hair thinning, dry scalp and hair, and frizzy hair issues, then this product can work well for you.
It has two powerful active ingredients solely meant to target these hair issues. It also works well in increasing hair volume and can also improve hair texture, apart from its other benefits.
I would definitely recommend this product, even though it is quite on the expensive side, it is worth the price you'll pay. So, overall, a great product works effectively and actually shows results!
Also Read: