Are you looking for a Shiseido Tsubaki Premium Repair shampoo review in detail? Well, don't you worry because I've got you? Read further to find a complete review of this Shiseido shampoo that'll help you in making better hair care decisions.
Hair is one of the most essential accessories and maintaining it is definitely our responsibility. Due to extreme weather conditions, pollution and excessive hair treatments, I lost all my hair's moisture. It had split ends and completely lost its original texture.
I happened to come across Sheiseido's during this point and picked it up from the store to just try what it promised.
It's been 9 months of consistently using Shiseido Tsubaki Premium Repair Shampoo and I'm super excited to tell you all about it.
I'm gonna be going deeper into everything from ingredients to packaging so stay hooked here. Without further ado, let's begin the most awaited review of Shiseido Tsubaki Premium Repair Shampoo which works like a magic potion.
Shiseido Tsubaki Premium Repair Shampoo Review
Who Is Shiseido?
Shiseido is a Japanese cosmetic brand founded by Arinobu Fukuhara in 1872. It's extremely well-known around the world and has become a multi-national company now as the fifth largest cosmetic company in the world and first in Japan. Shiseido stocks are traded in Tokyo Stock Exchange, yes it's that huge.
Shiseido is well known for their skincare, hair care, makeup, body care as well as fragrances. The company introduced Rainbow Face Powder in 1917 as a revolutionary act against white face powders in Japan. This act tried to normalise color racism and gained great popularity.
Shiseido started expanding its store base in 1923 and now has more than 25,000 outlets around the world. Shiseido is a premium brand but also includes sub-brands under it which are of reasonable prices.
Shiseido Tsubaki is a hair care collection with a simplistic and mature design that falls under a slightly expensive range.
Typically, Tsubaki consists of five product versions: Red: The shining/extra moisture, White: Damage Care Range, Orange: Damage Care Rich Premiere, Purple: Volume Touch range, Golden: Repair and Spa, and Purple: Volume Touch.
Initially, I was quite overwhelmed by the variety and found myself confused. However, for my dry hair, I went for the Shiseido Tsubaki Premium Repair Shampoo, the yellow-gold one. The reviews of this product were amazing and I must say that it really did live up to it.
Let's find out what's in the box before and unfurl the most amazing shampoo that I've ever used for dry and dehydrated hair.
What's In The Box: Shiseido Tsubaki Premium Repair Shampoo Packaging
Shiseido Tsubaki premium repair shampoo is just too beautifully packaged for a shampoo. It comes in golden color with gold and a transparent body. I really love how minimalistic they're with their front packaging which only makes it look more elegant.
Since the bottle is transparent, you'll be easily able to track the usage and quantity of the shampoo.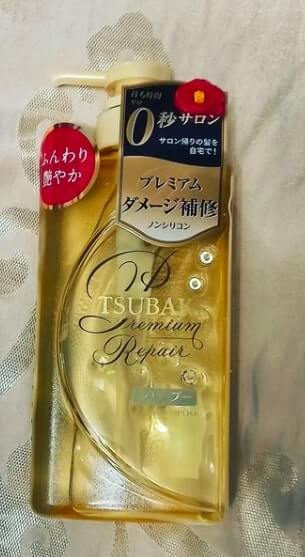 The pump dispenser makes application very simple as you don't have to lift the bottle, open the lid and then squeeze to dispense the shampoo. Simply press the pump and one-two pumps are enough for the application.
The bottle of Shiseido Tsubaki Premium Repair shampoo is built with tough material that doesn't break easily. I've dropped it a number of times by mistake but it never broke or leaked. You can even close down the pump to carry it along while traveling.
The best part about the packaging is that it follows the idea of sustainability and you can reuse it. The next time you wanna buy the shampoo, just get the pouch and fill the bottle up.
Shiseido Tsubaki Premium Repair Shampoo Ingredients
Shiseido Tsubaki Premium Repair Shampoo is formulated with camellia seed oil which is an emollient and helps in smoothing the hair. The ingredient is great for hydrating the hair and bringing shine.
Not only that, but the camellia seed oil is also rich in oleic and linoleic acid that provides nourishment, and strength and also reduces hair fall. The ingredient conditions your hair and leaves it bouncy and beautiful.
The presence of glycerin and amino acids also helps in returning the lost moisture in the hair. All these ingredients suited very well on my hair and
One thing that disappointed me was the presence of SLS (Soduium Lauryl Sulfate) which can damage hair but helps lathering. However, there are a lot of good ingredients that overpower this chemical ingredient and there's hardly any effect of it.
Texture & Consistency
The Shiseido Tsubaki Premium Repair Shampoo comes in the form of liquid and has a runny consistency. It might not sound too ideal to have a runny consistency shampoo but this one sits pretty well on the hair and deeply seeps all around the head without any force.
Fragrance
This shampoo will fetch you loads of compliments as it smells floral, fruity and refreshing. The fragrance of Shiseido Tsubaki Premium Repair Shampoo will last for about 2-3 days in your hair for sure.
USP of Shiseido Tsubaki Premium Repair Shampoo
Shiseido Tsubaki range is famous for delivering salon-quality hair treatments at home. The Shiseido Tsubaki Premium Repair shampoo is just another product that leaves your hair full-bodied, restores moisture, and eliminates sebum from open pores.
I completely agree with what Tsubaki claims as it did work wonderfully on my hair. I also found the shampoo to have a conditioning effect on my hair and softened it a lot more than it ever was.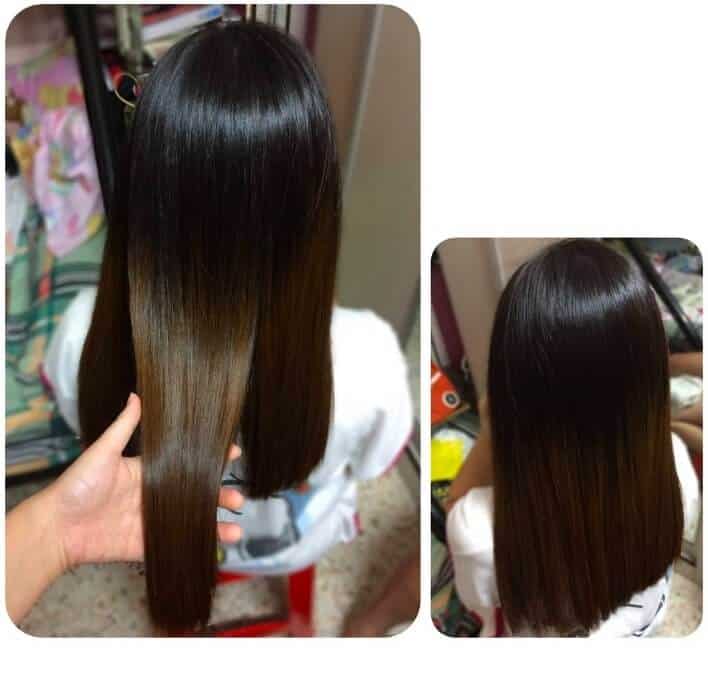 Shiseido Tsubaki Premium Repair shampoo is color-safe. It doesn't fade or strip off color from your hair even after constant washing.
Another thing that makes Shiseido Tsubaki Premium Repair shampoo worth buying is obviously its soothing and hard-to-resist fragrance.
It's long-lasting but not overpowering. I think the scent of the shampoo is one of the main reasons why I keep going back to buying it over and over again.
Shiseido Tsubaki Premium Repair Shampoo Price
Since Shiseido Tsubaki is a premium range shampoo, it's quite expensive than the usual drugstore shampoos. It costs about $15.25 for a bottle of 490 ml.
A refill shampoo pack is for $10.00 which consists of 330ml. If you want to try out the entire hair care set containing a shampoo, conditioner and treatment, you can buy it from Amazon at $44.35 for the set.
It's worth spending the money for this shampoo as the results are spectacular and extremely quick. However, if you're looking for something cheap, you can go for Dove's Intensive Repair Shampoo which retails for $10.56.
Even SheaMoisture Hydrate & Repair Moisture Shampoo is good and retails for $8.02. This shampoo is sulphate free as well, in case that's your priority. Nonetheless, Tsubaki's results are way more effective and quick than the alternatives I've mentioned.
Pros And Cons Of Shiseido Tsubaki Premium Repair Shampoo
Let me list out some of the pros and cons of Shiseido Tsubaki Premium Repair shampoo that will help you choose better.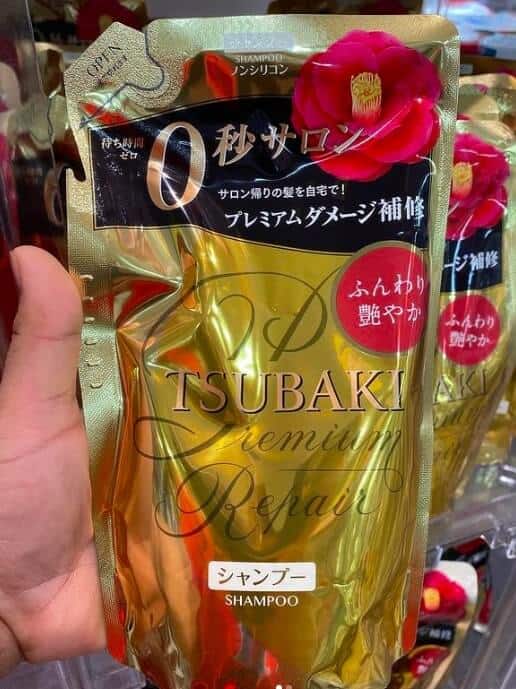 Pros:
Shampoo is famous for providing salon-quality treatment at home. This not only saves time but also money and effort.
Shiseido Tsubaki Premium Repair shampoo restores moisture loss, and conditions as well as strengthens the hair. It makes the hair look fuller and also reduces hair fall.
It's reef-safe and free of silicons, parabens, and phthalates. These ingredients might trigger hair loss, drying, and damage the hair completely.
Shiseido Tsubaki shampoo is color-safe. There's no sign of color-fading and in fact the shampoo only brings lustre to your hair.
It has a great scent and will leave your hair smelling like a dream. You can observe a nice floral and fruity fragrance of the shampoo.
The packaging is minimalistic, sustainable and reusable. The environment and nature are well thought about before making the shampoo bottles.
Cons:
Shiseido Tsubaki Premium Repair shampoo does contain some amount of sulphate in the form of SLS. This can trigger hair drying, hair loss, and other problems in some people.
The consistency of the shampoo is quite runny. This might not be everyone's problem but a lot of users can despise watery shampoos as they might be effective on coarse hair types.
Shiseido Tsubaki is a premium range shampoo so it's a little pricer than the rest of the over-the-counter shampoos. However, it's worth using for its benefits.
Shiseido Tsubaki Premium Repair shampoo may not be ideal for people with excessively oily hair as it might intensify moisture on hair.
How To Use The Shiseido Tsubaki Premium Repair Shampoo?
Take 1-2 pumps of the Shiseido Tsubaki Premium Repair shampoo on your palms and gently rub your hands. This will lather the shampoo and you can now massage the formula on your wet hair. Make sure to cover your entire hair and scalp with shampoo.
Once the shampoo is applied, rinse off thoroughly with water. You can also apply the conditioner and wait for 3-5 minutes before washing it off.
Who Is Shiseido Tsubaki Premium Repair Shampoo For?
Shiseido Tsubaki Premium Repair shampoo is great for all hair types like dry, damaged, sensitive hair, etc. It repairs moisture, strengthens hair, and provides salon-quality fullness to your hair.
However, if your hair is excessively oily, you can avoid this shampoo as it might not suit your hair.
Conclusion
Shiseido Tsubaki Premium Repair shampoo is one of the best shampoos I've come across and works like magic for people with dry and damaged hair.
It's worth buying the shampoo as it really does what it claims. My hair has never felt better before this.
Do let us know in the comments below if the shampoo worked out for you or not. Cheers!
Also Read: