Check out the best Japanese skin care brands to add the best skincare products in your routine! Check it out!
I love taking care of my skin, especially because it is highly sensitive and prone to almost every skincare concern known to mankind. In all of my time on this planet, I have tried innumerable skincare brands to tackle my several skin issues.
However, after all the testing and trying, I found out that the best Japanese skin care brands are the ones that work marvelously on the skin.
As is widely known, Japan is known to have various kinds of skin care brands that are popular all across the planet. These brands are well-known and revered. I am sure you must have heard of Japanese brands like Shiseido, SK-II, and KOSE.
Best Japanese Skin Care Brand — Quick Summary
The reason I have blind faith in Japanese brands is that they are effective and innovative, and these are also quite high in quality. The deal with Japanese brands is that even if you choose an inexpensive brand, it will not let you down.
From all my years of experience, I have put together these wonderful brands and their famous products that you must definitely try.
Top Japanese Skin Care Brand
DHC – Best Japanese Skin Care Brand
DHC is one of the most popular Japanese skin care brands that is known to combine the latest scientific innovations with traditional botanicals. With this, DHC has managed to make a revolutionary addition to the world of skin care products.
The ingredients used in DHC products are high in quality. Most of the products make use of organic olive oil, which is quite a star ingredient.
It is well-known for the following product:
DHC Deep Cleansing Oil
I have tried several cleansing oils as a part of my double-cleansing routine, and out of all that I have used, it is quite safe to say that this one is the best.
The DHC Deep Cleansing oil worked wonders on my skin, which is thanks to its unique water-soluble formula. It cleanses the face deeply and is quite easy to wash off too.
The ingredients in the oil are gentle enough to suit all skin types. Some of the ingredients include olive fruit oil, rosemary leaf oil, and vitamin E.
Olive oil is known to reduce free radicals. It also helps to unclog pores. With Vitamin E, you can be sure to get plump skin.
The cleansing oil is perfect to remove makeup thoroughly. It also helps hydrate the skin and balance oil production. If you are looking to improve your cleansing routine, this is the one for you.
Pros
Thoroughly removes makeup and dirt
Unclogs pores
Lightweight
Easy to wash off
Hydrates skin
Makes skin supple
Cons
May not work for acne prone skin
Best For : All skin types
Related: Best Japanese Eye Cream
SK-II
SK-II is an award-winning brand that has gained an excellent reputation for its star ingredient – Pitera. SK-II underwent several types of research to finally reach this level of innovation that earned it an excellent reputation all over the world.
It is well known for the following product:
SK-II Facial Treatment Essence
This treatment essence is very intense and adds a lot of hydration to the skin. It contains Aqua BB, which is an ingredient known to illuminate and protect the skin.
It also contains more than 90 percent Pitera, which really is a magic ingredient. It promotes skin renewal and is perfect to be used daily.
Pros
Tones and hydrates skin
Reduces appearance of fine lines and wrinkles
Refreshes the skin
Lightweight
Absorbs quickly
Non-sticky
Perfect for daily use
Cons
A little on the expensive side
Not for all skin types
Best For: Skin Renewal
Related: Best Japanese Beauty Products
Shiseido
Shiseido is one of the most well-renowned brands of Japan, which is known for its wide range of products. The products by the brands are well-known all over the world, and it is for these products that the brand has won several awards.
It is well known for the following product:
Senka Perfect Whip
This is one of the best face washes that you can get. It is extremely popular across the world. The regular face wash is available in a blue package. However, there are two new varieties available now – Perfect Whip Collagen In (Pink) and Perfect Whip White Clay (White).
I have been using Senka Perfect Whip for quite some time now, and I love the texture of it. It creates a thick foam and helps to properly clear the skin and remove all impurities from the pores. It has also helped to brighten the skin. It also did not dry out my skin, which is already quite dry and sensitive.
Pros
Perfect texture
Unclogs pores
Helps clean the skin
Brightens skin
Does not dry out the skin
Best For: Clear Skin
Related: Best Japanese Serum
Hada Labo
Hada Labo is a skin care brand that is known for its products that are affordable and extremely effective. The signature ingredient used in most of the products is Hyaluronic Acid. The products are great for dry skin. There are also several other products that are great for different skin types.
It is well known for the following product:
Goku-jyun Hyaluronic Acid Lotion
I love this hyaluronic acid lotion by Hada Labo. A lotion, in Japan, has different notions than it does in the west. The lotion has a toner-like consistency and you need to pat in onto your skin before lathering in the moisturizer.
This lotion contains carefully selected hyaluronic acids that highly moisturizes the skin. It is the perfect base on top of which you can layer all your skincare products. It has a lightweight texture that is easily absorbed by the skin. It is perfect for normal to dry skin.
Pros
Lightweight
Gets absorbed easily
Contains hyaluronic acids
Moisturizes skin
Great for normal to dry skin
No added fragrance or oil
Best For: Hydrated skin
Related: Best Japanese Face Wash
Tatcha
Tatcha is a brand that promotes classical Japanese beauty and culture. The products of Tatcha are inspired by traditional Japanese beauty rituals followed by the geishas. The products are said to help you achieve smooth porcelain-like skin.
The products contain ingredients like camellia oil, green tea, and silk extracts, all of which help calm the skin.
It is well known for the following product:
Water Cream
Tatcha is very well known for its Water Cream. This is oil-free, so even if you have oily skin, you can opt for it. The cream really helped nourish my skin. It contains nutrients and powerful botanicals that work wonders.
I had doubts when I used this cream for the first time because creams generally make my skin very sticky and greasy. However, it was not the case with the Tatcha water cream. My skin was moisturized without the oiliness and heaviness.
The cream contains Wild Rose that tightens the pores and also smoothens the skin texture. It also has Hadasei-3 that works as an anti-aging ingredient. This is a trinity of green tea, rice, and algae.
Pros
Hydrates skin
Improves skin texture
Absorbs quickly
No mineral oils
Non-comedogenic
Non-irritating
Free of parabens
Cons
Might lead to breakouts
Might peel dry skin
Best For: Improved Skin Texture
Tokyo Cure
Cure is, again, one of the famous skin care brands of Japan that is recognized for its exfoliant. The brand believes in 3 R's – Remove, Replenish, and Retain.
Continuously using Cure's products can help change the texture of your skin. In no time, you will have soft and smooth skin.
It is well known for the following product:
Cure Natural Aqua Gel
I am all in for exfoliation, especially when it is gentle yet effective. So, when I came across the Cure Natural Aqua Gel, I knew I had found my perfect partner.
This product helped me exfoliate my skin gently without exposing the skin to harsh chemicals. This is a chemical peeling gel mask that contains strong acids to dissolve proteins.
It really made my skin baby soft by removing all dead skin cells with its 91 percent activated hydrogen water formula.
I use it everywhere – face, neck, hands, elbows, and even my heels. It has helped remove all excess oils, spots, acne, pimples, as well as clear clogged pores. If you need a gentle exfoliator that does its job perfectly, this is the one.
Pros
No added color or fragrance
No preservatives
Refreshes the skin
Exfoliates skin
Lightweight
Cons
Has a water-like consistency
Might cause dryness
Might cause irritation
Best For: Soft and smooth skin
Biore
This Japanese skincare brand is known to work wonders on your skin and has a very affordable price range. Biore not only aims to provide a temporary solution to all skin problems but also eradicates them from the roots and gives you healthy and beautiful skin.
Biore uses unique methods and skin beneficial ingredients in their skincare products to tackle the most common skin problems. Most of the Biore products use charcoal as their key ingredient to deeply cleanse and nourish your skin.
Biore is quite famous for its pore cleansing skincare products that cleanse your pores and make them appear smaller to make your skin look flawless.
Biore Original Deep Cleansing Pore Strips
This is the best pore strip I have ever used in my life. Unlike most pore strips that only remove fragments of your blackheads in your nose, Biore does its magic to ensure that all the blackheads in your nose are completely removed.
It instantly cleans your pores and unclogs them by getting rid of dirt, oil, blackheads, and whiteheads.
In addition, they also make your pores look smaller if you use them regularly. Their pore strips are vegan and cruelty-free hence you can rest assured when using them. They are affordable and are available in most drugstores. 
Pros:
Instantly cleanses your pores
Removes all impurities from deep within
Removes blackheads entirely
Unclogs pores and makes them appear smaller
Makes your nose spot free
Cons:
Might be very tight on the skin
Best for – Removing blackheads
Sekkisei
This is one of those Japanese skincare brands that you must try once in a lifetime. Sekkisei is a Japanese skincare brand that's inspired by snow which is why its name is a Chinese character for snow.
The inspiration behind snow is their passion for Earth and its natural elements like water. Sekkisei products are made using traditional Chinese and Japanese methods which use natural herbs to treat skin problems.
They believe natural ingredients can make your skin healthy and prevent major skin issues like acne and pimples.
Sekkisei Lotion
Sekkisei's best-selling product is the Sekkisei Lotion. It's made out of moisturizing herbal ingredients such as coix seed extract, angelica extract, and melothria extract. These natural ingredients ensure to keep your skin healthy and improve translucency.
It is a multi-purpose lotion that renews your skin's texture, eliminates pigmentation patches, and refines your pores. Use this lotion to have a luscious skin.
Pros:
Contains skin beneficial ingredients
Rich creamy texture that applies instantly to your skin
Improves skin texture and makes it supple
Reduces pigmentation
Cleans your pores and makes your skin clear
Cons:
Quite expensive
Might not suit all skin types
Best For – Improving skin texture
Japanese Skin Care Routine
Cleansing
One of the key steps in a Japanese skin care routine is Cleansing. This is extremely important because it helps remove dirt, makeup, grease, and all other impurities from the skin. This helps to keep skin healthy. Japanese cleansing products also work as exfoliators.
Hydration
Just cleansing is not enough, you also need to keep your skin hydrated. Using hyaluronic acid really works to improve your skin texture, brighten it, and make it look youthful. Proper hydration also makes skin radiant and prevents drying out. You will notice that Japanese skincare involves moisturizers, hydrating masks, and facials.
Sun Protection
This is one step you must not miss at all. Protecting the skin against the harmful UV rays makes it healthy. It also helps prevent damage and stops the aging process caused by free radical production.
Smoothing
Japanese also use a lot of smoothening creams to keep skin flawless. This gives the skin a glass-like complexion and makes it smooth and silky.
Ingredients in Japanese Skin Care
Japanese skin care products use a lot of natural ingredients that are so good for your skin. This is because there is a regulation on the usage of harsh chemicals in products in Japan. Some of the major ingredients used include hyaluronic acid, collagen, niacinamide, Vitamin C, rosehip seed oil, rice, and green tea extracts.
What do these ingredients do for the skin?
Hyaluronic acid is known to penetrate multiple layers of the skin and helps to hydrate it from within.
Collagen is known to tighten up the skin and add firmness to it. It can help your skin look youthful.
Vitamin C is highly refreshing and also helps to remove any dirt and impurities from the pores.
Niacinamide is the perfect solution to hyperpigmentation. It helps to even out the skin tone.
Rice softens the skin and also adds firmness.
Japanese Skin Care Tips
Use an upward motion when working on your cheeks and forehead because it helps to improve blood circulation.
Ue hydrating products to make your skin look younger.
Make sure to be regular with your skincare routine to help maintain skin health and texture.
Use gentle products.
Instead of a toner, use a skin softener.
You can help improve skin elasticity with the help of collagen-infused products.
You need to include an anti-aging mask to your routine at least twice a month.
Regularly massage your skin; it helps to improve circulation and reduce stress.
Take some time off of makeup.
What is the difference between Japanese and Korean skincare?
While Japanese and Korean skincare routines look quite similar, there is a difference. As compared to the Korean skincare routine, there are fewer steps involved in Japanese skincare. Also, Korean skincare is more focused on softening and hydrating the skin. Japanese skincare, on the other hand, is more about protecting and brightening the skin. Japanese skincare products are also gentler as compared to Korean products.
The Ultimate Love For Your Skin!
No matter how many products you try, there is nothing that can beat a Japanese brand. Believe me, these Japanese brands and their products will definitely be the next holy grail product that you can absolutely not live without.
Believe you me, when I first started using Japanese brands, I knew there was no looking back. I felt an instant change in the way my skin looked and felt. Ever since then, I have trusted the innovation, effectiveness, and quality of Japanese brands without a question.
Having a good skin care routine is just so important to ensure that you have skin that is well hydrated and clean. IT can help get rid of several skin concerns, such as dark spots or acne scars.
Give these Japanese skin care brands a try and feel the difference for yourself.
Also Read
DHC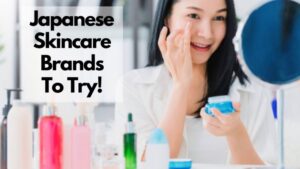 Check out the best Japanese skin care brand you'll love!
Product SKU: 00985566NBH88544112256
Product Brand: DHC
Product Currency: USD
Product Price: 26.73
Price Valid Until: 2021
Product In-Stock: InStock