Looking for heartwarming yet heart-wrenching 日本人 恋情 动画片 movies? 以下是一些 最佳爱情动漫电影 供你欣赏。
Order that tub of ice cream for some company because there's going to be a lot of waterworks.
Romance is a popular sub-genre in many anime movies as it's one genre that will easily blend with any other genres, be it adventure or Sci-Fi.
最佳爱情动漫电影: 快速总结
Top Romance Anime Movies
Kotonoha no Niwa (The Garden of Words)
评价。 NR | Runtime: 45 Min | Released On: 6th Aug 2013 | 编辑的评价。 7/10
Takao Azuki has an unusual dream – to become a shoemaker. Obviously, nobody understands it. Until one day, he meets a girl who seems to be the only one who believes in him.
But the girl is distant and can't get close to him until she overcomes her own internal predicaments.
Directed and written by 新海诚, this is one of the best romance anime movies I watched a while back.
This romance anime has my heart – what a sweet story! I have always loved Makoto Shinkai's work (I mean who doesn't!). The movie is about 45 minutes long and yet the two characters develop beautifully and as audience we understand the intricacies of each of their lives.
Though the ending for me was a bit melodramatic and somewhat predictable. But then aren't most sappy romantic movies like that? But all in all, The Garden of words was very sweet story and will keep you engaged. Definitely, worth one 观察 at least!
5 Centimeters per Second
评价。 NR | Runtime: 63 Min | Released On: 3rd Mar 2007 | 编辑的评价。 7.2/10
This is another of the best romance anime movies with a really interesting storyline. It's more like a drama romance anime movie. Akari and Takaki were inseparable but after school, they were separated.
They both grew apart from each other but each in the other's heart. One day, Takaki decides to embark on a journey to unite with her old friend again. This story is about friendship told from both their perspectives.
Directed and written by Makoto Shinkai, you should definitely give this best romance anime movie, 5 Centimeters per Second, a watch!
#3 — Weathering With You
评价。 NR | Runtime: 111 Min | Released On: 15th Jan 2020 | 编辑的评价。 7.3/10
The next one on my list of best romance anime movies is 与你风雨同舟. A magical love story of a struggling boy and a girl who can control rain and the skies.
Hodaka, still in the first year of college, runs away to Tokyo. Only later to struggle and stretch himself thin financially.
He tries to bravely weather the days living alone and finally landing a job writing for a mysterious occult magazine. He then meets Hina who has the special ability to manipulate rain and the skies.
As you watch this movie, you will genuinely start empathizing with the characters in it. Shinkai, the director, also point the effects of climate change and what it could mean for Tokyo. It's interestingly how rain was shown as relentless and violent this movie in contrast to the Garden of Words where the rain is depicted as somewhat soothing, sometimes lonel even.
Makoto Shinkai's ability to merge fantasy, a bit of sci-fi, slice of life all into one romantic comedy just amazed me!
Watch this fantastical romance anime movie directed by Makoto Shinkai!.
#4 — Castle in the Sky
评价。 医学博士 | Runtime: 124 Min | Released On: 1st Apr 1989 | 编辑的评价。 8/10
Castle in the Sky is a fantastical story of a boy who find a girl floating down from the sky. Sheeta is being chased by government agents, army soldiers, and pirates.
But why? To find the answer to this and more, our boy tags along with Sheeta in a quest to find all the answers in a mysterious floating castle.
The romance in this best romance anime movie isn't all that obvious so it's a good watch for the little ones as well. A lot of magic, a lot of mystery, and a very well written story. Check it out!
#5 — Only Yesterday
评价。 PG | Runtime: 118 Min | Released On: 26th Feb 2016 | 编辑的评价。 8/10
This list is just getting better and better! Only Yesterday is one of the best romance anime movies and one of my absolute favorites. This movie is all about nostalgia, reminiscing the past, reliving memories of yourself and your long lost love.
And this story is about a single lady named,Takeo who goes on this journey when she decides to pay a visit to her relatives in the countryside.
Immediately, all memories from her childhood come flowing back – her school, boys, puberty, and her stirrings of romance. She also meets Toshio, a young farmer who reminds her of her childhood dreams.
She then questions herself if she really achieved what she set out to achieve.
Full of emotion and nostalgia, Only Yesterday is written and directed by Isao Takahata. Rich humor and beautiful animation, this best romance anime movies is definitely worth a watch (or two!)
#6 — Summer Wars
评价。 PG | Runtime: 114 Min | Released On: 24th Dec 2010 | 编辑的评价。 7.8/10
Summer Wars is a lot more than one of the best romance anime movies. There's adventure, Sci-Fi, and a whole lot of drama! Kenji, a young maths prodigy, is in love with Natsuki.
Natsuki hires Kenji to act as her boyfriend. A turn of events and Kenji receives a riddle on his phone. This sets off a chain of events that threatens a massive virtual called Oz.
Directed by Mamoru Hosoda, this is one of the best romance anime movies with drama, Sci-Fi, and adventure being the sub genres. The storyline will keep you entertained and hooked throughout! Check it out!
#7 — Kimi no Na wa (Your Name)
评价。 PG | Runtime: 106 Min | Released On: 7th Apr 2017 | 编辑的评价。 8.5/10
Your Name is a story about two young souls, fate and time. Everything changes for two high school students, when Taki and Mitsuha swap bodies.
One morning, Taki wakes up in Mitsuha's body and she is in his. This strange event happens occasionally and both of them must learn how to live with it.
This best romance anime movie is about how they form a bond merely through notes, messages, and imprints they leave for each other but never able to meet. Will fate ever unite them? Or will keep them apart forever? Find out in this movie directed by Makoto Shinkai.
#8 — Koe No Katachi (A Silent Voice)
评价。 NR | Runtime: 129 Min | Released On: 20th Oct 2017 | 编辑的评价。 8.5/10
Here's another one of the best romance anime movies. I absolutely loved watching this one. It stirs all sorts of emotions within you.
A Silent Voice is about a beautiful young girl with impaired hearing, Shoko Nishimiya and a high school bully Shoya Ishida. A few years later, Ishida is the one being bullied. And only now realises the pain he caused to Shoko and now longs for her forgiveness.
**literally me when I was watching this movie**
Stirring emotions, A Silent Voice directed by Naoko Yamada, is one of the best shoujo romance anime movies of all time! Definitely worth watching. Check it out below!
#9 — Toki wo Kakeru Shoujo (The Girl Who Leapt Through Time)
评价。 NR | Runtime: 98 Min | Released On: 3rd Mar 2007 | 编辑的评价。 8/10
Another one of best romance anime movies with magic and adventure. This story is about a girl who can travel through time and space. She uses her special ability to maintain her friendships with the ones closest to her heart.
With a new perspective, this best romance anime movie explores the constantly changing nature of different relationships the girl has. If you're a beginner to this genre, this is a good pick to start with.
Directed by Mamoru Hosoda, this romantic storyline is both engaging and endearing.
#10 — From Up on Poppy Hill
评价。 PG | Runtime: 91 Min | Released On: 15th Mar 2013 | 编辑的评价。 7.5/10
From Up On Poppy Hill' is the next one on this best romance anime movies list. It's set in 1963 and explores the budding romance between two highschool students, Umi and Shun, living the aftermath of WWII.
Japan is preparing to host the Olympics, while the young generation of the country is struggling to find any positive notion.
Umi's and Shun's romance blossoms as they both work together to save a decrepit clubhouse from being demolished. But there's a secret hidden from their past that might keep them apart forever.
Directed by Goro Miyazaki, this best romance anime movie has gripping plot twists that will keep you eyes glued to the screen! Check it out!
#11 — The Anthem of the Heart
评价。 NR | Runtime: 119 Min | Released On: 2015 | 编辑的评价。 7.5/10
Formerly titled, 'The Heart Wants To Shout', this best romance anime movie is about a young and conflicted girl, Jun Naruse.
The story is set in Chichibu and revolves around how Jun is never truly able to express what she really feels. Ultimately, the words she utters always ends up hurting the people around her.
Until one day when a fairy comes along and offers to swish away all her problems. But at what cost?
The fairy seals away Jun's words so she is never able to hurt anybody again. Several years later, Jun's life changes when she understands real friendship and music.
Directed by Tatsuyuki Nagai, The Anthem Of The Heart is definitely one of the best romance anime movies to watch and must immediately go down on your watchlist!
#12 — KazeTachinu (The Wind Rises)
评价。 PG-13 | Runtime: 126 Min | Released On: 21st Feb 2014 | 编辑的评价。 8/10
Jiro wants to design and fly breathtaking airplanes and reach new heights. But with his nearsightedness, he will never be allowed to fly.
But not all hope is lost. Jiro enrolls in an engineering firm to later become the world's best-accomplished airplane designers.
The Wind Rises is one of the best romance anime movies and tells the story of how Jiro life is shaped by the historical events like the tuberculosis epidemic, the Great Depression, and the Great Kanto Earthquake. Eventually, Jiro falls in love with Nahoko.
Directed by Hayao Miyazaki, this best romance anime movie is much more than just a love story. Check it out!
#13 — Clannad
评价。 NR | Runtime: 90 Min | Released On: 15th Sept 2007 | 编辑的评价。 7.5/10
Clannad is a story about a young boy named Okazaki Tomoya. A school going boy who goes to school out of habit.
Haunted by nightmares of a world where he exists as nothing but a consciousness, Tomoya wonders if it's just a bad dream or something more. One day, a girl starts following him to school everyday.
They form a close friendship walking to school together and Tomoya feels better about this world. But the nightmares still trouble him.
Find out if he ever gets rid of this nightmare or does it really mean something else in this best romance anime movie directed by Osamu Dezaki.
#14 — Mimi wo Sumaseba (Whisper of the Heart)
评价。 PG | Runtime: 111 Min | Released On: 7th Mar 2006 | 编辑的评价。 8/10
Whisper Of The Heart is another of the best romance anime movies, written by Hayao Miyazaki. Shizuku Tsukishima is almost going to finish her junior high school and her love for books inspires her to become a writer.
This young girl with dreams and still learning to believe in herself falls in love with Senji, a young ambitious boy who manages to catch her attention with his mischievous charm.
Shizuku, inspired by a statue at Senji's grandfather's antique shop, writes a story about a cat-shaped sculpture coming to life.
Whisper Of The Heart is an amazing watch directed by Yoshifumi Kondo. Check it out down below!
#15 — The Cat Returns
评价。 PG | Runtime: 75 Min | Released On: 19th July 2002 | 编辑的评价。 7.5/10
Here's another fantastical story about Haru and Prince Lune, the Prince of Cats. One day, Haru on her way to school saves a cat, who she later learns is the prince of the Cat Kingdom.
Prince Lune's father, grateful to Haru for saving his son's life, invites Haru to the Cat Kingdom and asks Haru to marry Prince Lune. Haru explores the unusual world of the Cat Kingdom.
Will she marry Prince Lune or escape? Find out in this magical best romance anime movie directed by Hiroyuki Morita.
#16 — Doukyuusei (Classmates)
Doukyuusei explores the romantic relationship between two male characters. Classmates/Doukyuusei is a sweet anime about how Rhito Sajou and Hikaru Kusakabe fall in love.
Hikaru is a guitarist and Rhito is a total nerd. They would've never met if it wasn't for fate. Rhito needs Hikaru help in order to prepare for the chorus. And the more they meet, the more their feelings for each other grow. And just like that they fall for each other.
Of course, there's a lot of drama in between. Watch it to find out!
#17 — Hotarubi no Mori e (Into the Forest of Fireflies' Light)
Hotarubi no Mori e is a beautiful romance anime movie and is definitely a must-watch anime movie. This anime brings a Japanese folklore tro life.
This anime tells the love story of a forest spirit and a girl. Hotaru, one day, wanders into the forest as a little girl and encounters Gin, the forest spirit. Years pass by and they continue meeting in the forest.
The problem? If Gin touches a human being, he disappears. As Hotaru grows older, Gin and Hotaru fall in love with each other bit by bit, one visit at a time.
I must warn you, it's not a happy ending and you'll be in tears. But it's definitely a must-watch romantic anime!
#18 — Howl no Ugoku Shiro (Howl's Moving Castle)
This anime is inspired by Dianna Wynne Jones' novel that goes by the same name – Howl's Moving Castle. This romance anime movie is a Studio Ghibli movie production and is very one of the best romance anime movies ever!
Howl no Ugoku Shiro or Howl's Moving Castle is a fun romance anime to watch! Sophie gets into trouble one day and by chance is rescued by Howl, the mysterious wizard.
This sparks jealousy in Witch of the Waste and she makes it her mission to make sure that Howl repulses her. So the Witch curses Sophie to turn into an old woman.
Sophie, with nobody helps, returns to Howl to make her normal again. This leads to a series of adventures (or should I say misadventures)
It's available on Amazon and the quality is pretty good too. Check it out!
#19 — Ocean waves
Ocean waves is an anime movie known as I Can Hear The Sea in Japan. It is about two best friends Taku and Yutaka who are heading back to school after the holidays.
They come across Rikako a beautiful new transfer student from Tokyo whom they both have feelings for. Taku and Yutaka's friendship turns bitter as they all become part of a love triangle. Taku reminisces all of his bitter-sweet memories while partaking in the high school reunion.
This anime movie was directed by Tomomi Mochizuki and is packed with romance and drama. It is definitely worth the watch as it feels realistic and keeps you nail-biting towards the end.
#20 — Ride your wave
This is a very emotional anime movie about a girl called Hinako Mukaimizu and her boyfriend Minato who is a firefighter. When Hinako's apartment catches fire, Minato comes to rescue her.
They both develop a friendship and start learning how to surf. Eventually, they fall in love with each other. However, Minato tragically dies after trying to save a drowning jet skier. Hinako is depressed by his death and moves to another place.
Suddenly, Hinako finds Minato appearing from the water whenever she sings her favorite song. They spend time with each other although Hinako is aware he's no longer alive. Has Hinako become delusional due to her boyfriend's tragic death? You can only find out by watching the movie.
#21 — Ponyo
This anime movie is about a fish who's eager to explore the outside world. The goldfish comes across a human boy called Sosuke, who saves the fish from a fish trailer and names the fish Ponyo.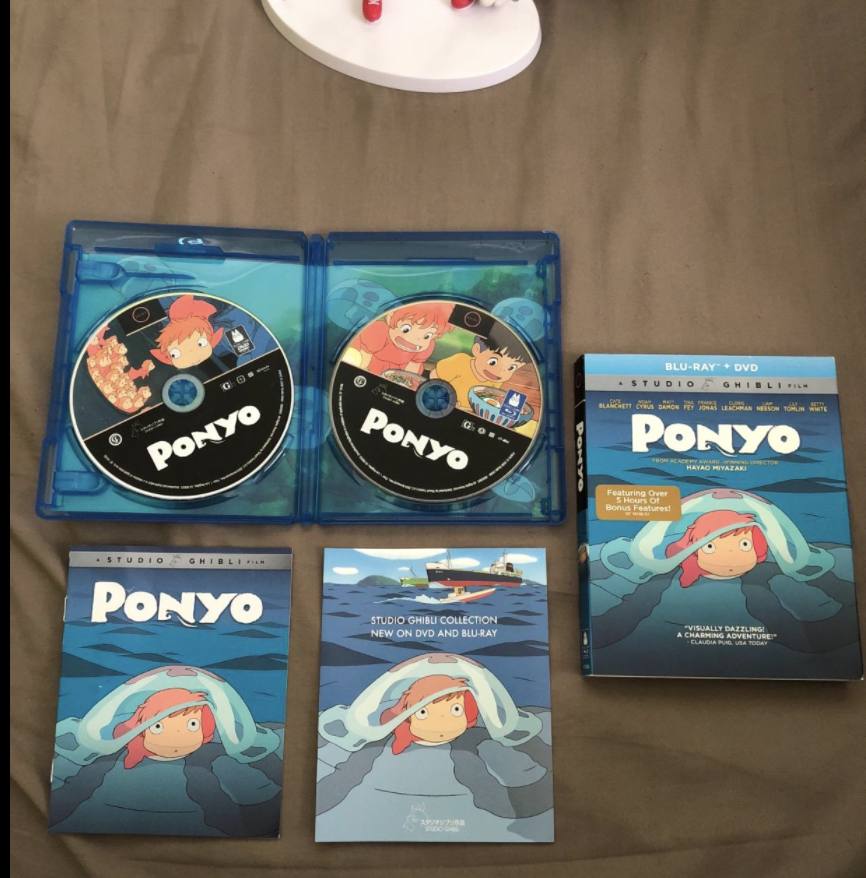 onyo's father is worried about his daughter as she went missing for a long time and he calls on his wave spirits to find her.
After Ponyo reaches her father they have an argument and Ponyo confesses her desire to become a human.
She uses her magic to turn herself into a human and this causes her father to become outraged as her powerful magic has caused destruction in the marine world. This movie is filled with fantasy and romance and is a great family movie.
#22 — Hal
An emotional anime movie about a young woman called Kurumi, who loses her boyfriend Hal to a tragic airplane accident. Hal falls into severe depression afterward and cuts off all social contact by isolating herself in her house.
When Kurumi's grandfather learns about this incident he seeks help from a humanoid robot to take the appearance of Hal.
Kurumi goes back to her normal state after she meets the robot. They both spend time together and Kurumi falls in love with the robot who looks like Hal.
However, they both realize the truth about their relationship and are confused. To find out what happened next watch Hal and I promise you'll never regret it.
#23 — Hello World
This anime is about future events that occur in the year 2027. In the technologically advanced city of Kyoto resides an introverted boy called Naomi who loves to read books. He finds himself falling in love with Ruri a bold girl who also loves books.
Naomi is afraid to approach Ruri and he suddenly finds a future version of himself who tries to help him reverse a tragic event that happens to Ruri.
The present-day Naomi tries to get closer to Ruri in order to save her from the disastrous event. To know if Naomi will be successful in changing the future watch Hello World. It's a unique science fiction romance anime that will definitely grab your interest.