Want to know if Shiseido shampoo is worth your money? Read this review and find out for yourself. I've tried out a few different Shiseido shampoos and I have to say that they're really good!
Today I'll be reviewing some of the hot sellers of Shiseido shampoos and which among them was effective on my mane.
Shiseido is a premium Japanese skincare and hair care brand that has earned the trust of millions of consumers worldwide.
Although Shiseido is widely popular for its skincare commodities, it also provides an assortment of hair care products like shampoos and conditioners.
Shiseido comprises a vast spectrum of shampoos that cater to distinct hair concerns and types. So I tested a couple of Shiseido shampoos and have given my honest review. Check them out below!
Shiseido Shampoo Review
As someone with extremely dry and damaged locks, my hair called for moisturizing and hair repair shampoos to restore and replenish its natural texture.
Thus I picked Shiseido shampoos that are specifically targeted toward dry and damaged hair and used them for a couple of months to figure out which was efficacious on my hair.
| | | |
| --- | --- | --- |
| Shiseido Shampoos | Best For | Key Ingredients |
| Super Mild Shiseido Shampoo Green | Dry hair | Hydrolyzed oat grass protein, citric acid, wheat germ oil |
| Shiseido Tsubaki Premium Repair Shampoo | Damaged hair | Camellia oil, glycerin, soybean seed extract, castor oil |
| Shiseido Tsubaki Premium Moist Hair Shampoo | All hair types | Camellia seed oil, royal jelly extract, salicylic acid, soybean seed extract |
| Shiseido Professional The Hair Care Adenovital Shampoo | Fine hair | Japanese pepper extract, lingzhi extract, ashitaba extract |
| Shiseido The Hair Care Aqua Intensive Shampoo | Damaged and dry hair | Royal jelly extract, sodium chondroitin sulfate |
| Shiseido The Hair Care Professional Fuente Forte Shampoo | All hair types | Scutelleria extract |
Super Mild Shiseido Shampoo Green
My reasoning for choosing the Super Mild Green shampoo from Shiseido is its claimed aptness to guard hair against dryness and frizz.
This shampoo is formulated with hydrolyzed oat protein which is a crucial ingredient to restore moisture in dry hair.
It contributes to shielding the exterior hair layers by preventing moisture loss and making your hair smooth as well.
This shampoo contains wheat germ oil which is rich in Vitamin E and aids in strengthening the hair follicles thus enhancing the elasticity of the strands.
The Super Mild shampoo comes in a pump bottle with minimal designs. It has an exotic scent and creamy texture that lathers up well when applied to the mane.
After using this shampoo I noticed substantial results on my locks. They were smooth and didn't dry up as usual while my scalp was nourished as well.
However, this shampoo isn't a solution for extremely damaged hair and if you're someone with an oily scalp then this product isn't ideal for you.
Pros:
Affordable
Gently cleanses and moisturizes hair and scalp
Locks moisture in the hair and protects the outer layers
Prevents frizz and dryness
Makes hair silky smooth
Cons:
Not ideal for all hair types
Contains sodium laureth sulfate
Shiseido Tsubaki Premium Repair Shampoo
The Tsubaki Premium Repair shampoo is the savior of my awfully damaged hair. It's concocted with hair-beneficial elements like camellia seed oil and royal jelly extract.
Camellia seed oil is rich in proteins, Vitamin E, and glycerides that make hair resilient while also preventing dryness and moisture loss. These components also promote healthy hair growth and significantly reduce hair fall.
This shampoo has a thick liquid texture and a profound floral scent. It's packaged in a pump bottle and 2 pumps were sufficient for my medium-length hair. Nevertheless, the bottle was seemingly low quality because the contents leaked out.
After showering, my locks had a silky appearance and weren't frizzed. Gradually my hair texture improved and was repaired and revived for good. Thanks to the royal jelly extract, my strands grew much more sturdy.
This shampoo suits hair that has undergone several heat treatments and coloring which results in hair damage. It can be used by both men and women who have dry and damaged hair.
Pros:
Affordable
Unisex shampoo
Hampers moisture loss and reduces frizz
Replenishes the scalp and repairs damaged strands
Promotes strong hair growth
Grants hair smooth texture
Cons:
Overpowering floral fragrance
Poor quality packaging
Only suitable for intensely damaged hair
Contains alcohol
Shiseido Tsubaki Premium Moist Hair Shampoo
The Shiseido Tsubaki Premium Moist Hair shampoo is one of the best shampoos to plenish your locks and scalp with essential hydration.
This shampoo comprises Tsubaki extract/camellia oil which is a prevalent ingredient in most Shiseido shampoos.
Camellia oil is known to have hair-strengthening and hydrating properties and it contains Vitamin E which proposes a protective outer hair layer.
The linoleic and oleic acid instantly penetrates the scalp and hair by retaining the moisture within the follicles, thus refraining hair and scalp from dehydrating.
I honestly adored the shampoo bottle which is bright red and has an open/close pump nozzle hence it's travel-friendly and doesn't leak.
The shampoo texture is thick and has a minimal floral scent. I was flabbergasted by how my locks remained hydrated after spending an entire day outdoors.
I observed my hair texture for the next few days and it was completely tangle and frizz-free. The camellia seed oil in the shampoo is efficacious in providing a smooth and even texture to the locks.
The Tsubaki Premium Moist Hair shampoo is ideal for all hair types, especially if you have dry hair and scalp.
Pros:
Attractive and superior packaging
Suits all hair types
Retains moisture and enhances hair texture
Prevents scalp and hair from drying
Strengthens hair from the roots
Subtle floral fragrance
Cons:
Contains sodium laureth sulfate
Shiseido Professional The Hair Care Adenovital Shampoo
This shampoo falls in the professional hair care category of Shiseido shampoos because it's targeted toward complex hair concerns.
This particular shampoo is addressed to those with aging fine hair. It's concocted with lingzhi and Japanese pepper extract, both of which stimulate hair growth.
These elements also prevent hair loss by promoting blood circulation on the scalp thus making your strands sturdy.
They're proven to amplify hair texture and boost hair volume which makes your locks look in good shape.
The shampoo comes in a silver-colored bottle with a flip lid. Frankly, except for the color, the bottle doesn't look premium.
The shampoo had a thick creamy texture and doesn't lather when applied. However, after rinsing my hair and scalp were thoroughly cleansed and moisturized.
I noticed less hair fall eventually but this shampoo wasn't for me. After constantly using this shampoo I encountered flakiness on my scalp and my locks were stripped off. Ultimately, they became unmanageable due to dryness and frizziness.
Thus I wouldn't recommend this shampoo for those with dry hair. Nonetheless, it effectively reduces hair fall and is ideal for aging and fine hair.
Pros:
Promotes hair growth
Significantly reduces hair fall
Boosts hair volume and texture
Diminishes hair thinning
Cons:
Expensive
Only ideal for fine hair
May strip the hair of natural oils
Shiseido The Hair Care Aqua Intensive Shampoo
This is probably my favorite shampoo from Shiseido's hair care range. It's designed for dry and damaged hair that has been exposed to intense hair treatments. It's developed with humectants like sodium chondroitin and royal jelly extract.
Sodium Chondroitin is essential for absorbing and locking the scalp with essential liquid and oils thus ensuring a balanced scalp.
And royal jelly extract as we're aware is rich in vitamins and contributes to hair growth while also lessening shedding.
The Hair Care Aqua Intensive shampoo provides resilience and elasticity to strands and also hydrates the hair and scalp deeply. Thus your locks will be left nutrified and less prone to damage.
The shampoo has a flip lid and the packaging itself isn't eye-catchy but it's travel-friendly. It has a floral fragrance and the shampoo texture was smooth.
I generously applied it to my hair ends because they were damaged and dry. After rinsing my hair remained silky and voluminous thus it was conveniently manageable. I didn't experience frizz or dry ends afterward.
This shampoo is suitable for dry and intensely damaged hair. Not recommended for fine hair or oily scalp as it locks moisture in the scalp which can cause adverse effects like dandruff.
Pros:
Deeply nourishes and hydrates the hair and scalp
Travel-friendly packaging
Balances the scalp and retains moisture
Hamper's frizz and dryness
Profoundly repairs hair and wards off hair damage
Cons:
Very expensive compared to other Shiseido shampoos
Only suitable for dry and damaged hair
Not ideal for long-term usage
Shiseido The Hair Care Fuente Forte Shampoo
To begin with, the Fuente Forte shampoo is undoubtedly not my forte as it's aimed at those with scalp concerns. However, I used this shampoo since it's paraben-free and was eager to scrutinize the results.
It's developed with Scutellaria and sansho extracts which are fundamental for promoting circulation in the scalp thus boosting voluminous and thick hair growth.
Ultimately, these components improve overall scalp health, strengthen the roots, and clears off sebum and build-up without stripping away the scalp's moisture.
This shampoo is packed in a regular bottle with an open/closed nozzle like most Shiseido Hair Care shampoos. It had a mild herbal scent and the texture was thick. Dandruff was my only scalp concern and after using this shampoo I saw a substantial decrease in flakiness.
It also aided to minimize the oiliness on my scalp periodically and didn't strip my hair. My strands were in fact feeling firmer and I was quite elated to see a reduction in hair fall.
Although the shampoo claims to suit all hair types, I didn't come across any positive outcomes on my dry hair. It aided to reduce dandruff and shedding thus this shampoo leans more towards resolving fine hair problems.
Pros:
Stimulates circulation in the scalp
Thoroughly cleanses the scalp by purging sebum and build-up
Minimizes hair fall and dandruff
Promotes thick hair growth
Paraben-free
Cons:
Quite expensive
Not ideal for all hair types
Might strip the scalp and hair
To conclude, some Shiseido shampoos did resolve my hair concerns although a few weren't much effective due to them being not ideal for my hair type.
However, Shiseido shampoos are renowned to perform their stated functions thus a large customer base is satiated with how the products have elevated their hair and worked out their concerns without causing any adverse effects on their mane.
Also Read
Super Mild Shiseido Shampoo Green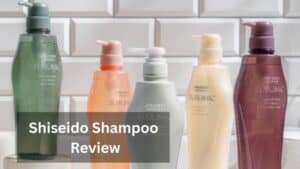 We tried and tested all the shampoos by the Shiseido. Check out the Shiseido shampoo reviews here!
Product SKU: 0997YHG182741
Product Brand: Shiseido
Product Currency: USD
Product Price: 14.96
Price Valid Until: 2023
Product In-Stock: InStock
Pros
Affordable
Gently cleanses and moisturizes hair and scalp
Locks moisture in the hair and protects the outer layers
Prevents frizz and dryness
Makes hair silky smooth
Cons
Not ideal for all hair types
Contains sodium laureth sulfate