Wondering what the rules to parking in Japan? Here's a guide to parking in Japan. Everything you need to know – where to park in Japan? Where not park in Japan? All your questions about Japan's parking rules listed below?
No matter where you're in the world, it's vital to follow the rules of a particular country to avoid getting into trouble, especially driving and road laws. And when it comes to parking vehicles, the laws can be extreme in certain countries.
Parking your vehicle in an unauthorized spot is illegal and can get you to pay a huge fine.
Similarly, parking your vehicle beyond the fixed time you've registered on a parking meter is illegal as well and can get you a ticket from the local parking inspectors.
If you're visiting Japan and decide to get a rental vehicle to travel around, you should be aware of the parking rules and methods.
Most cities in Japan are congested with vehicles hence parking inspectors are on duty all the time. To avoid getting yourself a ticket in Japan we have prepared a detailed parking guide you can follow. Check out more below!
Guide To Parking In Japan
Different Types Of Car Parks Available In Japan
Let's begin by understanding what types of car parks are available across Japan so that we can have a clear insight into how we can park our vehicles in each car park. There are different types of car parks in Japan depending on the population density of an area. Let's find out what they're below:
On-Street Parking in Japan
This is one of the most common vehicle parks available in most countries and it's quite prevalent on the outskirts of Tokyo city. On-street parking defines parking a vehicle on the street for a limited period of time, usually an hour. 
To be able to park your vehicle in on-street parking legally you must initially park your vehicle in the designated spot and pay a fee at the parking meter to get a ticket.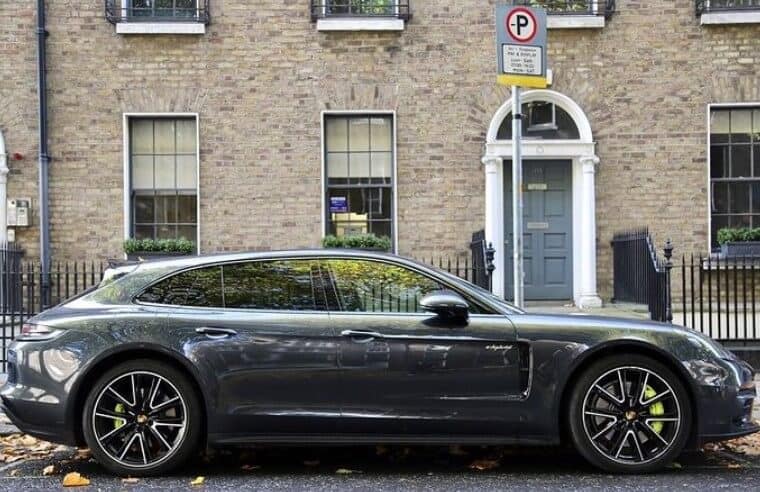 Once you receive the ticket, make sure to place it behind your windshield so that the parking inspectors can identify that you've bought a ticket. This avoids the parking inspectors from writing off your vehicle for illegal parking.
Basement Car Parks in Japan
Basement car parks are prevalent across the metropolitan cities in Japan, particularly in Tokyo.
The basement car parks are usually situated in buildings of shopping malls, hospitals, offices, etc, and are only permitted to be used by the employees and customers of a specific business that owns the building.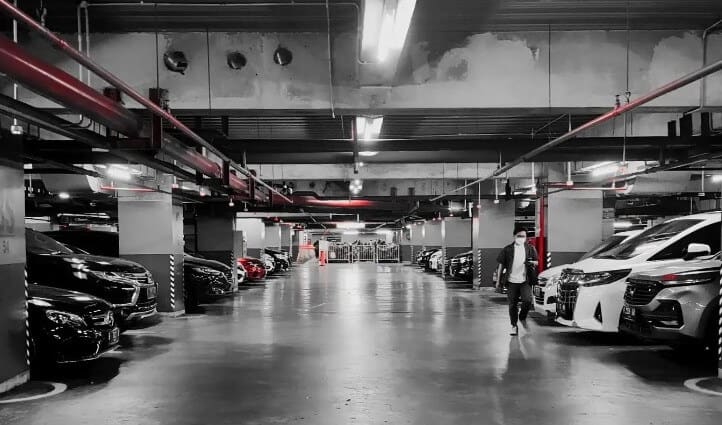 Thus if you ever make a visit to a superstore or a shopping mall that owns a basement car park, you can park your vehicle there for free of charge.
Parking Lots in Japan
Another popular alternative vehicle parking in Japan is the parking lots and they operate distinctly depending on each city.
These parking lots accommodate several vehicles and their parking spaces are generally compact. You might have to either pay for the parking spot before or after leaving the parking lot.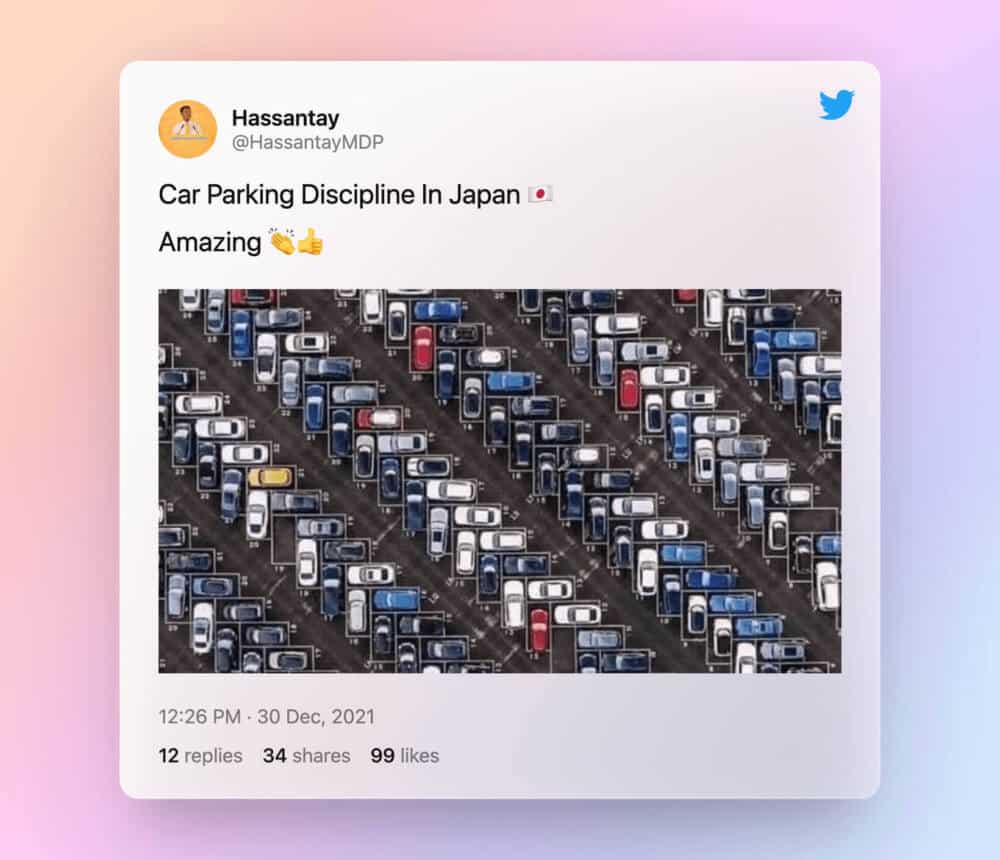 Once you've parked your vehicle in your designated spot, the wheel lock in front of your vehicle rises up to ensure the vehicle stays in place. Furthermore, the wheel lock will descend once the parking fee has been paid.
Multistorey Car Parks in Japan
Multistorey car parks or parking garages are vehicle parks that are specifically built for parking vehicles. They're either interconnected to shopping malls or situated alone. They contain several floors and hence can accommodate multiple vehicles.
A multi-story car park works by parking the vehicle on a platform which will elevate the vehicle to the upper floors where it'll remain. Once you've paid the fee, your vehicle will automatically descend from the platform allowing you to drive away.
What Are The Parking Signs In Japan?
Not every city in Japan has parking lots, multistorey, or basement car parks. Hence, in such a situation you have to resort to on-street parking. And in any on-street parking or public parking spots, you're likely to find parking signs.
Although parking signs have a capital "P" universally, there are slight differences in each parking sign depending on the country.
To avoid any confusion with parking signs in Japan, we've brought you the different parking signs in Japan that can help you identify where and where not to park.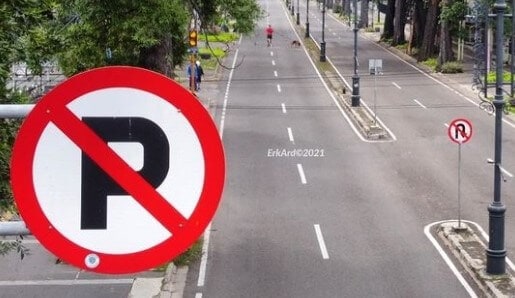 No Parking Sign
A "No Parking" sign in Japan usually denotes a capital "P" with a red line drawn over or a red circle with a blue interior that's drawn over by another red line. Avoid parking your vehicle anywhere you see this sign.
Parking Sign With Time
There are specific parking signs in Japan that are blue colored and have the letter P along with the allotted time a vehicle can be parked in the area. If the parking sign denotes "9-15" it means parking is only allowed between 9 am to 3 pm.
Monthly Rental Parking Sign
Monthly rental parking spots are quite popular in Japanese cities where you can rent a spot for a month by paying a fee. These spots are marked with the sign "月極め" (Tsukigime) which means "monthly rental".
Parking Available Sign
Parking lots with vacant spaces will denote a sign to show that parking spots are available. This sign is usually depicted with a kanji character "空" which means "parking available".
How To Park Your Vehicle In Japan?
Now that we're aware of the different types of vehicle parking and parking signs in Japan, let's find out how you can park your vehicle in a car park. This will help you evade being fined or causing a ruckus between other people at the vehicle park.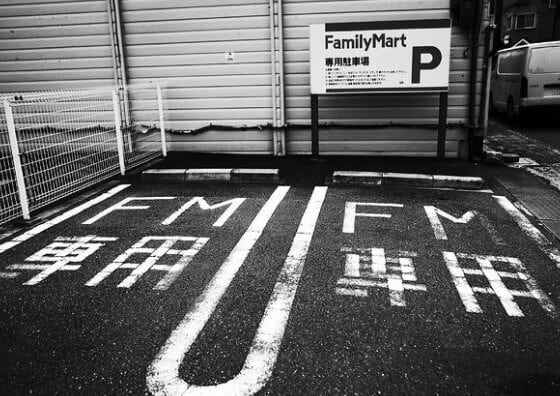 How to Park At The Designated Spot in Japan
On-street parking and parking lots can be packed with cars hence there are specific zones that are indicated by painted lines shaped as a box that guide how you should park your vehicle.
You must ensure to park your vehicle in one box, otherwise taking the space of another parking spot can get you fined. You're also not allowed to park a large vehicle over the lined zones. 
Check The Parking Meter While Parking in Japan
Parking lots and on-street parking have parking meters where you can rent a parking spot depending on how long you want your vehicle to be parked.
 However, to get a parking spot you must ensure to park your vehicle in the space when the meter displays "0 minutes". This is because the meter calculates the time your vehicle is being parked starting from 0 minutes. Furthermore, double-check with the meter to know if it detects your vehicle.
Get A Parking Ticket in Japan
When parking your vehicle, you must get a parking ticket from the machine. The parking fee varies depending on the city, parking area, and the machine itself.
Keep in mind that the machine accepts 100 to 500 yen coins and 1000 yen notes. Once you've paid for the parking ticket, place it behind the windshield or inside your car and make sure it's very visible to avoid the parking inspectors from fining you. 
Park In Reverse in Japan
Vehicles in Japan are parked in reverse. This is because when the drivers leave the parking they can drive forward and hence can have a clear view of someone walking in front of the vehicle.
This is a safer way to ensure there's no harm caused to anyone or anything. Therefore, make sure to park your vehicle in reverse.
Prohibited Parking Zones In Japan
Not every place in Japan allows free parking of vehicles and not every street or building will have a no parking sign put up. Therefore, it's best to learn which areas in Japan strictly prohibit parking and how you can avoid being penalized.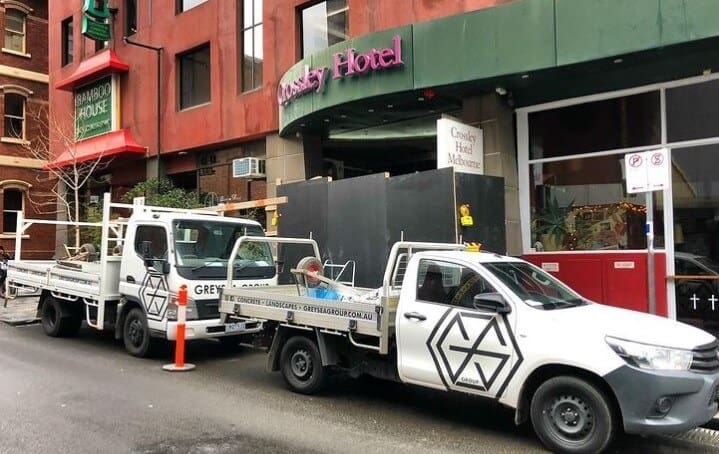 Don't Park At Building Entrances in Japan
The first rule of thumb is to never park in front of a building entrance. This is because people will find it tough to come out of the entrance when a vehicle is parked and this can get you a fine ticket. 
Don't Park At Street Junctions in Japan
Never park a vehicle close to the beginning of a street junction as it may hinder other vehicles from driving.
Don't Park At Pedestrian and Bicycle Crossing zones in Japan
Blocking the pedestrian or bicycle crossing is a major violation of traffic laws in Japan and doing so can lead you to be penalized severely. 
What You Should Do If You Break The Parking Laws In Japan
If you're traveling to Japan for the first time you may not be aware of the parking laws hence there might be instances where you might have broken the law. If that occurs then the parking inspectors will attach a parking violation sticker on your vehicle. What should you do then?
Visit the police station mentioned on the violation sticker as soon as possible.
In the police station, you'll be offered to fill out some forms, and once completed you'll receive a payment bill. 
Pay the fine in the closest bank you can find. Fines can vary from 10,000 yen to 18,000 yen and after paying the fine you'll receive a payment receipt. 
Take the fine payment receipt and the documents related to illegal parking to the vehicle rental company to notify them about the incident. 
Guide To Parking In Japan: FAQs
How do people park in Japan?
People in Japan park in reverse in the vehicle parks. This is to ensure that there's adequate space between each vehicle when parking. In addition, parking in reverse means the drivers will have to drive forward while exiting and this helps the drivers have a clear view of if someone is in front of the vehicle and thus accidents and injuries can be avoided. 
How do you pay for parking in Japan?
Most street parking and parking lots in Japan will have parking meters or parking ticket machines. In both instances, the drivers will have to pay in cash and the usual starting fee for parking in Japan is 100 yen coins. The parking ticket machines in Japan accept 100 yen coins, 500 yen coins, and 1000 yen bills. 
Can you park on the street in Japan?
Parking on the street in Japan is a major violation of road and parking laws if there's a no parking sign beside it. Parking in front of building entrances, near street junctions, and also close to an emergency exit is illegal in Japan. Doing so can result in getting a parking violation sticker and thus can lead to paying a huge sum of fine. 
Also read