Looking for My Hero Academia: Heroes: Rising review and rating? Well, you're at the right place! Here's a full-fledged review of My Hero Academia: Heroes: Rising. Read further to know more.
My Hero Academia: Heroes: Rising, which was recently released, grossed 5.2 million dollars at the box office. On February 26th, 2020, Heroes: Rising was released in both English dub and with English subtitles.
Heroes: Rising, which was released in nearly 1,275 theatres across North America, quickly climbed the box office rankings.
Many fans are so devoted to My Hero Academia that they have even cosplayed in cinemas! Here's why this film had such a huge impact on fans in North America and around the world.
My Hero Academia: Heroes: Rising Review and Rating
The Story Of How I Became The Number One Hero:
This film's premise is that class 1A is designated to assist people on Nabu island. While placed on the island, the students must act as superheroes and assist those in need. They are given the tasks small and simple that define their deeds. 
The problem begins, however, when one of the island's kids is intended to target by an antagonist named Nine, who is attempting to steal the boys' persona.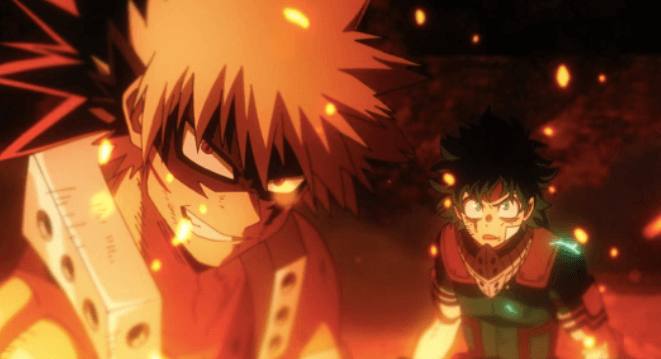 As a result, it is up to our absolute favorite heroes to safeguard everyone on the island and carry the villain Nine to justice. Of course, it's difficult because they're just heroes in training on an island with no adults to guide them.
The Quirky Cast of My Hero Academia: Heroes: Rising
My Hero Academia: Heroes: Rising is ideal for anime and manga fans since it exemplifies the abilities of class 1A. Many supporting characters have their moments to flourish in the film. Heroic moments are given to characters such as Shoji, Tokoyami, and Mina. This helps audiences to see each of their best-loved U.A. students perform heroic feats.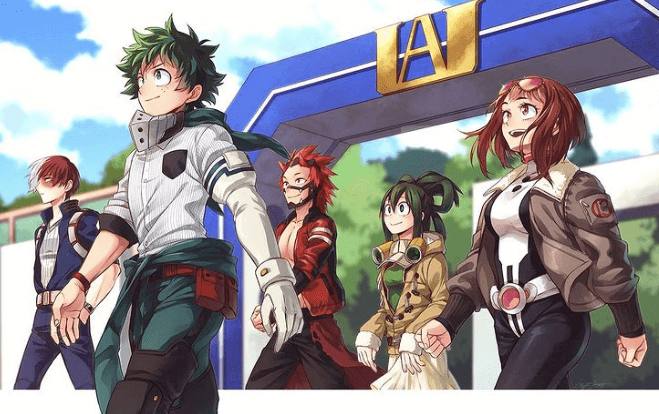 Furthermore, many character interactions provide audiences with more information about the students' relationships with one another and how well they work together. If you're apprehensive to watch this movie because you believe it's pointless because it's not "canon," I recommend watching it just to see the students being their endearing selves.
Manga Influences in My Hero Academia: Heroes: Rising
Kohei Horikoshi, the writer and originator of My Hero Academia, collaborated closely on the script for this film. Director Nagasaki Kenji made a minor remark on the film that explains how Horikoshi contemplated the manga ending:
Nagasaki Kenji stated that when they were discussing the story's ending elements, they asked Horikoshi-sensei if that wasn't what she had originally planned to use in the manga. Horikoshi-sensei, on the other hand, gave them the go-ahead to use it.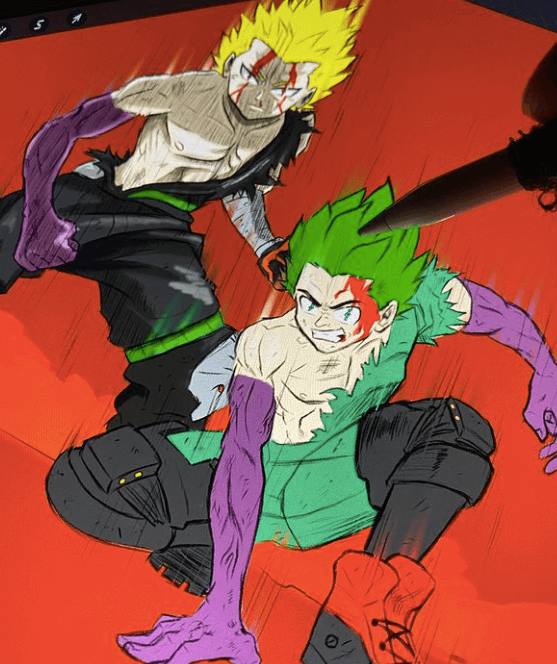 In fact, she most likely wanted Kenji to use it and gave them her blessing. They were able to carry out the story and decide on various elements as a result of this. Horikoshi-sensei also stated that he will create an even better ending in any case, so it's all good.
It really motivated Kenji for Nagasaki Kenji to use one of his planned ideas before Horikoshi did. Horikoshi is a fantastic mangaka!
This made anime fans concerned that the film contains spoiler alerts for events that did not occur in the anime. It is actually the truth that this film takes place well before anime. However, anime fans will not be perplexed while watching. Hawks, for example, make an appearance who were already introduced in the manga.
In the meantime, the Hawks are not given any information about who he is. He aids in the progression of the story by assisting viewers in understanding the conflicts that occur in the story.
The Explosive Action in My Hero Academia: Heroes: Rising
The action scenes in Heroes: Rising are among the most spectacular parts of the movie. Each fight had the entire theatre audience on the edge of their seats. The phenomenal animation provided by Studio Bones within the movie adds to the intensity of each fight.
Because of Bones' use of vibrantly colored 2D animation, such high-intensity action scenes translate easily to the screen. My Hero Academia: Heroes: Rising also made use of 4DX cinema technology. 
Certain theatres showed the film in 4DX, which added breezes, bright lights, as well as some water effects to immerse viewers in the narrative. I highly recommend watching such a film with intense battle sequences, such as Heroes: Rising, in a 4DX movie theatre!
The "Odd" Future For My Hero Academia
Legendary Entertainment, the same company that made Detective Pikachu, officially confirmed that they would consider making an American live-action adaptation of the film.
This live-action adaptation could happen sooner than we think because Hollywood will want to shine a spotlight on My Hero Academia's current popularity.
This is one of the most exciting news for people who are fans of My Hero Academia because the adaptation is going to be insane, for sure.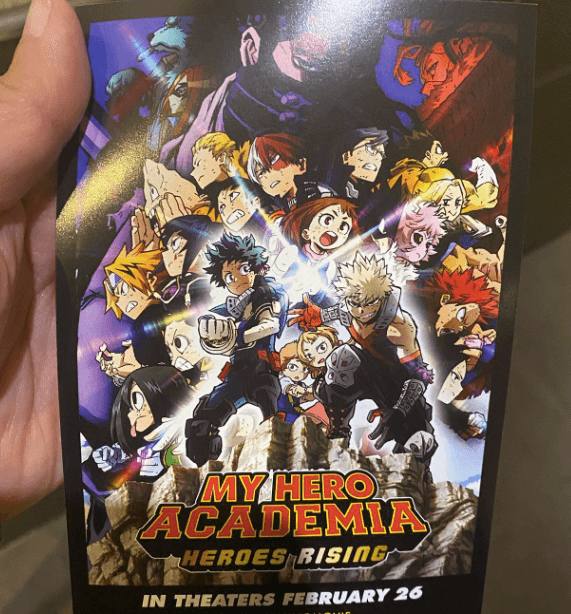 If you haven't yet joined the My Hero Academia fan community, I recommend you to give it a shot. There are many fascinating and captivating character relationships that will keep you hooked and have you entertained throughout. Heroes: Rising is no exception in this particular respect.
Our My Hero Academia: Heroes: Rising Review?
I was quite excited to watch the new release so I booked a first day, the first show for myself and I must say, that was one of the best decisions I've ever made. I don't have a single regret about the move. It's so beautifully plotted and executed that you'll enjoy every bit of it. 
If you love My Hero Academia, do yourself a massive favor and watch this movie, there's nothing you'll not like about it. The soundtrack, visuals, and characters are well worth the ticket price. I recommend seeing it before it is out of theatres. Hearing other people's reactions in the theatre keeps adding to the enjoyment.
Hope you enjoyed reading our version of My Hero Academia: Heroes: Rising review!
Also Read: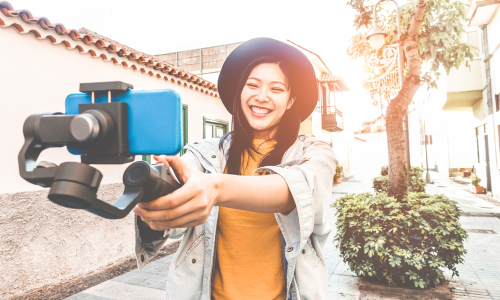 Hiya! I'm the main author of Japan Truly. I love everything Japan and love testing out Japanese products, be it skincare and makeup or gadgets! You'll find reviews of some of the best selling Japanese products (tried and tested) right here!