Here are the best Japanese TV brands. Check it out!
Televisions have always been one of the most important electronic appliances in our lives since time immemorial. While it was a status symbol a few decades back, the affordability and entertainment aspect proved it to be a true game changer for a lot of industries.
From being dubbed as the 'idiot box' to providing infinite livelihoods, televisions have come a long way.
Speculations of the TV-era ending have been on for years, but we think with new-age over-the-top platforms, online streaming and easy consumption of media will keep television
In most homes, they are as good as a family member and are considered an important medium for entertainment, news and sports.
While there have been smart television technologies with sleek designs from various manufacturers across the planet, Japan, like every other electronic appliance, has been at the forefront of introducing innovation in television too.
From Sony to Panasonic, Sharp to Toshiba, Japanese television manufacturers have been facing heavy competition but somehow still manage to sustain their spot in the top 10 television leaders in the world.
Their build, quality, performance and design have put them on the world map and in every household, office, restaurant, sports arena in and out of Japan.
If you are looking for a new television set for your house or professional setup, you have come to the right place.
In this article we will be covering the best Japanese-made televisions, the top model in each brand and their price points.
Read on till the end to take your pick!
Japanese TV Brands: Quick Glance
| | | |
| --- | --- | --- |
| Japanese TV brands | Model | Special Features |
| Sony | Sony X800H | 4k HDR processorAndroid + Google AssistantDolby Vision |
| Panasonic | Panasonic TH-55JZ2000 | Dynamic High ContrastFall Prevention StandOLED Display |
| Toshiba | Toshiba 50LF621U21 | Fire TV Compatible4K UHD SmartSuperior picture quality |
| Sharp | Sharp LC-75N8000U | High dynamic rangeBuilt-in Wi-FiAquamotion |
| Hitachi | Hitachi 55RH1 | Smart Roku OSMobile App Support120 Backlight Frequency |
Reviews of the Best Japanese TV Brands 
Sony X800H
A company well-known across the world for its creative outlook, innovation and range of products, Sony was established in Japan in 1946. Sony has more than 110,000 employees on its payroll and generates a revenue of over 5.621 trillion Yen.
A popular producer of radios, cameras and cell phones, Sony has been in the television manufacturing game since long and that too a top player at that. From boxed television sets to sleek, mounted LCDs and LEDs, Sony has done it all.
Moreover, it has a wide range of televisions to choose from – the basic 32" to the mega 103". With ultra-sleek designs that complement any setting, LED backlighting technology and 4K ultra resolutions, Sony manufactures its televisions to the highest quality for the highest customer experience.
In 2020, Sony made $25 billion selling TVs. Remember the Bravia series? Also known as the Best Resolution Audio Visual Integrated Architecture. Well, Sony was the pioneer of that.
If you are looking to go for a Sony-made television, you can go for it eyes closed. However, we recommend the Sony X800H, with Alexa compatibility and Dolby Vision. With a list of cool features, this Smart LED TV adds color to your living room or office cabin.
Pros:
4K Ultra HD
Dolby Vision
Android + Google Assistant Compatibility
Triluminos Display
Ultra-slim
Cons:
Can be on the expensive end if you are on a tight budget
Panasonic TH-55JZ2000
Established under the name Matsushita Electrical Industrial Co. Ltd, Panasonic was founded in 1918 in Osaka, Japan. In the list of top television manufacturers in the world, Panasonic definitely finds itself in the top 5.
Along with televisions, they produce refrigerators, washing machines, kitchen appliances and other things that have innovation and state-of-the-art written all over them. With the sole aim of improving their consumers' lifestyle and providing ease throughout, Panasoinc is dedicated to build products that deliver the best living.
In selling televisions, Panasonic makes a revenue of over $256 million per annum. Its TH-55JZ2000 is quite popular and in-demand. With a 4K enabled speaker, fall prevention stand, built-in double tuner and a list of sought-after features, the model is a hit amongst Panasonic and television lovers overall.
Pros:
Dynamic High Contrast
Fall Prevention Stand
OLED Display
4K Built-in Double Tuner
4K enabled speaker
Fall-prevention stand
Cons:
Difficult to be compatible with gaming equipments
Pretty standard sound quality for this price point
Toshiba 50LF621U21
One of the oldest and we mean probably the oldest electronics brand of Japan, Toshiba was established in 1875. That's right, it's almost 150 years old. With a strong reputation in electronics for this long, Toshiba has manufactured some of the best tech-savvy and aesthetic televisions until now.
Headquartered in Tokyo, Japan, Toshiba has over 12% market share in the field and produces high-quality products at affordable prices. Moreover, their televisions are known to be sturdy and can withstand certain damages. With a vivid screen, LED backlighting and superior build, Toshiba-made televisions stand out from the clutter easily.
The Toshiba 50LF621U21 in particular offers a host of features at a reasonable rate. With access to amazing platforms like Netflix and Prime, this product offers a 4K Ultra-HD display and a superior picture quality. If you can spare a few extra bucks, you can upgrade to the Toshiba 50LF621U21 that provides a few additional features and a better image quality.
Pros:
Fire TV Compatible
4K UHD Smart
Superior picture quality
Wi-Fi, HDMI and USB connectivity
Stunning colors
Cons:
Sound quality may deteriorate if used for long hours
Sharp LC-75N8000U
Established in 1912, Sharp is one of the leading television brands in Japan. With over 50,000 employees working all over the globe, Sharp generated a revenue of $16.5 billion a couple of years ago. Sharp pays special attention to its build and sleek design. It sells its televisions and smartphones under the brand name Aquos.
The Sharp LC-75N8000U comes with an LED backlighting, built-in apps like Prime, YouTube, Netflix and more, and elevates console-type gaming with Dolby audio.
Pros:
Host of built-in apps like YouTube and Netflix
HDR Support
Aquos Display
App store and Web browser enabled
4 HDMI ports, 3 USB ports and built-in Wi-Fi
High Dynamic Range Playback
Cons:
Does not contain built-in Bluetooth
Hitachi 55RH1
Found in 1910 in Tokyo, Japan, Hitachi has a reputation that precedes itself. It is well-known to deliver high-quality products at a reasonable rate. Outside of televisions, they also manufacture microwaves, refrigerators, air conditioners and other electronic items.
With over 350,000 employees working for them, Hitachi made a revenue of 8.8 trillion Yen in the last year alone. When it comes to television, Hitachi can be on the expensive end but given the quality and durability, it all makes it worth it.
Hitachi 55RH1 is one such model that comes with a Smart Roku OS, offers dedicated mobile application support and a backlight technology to enhance the setting it is placed in.
Pros:
4K Perfect Ultra HD
Mobile App Support
Simple and Smart Roku OS
High Frequency Backlight
High Contrast and Vibrant Color
Cons:
Lacks durability compared to other models
Japanese TV BRands: FAQs
Which TV brand is made in Japan? 
Some of the most renowned television brands hail from Japan. 
Hitachi
Sony
Panasonic
Sharp
Toshiba 
Sansui
Other popular brands might have setups in Japan but aren't manufactured there and often mistaken for the same. For instance, Samsung and LG are from South Korea, but mistaken for a Japanese-made brand. 
Which are the best TV brands in the world? 
Televisions have become a necessity more than a show piece in today's day and age. With their affordability factor, easy EMI options and a host of newly added features, each and every family demands a TV either for entertainment or media consumption, consuming local news or watching their favorite soaps and sports channels.
With sleeker designs, 4K display, bright colors and built-in apps, televisions are getting more modern and smarter. With this, some of the best television manufacturers in the world include:
Hisense (U9DG)
LG (G2 OLED)
Sony 
Samsung 
TCL 
Vizio
Is Samsung better or LG? 
While both are South Korean companies and household brands, both offer different variants. While LG can help you get a lot of smart features like OLED display, and built-in apps at a reasonable price, Samsung can tend to be on the expensive end. However, the list of features Samsung provides and the long-lasting life it offers is absolutely worth the money spent. 
Samsung can be a great option if you are not on a budget and want more out of your television. 
Closing Thoughts
Japanese-made televisions offer a long life and great performance throughout. With Hitachi, Toshiba, Sharp, Sony and Panasonic being the top players and your top choices in Japanese technology, your chances of getting an exceptional product is always high.
Now that you can zero in on your options, all you have to decide is to consider the best television covering your lifestyle, budget and expectations.
Also Read
Sony X800H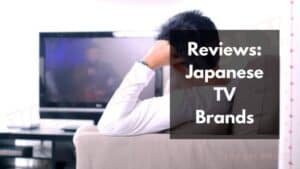 WE reviewed the top Japanese TV brands. Check it out!
Product SKU: 3012571928YHG0395721
Product Brand: SONY
Product Currency: USD
Product Price: 649.99
Price Valid Until: 2022
Product In-Stock: InStock