We tested refrigerators from 20+ Japanese refrigerator brands on several parameters to find the best Japanese refrigerator. Read on to find the results!
Like most electronic appliances, Japan is the leader when it comes to refrigerators as well. In the past few decades, the country has beaten the world in the race of technology and seems to be light years ahead.
Popular brands like Panasonic, Sharp and Hitachi have not only captured Japan but have also become a household name across the planet. All thanks to their modern outlook, clear vision and user-friendly products.
In recent times, refrigerators have evolved much like smartphones or computers. From an ice-cold box to automatic door sensor and double-door technology, Japanese brands have included everything in store.
If you are looking for a good, long-lasting Japanese refrigerator that can store your foods and drinks and keep them fresh throughout the summer, you have come to the right place.
So, let's get started!
Top Japanese Refrigerators at a glance
Best Japanese Refrigerator Brands
Panasonic Corporation
Starting out as a bulb socket manufacturer, Panasonic Corporation has emerged as one of Japan's leading electronics companies in the past few decades. A trusted name across the globe, Panasonic has expanded its business well enough in the electronics segment with refrigerators being one of its prime-selling products.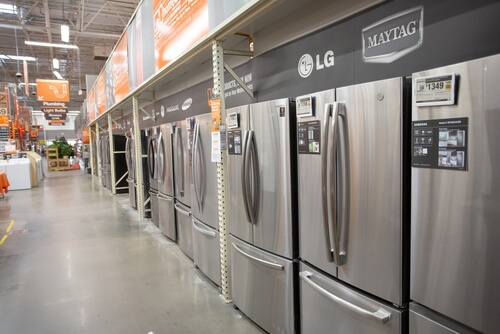 The Panasonic 501 L NR-FVF505-W in particular, acts as a great food preserver with instant cooling technology. It also prevents soft frozen levels and contains a 2.8 gallon vegetable chamber to keep your food fresh for a long time.
However, it is best to use this if you are a light user as this may not be quite friendly to your pocket. Besides, the spare parts can be on the expensive end as well.
Pros:
Six French doors
Ag bio antibacterial deodorant
Automatic Ice making chamber
Energy saving technology
2.8 gal vegetable chamber
16.9 gal storage capacity
Cons:
May not last longer if you are a heavy user
Weak compressor performance
Hitachi
Hitachi has become a household name in Japan, famous for electronic products. They are a major producer in the electronics market and are spread across industries with products in kitchen appliances, refrigerators, bathroom essentials to name a few.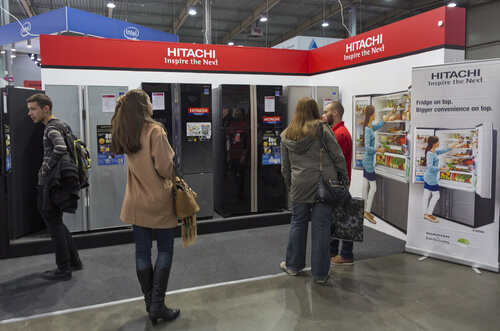 Hitachi is one of the top refrigerator-manufacturers in Japan with products made of high quality and durability.
The Hitachi R-W660 comes with a list of features to fulfill all your refrigeration needs. It contains a big vegetable compartment with moisture protection, a water-dispenser, a touch-screen remote, tempered glass shelves, energy inverter and so much more. In fact, it even helps you choose from a range of colors like brown, black and white. How cool is that?
But you got to check on the spare parts as if they fail, replacing them can be a task.
Pros:
540L capacity
Four French doors
The movable twist ice tray
Led light
Tempered glass shelf
Cons:
Can be an expensive repair if it breaks down
Sharp Corporation
Being in business since 1912, Sharp Electronics is popular across Japan for its innovative outlook and unique design.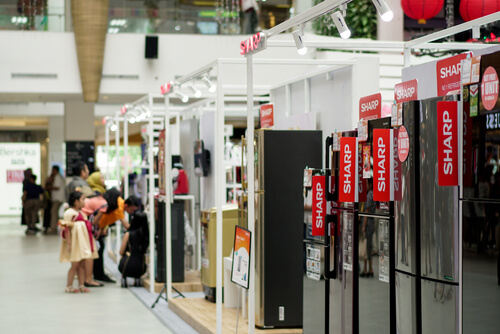 It is often known for its durable products and its refrigerators come under that segment. Moreover, it offers refrigerators at a reasonable price with top of the line features and a long-lasting life.
The Sharp SJG2351FS 36 inch French 4-door Counter Depth refrigerator is made with utmost care and using the latest technology. It even houses a large space for vegetables to stay fresh throughout and keep you worry-free.
Pros:
Eco inverter for less energy consumption and low cost
Stainless steel French 4–door refrigerator with sis shelves
22.5 cubic feet capacity
Automatic ice maker compartment
Humidity controlled crisper bins
Large space for vegetables
Cons:
Door magnet can wear off after prolonged use
Expensive spare parts
Mitsubishi Electric Corporation
One of the highest-ranking brands in Japan, Mitsubishi is well-known across the globe for its top-rated products. Over the years, Mitsubishi has gained a reputation for innovative electronic products and home appliances like air conditioners and communication systems.
Mitsubishi refrigerators come with a host of features and use state-of-the-art tools to preserve food and energy consumption. From French doors to multi-cabinet, from top to bottom mount, Mitsubishi manufactures fridges in all shapes and sizes.
If you are on the lookout for a sizable refrigerator, The Mitsubishi 375L Top Drawer is highly recommended. With a 375-liter capacity, the refrigerator offers an excellent energy-saving inverter for low electricity bills. Moreover, its humidity-controlled crisper-bin helps store fresh fruits and keeps them fresh for days.
Pros:
Humidity compartment
Freezer drawer with attached door alarm system
Three-way Flexi shelf
Automatic Ice-maker with removable water tank
Cons:
Can heat up quickly if used heavily for prolonged hours
Toshiba
Toshiba as a Japanese company brand has earned recognition and respect all over the world. Along with producing high-quality electronics appliances like television sets and laptops, Toshiba also manufactures exceptional refrigerators.
Toshiba refrigerators bring in the most advanced features while looking after the basics like keeping your foods moist and odor-free. One such awesome product in the Toshiba line-up is the Toshiba 650L 4-door refrigerator. With four doors, and three cooling systems, this refrigerator elevates your interiors and gives you easy access to most items.
Pros:
Plasma modules to protect against bacteria
State-of-the-art technology and aesthetic design
Ample space for good storage
Cons:
Lacks huge ice storage that could be a problem
Contains a noisy compressor
LG
LG may be a household brand outside of Japan but it has done some good business in the country and gained a lot of demand. The InstaView Door-in-Door refrigerator is one such product that understands your needs and reduces cold air loss to use it only when needed. It has a shiny glass panel that gives you an inside view without opening.
It also comes with a standard egg tray, a humidity crisper cabinet, a sturdy wine rack and more.
What's more you ask? It saves about 32% of energy with an exceptional energy-saving inverter. Moreover, you can control your refrigerator through your smartphone.
Pros:
Water-dispenser
Automatic Ice-maker
Energy-saving inverter reducing 32% of energy consumption
Cons:
Loud compressor
Expensive spare parts
How to Choose A Japanese Refrigerator?
Find the appropriate refrigerator size
Take accurate measurements of the space where you want to keep the refrigerator. Find the maximum width, depth, and height.
Leave some room for ventilation in the refrigerator
Make it at least 2 inches wide at the back and about 1 inch high on the top and sides. The refrigerator's heat exchange system may work harder than it was intended to if it is packed in more tightly. That may make it more difficult for it to maintain the right temperatures and may cause the cooling system to age sooner than expected, typically 10 years.
Take measurements of your kitchen
Additionally, important is how your kitchen is organised overall. If your kitchen island has a counter edge, measure the distance from the wall to that edge to allow for the door swing. Consider whether the door of your refrigerator can swing open widely enough for you to remove crisper drawers if it will be placed close to a wall. Your best option might be a single-door fridge with the hinge on the side away from the wall, such a top-freezer or bottom-freezer model.
Choose a Door Style For Your Refrigerator
French door models are the most popular type because of how practical the arrangement and looks modern.
On the other hand, the no-bend freezer access and generous shelf of a side-by-side model appeal to certain consumers. Top-freezer models can fit in incredibly small places and are significantly more cheap.
French-door refrigerators typically have a more upscale appearance, but bottom-freezer models can offer many of the same functional benefits.
Additionally, column designs (all-fridge, no-freezer, and vice versa) and four-door models have their advantages.
Japanese Refrigerator Brands: FAQs
Which is the no. 1 refrigerator brand in the world? 
While refrigerators have become such an essential part of every household, each one is on the lookout for the best fridge that saves energy consumption, stores food for long and is durable. There are a few top brands across the globe that have become a household name.
– Whirlpool
– LG
– Samsung
– GE
– Panasonic
– Bosch
– Hitachi
Refrigerators are a long term investment and you don't want to make any mistakes while choosing the best refrigerator for you. Hope these brands and the above ones help you arrive at a suitable conclusion. 
Does Japan make refrigerators? 
Japan has outrun all other countries in terms of electronics. From smartphones to air conditioners, Japan has been at the forefront of innovation for decades. Like any other electronic appliance, Japan houses some of the biggest refrigerator brands that have captured hearts across the planet. Panasonic, Hitachi, Toshiba, Mitsubishi have all come out of Japan to deliver the best refrigerators in the business. 
What are the most common refrigerator problems? 
Refrigerators complete the household but like any other electronic appliance, they can give trouble too. Some of the most common problems they face are: 
– Constant Cycling or Running
– Ice tray full of ice in freezer
– Water leakage
– Dispenser malfunctioning
– Compressor not working
– Too Loud and Noisy
– Increased Electricity Bills 
– Getting heated up too often
Is Hitachi a Japanese brand? 
Harnessing the best of technology, Hitachi is one of the oldest Japanese brands manufacturing home appliances and electronics. A major market share holder, Hitachi delivers eco-friendly refrigerators through proprietary technologies. Hitachi is made in Japan and its products are well-known for its external aesthetic beauty especially made for the intelligent and innovative homes of the future.
With instant cooling technologies, low energy consumption, advanced features like plasma to fight bacteria and a water dispenser, Hitachi offers the best in the business for long, durable and friendly use. 
In Conclusion
If you are looking for a good Japanese-made refrigerator, all of the brands listed above are an excellent choice because of their low energy-consumption, advanced features and reputed brand names.
From Hitachi to Sharp, Panasonic to LG, the companies have an international reputation and have captured most households for decades. They might have different products with different features but commonly offer a great value for money and a strong name.
All you need to do is select the one that goes with your lifestyle and requirements.
Also Read
LG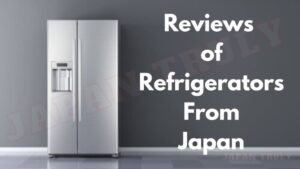 Here are the best Japanese refrigerator brands. Check it out!
Product SKU: 0732581980245YHG13079
Product Brand: LG
Product Currency: USD
Product Price: 2391.72
Price Valid Until: 2022
Product In-Stock: InStock