Want to know the Japanese names of characters from Food Wars? Check it out here!
Food Wars! Shokugeki no Soma is an absolute treat for manga/ anime fans and foodies. The series is the perfect blend of comedy, Japanese cooking, and drama.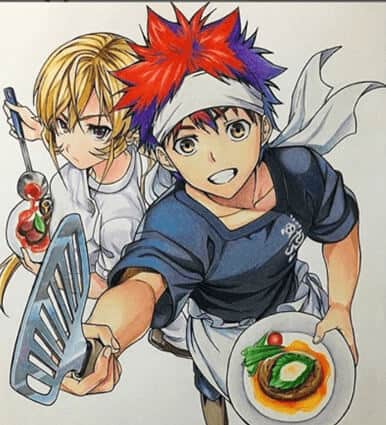 It is written by Yuto Tsukuda and illustrated by Shun Saeki. It also features recipes by Yuki Morisaki.
From late 2012 to mid 2019, the show was serialised in Shueisha's Weekly Shonen Jump. It was compiled into thirty six tankobon volumes and was published by Sueisha.
The series tells the story of a young chef as he applies to an elite culinary school- Totsuki Saryo Culinary Institute. This isn't any ordinary culinary school. You have to be really good at what you do to be even considered for a spot at this school.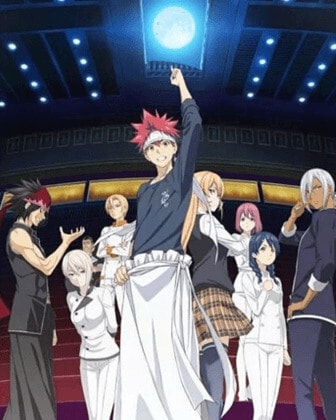 The series has received a lot of mixed reactions. While most feedback is positive, some critics have pointed to possible overuse of fan service. The series has also been adapted into a video game.
The following is a list of the Japanese names of characters from Food Wards! Shokugeki no Soma. Check it out!
Japanese names of characters from Food Wars! Shokugeki no Soma
Sōma Yukihira (幸ゆき平ひら 創そう真ま, Yukihira Sōma)
Soma Yukihira is the main protagonist of the series. He is a young boy of 15 years, who works as a chef at his father's restaurant. He is constantly looking for ways to improve his cooking and goes on to test the limits of his skills. 
In the series, Soma is seen with a scar on his left eyebrow. This is the result of a fall when he was in the 5th year of elementary school. When he was very young, Soma was given the task of handling a fish by his family.
Since the fish still had some life left, it slipped out of his hands. But in an attempt to prevent any food from touching the ground, Soma tries to grab the fish and ends up falling and hitting his head on the corner of a table.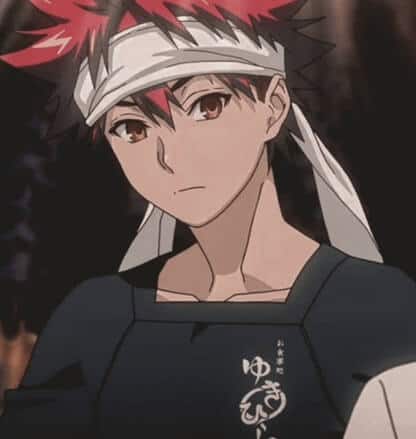 Through the series, Soma is seen competing with his father in cooking duels. Unfortunately, Soma isn't victorious in these duels.
When his father decides to shut the restaurant for a while and move abroad for work, Soma tries to enrol in the Totsuki Saryo Culinary Institute.
During his entrance cooking test, one of the judges was Erina Nakiri. Even though she was taken aback by how good Soma's simple dish was, she refuses to admit it and appears unamused. Soma's cheeky behaviour only fuels her annoyance and she denies him entry into the culinary school.
However, Erina's grandfather has a taste of Soma's preparation and after only one bite, sends Soma his acceptance letter. 
Erina Nakiri (薙な切きり えりな, Nakiri Erina)
Erina Nakiri is another main character on the show. She is often seen as a rival to Soma Yukihira. She is part of the famous Nakiri family and is the granddaughter of Senzaemon Nakiri.
In the series, she is referred to as  "God's Tongue" and is thought to have the best palate in the world. While she is admired by many for her fantastic cooking skills, she is also feared. Her influential status also adds to the intimidating vibe that she gives off. 
She holds a rather great reputation in the culinary world and the mere mention of her name can instil fear in the hearts of applicants of Totsuki.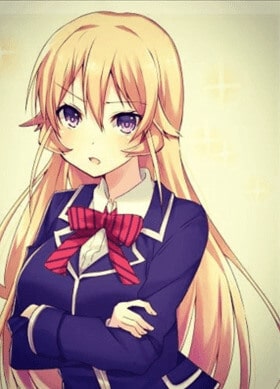 Her father, Azami Nakiri, is someone she fears and she has an abusive past with him. His abusive treatment of her has contributed to much of her intimidating personality.
As the series progresses she is seen overcoming her fear of her father and opposes him. Erina was abandoned by her mother when she was young and this has had a big impact on her as well. 
Erina's grandfather, Senzaemon Nakiri, took Erina in after he exiled her father from the family and the institution. Erina goes on to become one of the most prominent figures in the culinary world and she becomes known for being unsatisfied by most dishes.
Megumi Tadokoro (田た所どころ 恵めぐみ, Tadokoro Megumi)
Megumi Tadokoro is another heroine in the series. She is a timid and polite character and is often told that her best gift is her warm hospitality.
She aims to eventually run her mother's ryokan. She admires her mother and her works a lot. Her mother taught her how to cook by thinking of someone special. She believes that this makes the dish she is cooking better.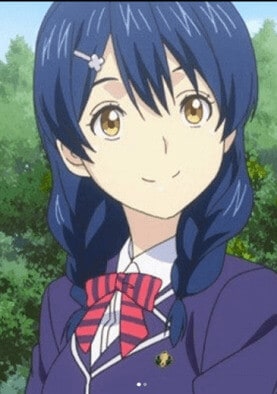 Megumi is a good chef but can't seem to perform well when she is under pressure. Her shyness and timid nature leads to her performing poorly and she is placed last in her class. This leads to her being put on academic probation at one point. 
Hisako Arato (新あら戸と 緋ひ沙さ子こ, Arato Hisako)
Hisako Arato is a close friend of Erina and is almost always seen close to her. She works as her secretary and helps her with sorting her tasks and assignments. Even as just a high school student, she has amazing secretarial and management skills.
Hisako's speciality is medicinal cooking, where she incorporates natural and Chinese medicine in her cooking for better health.
After being defeated by Akira Hayama in the quarterfinals, she feels unworthy to be near Erina and goes on a break. When she is paired with Soma for an assignment, they both pass and he tells her that she should treat herself as an equal to Erina instead of just following her. 
Ryōko Sakaki (榊さかき 涼りょう子こ, Sakaki Ryōko)
Ryoko Sakaki is a member of the Polar Star Dormitory. In the series, she is portrayed as a mature and kind character, almost like a big sister. She is known for her shio koji which is a type of rice malt. She has a warehouse near the dorm where she produces her own ingredients and prepares fermented goods.
Ikumi Mito (水み戸と 郁いく魅み, Mito Ikumi)
Ikumi Mito comes from the notable Mito family who are famous in the meat industry. She is highly competitive and is often seen showing off her skills and abilities to those that she considers below her.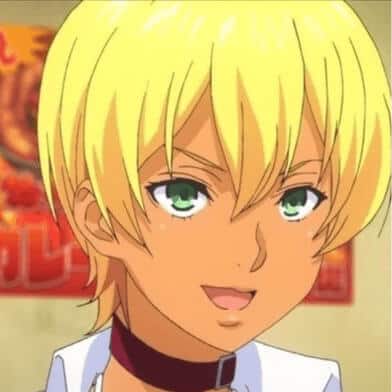 At the start of the series, she comes off as intimidating, bold, and proud. However, as the series progresses, it is seen that she is a soft and kind hearted person.
Zenji Marui (丸まる井い 善ぜん二じ, Marui Zenji)
Zenji Marui is one of the most gifted individuals in the series. He is extremely smart but also extremely weak and has incredibly low stamina. He is often teased and looked down upon by his classmates because of this.
He makes up for his poor stamina by researching various cooking methods and incorporating them into his cooking. He is often called "The Walking Flavour Dictionary".
Shun Ibusaki (伊い武ぶ崎さき 峻しゅん, Ibusaki Shun)
Shun Ibusaki is a quiet and reserved character. He lacks energy and is blunt in his way of speaking. He is seen staying calm even when the rest of his classmates are freaking out when things go wrong.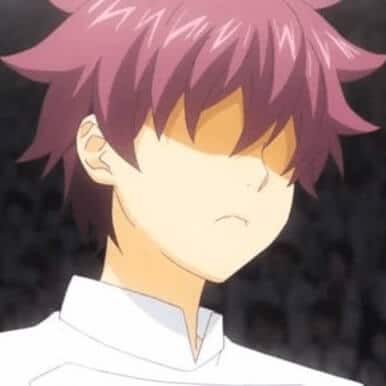 He is nicknamed "Prince of Smoke" as his specialty is smoked foods. Even though he doesn't seem like it, Shun wants to be the best at the academy. He is expelled after being defeated in a promotional exam. However, he is reinstated into the school shortly after the Rebel's victory. 
Senzaemon Nakiri (薙な切きり 仙せん左ざ衛え門もん, Nakiri Senzaemon)
Senzaemon Nakiri is Erina's grandfather and one of the most respected experts in the culinary world. He has earned himself the title "The Food's Demon King". He was also the Director of Totsuki Culinary Academy.
Despite his intimidating look and demeanour, he is sometimes seen being comical and has a soft side.
He is not easily impressed and holds all of his students to high expectations. His quirk is that he strips off the top part of his clothing when he is impressed by a dish and it tastes really good. 
Other Japanese names of characters from Food Wars! Shokugeki no Soma
Urara Kawashima (川かわ島しま 麗うらら, Kawashima Urara)
Yūki Yoshino (吉よし野の 悠ゆう姫き, Yoshino Yūki)
Daigo Aoki (青あお木き 大だい吾ご, Aoki Daigo)
Shōji Satō (佐さ藤とう 昭しょう昭二じ, Satō Shōji)
 Urara Kawashima (川かわ島しま 麗うらら, Kawashima Urara)
Takumi Aldini (タクミ・アルディーニ, Takumi Arudīni?) 
Isami Aldini (イサミ・アルディーニ, Isami Arudīni)
Alice Nakiri (薙な切きり 愛あ里り寿す, Nakiri Arisu)
Ryō Kurokiba (黒くろ木き場ば リョウ, Kurokiba Ryō)
Miyoko Hōjō (北ほう条じょう 美み代よ子こ, Hōjō Miyoko)
Nao Sadatsuka (貞さだ塚つか ナオ, Sadatsuka Nao)
Akira Hayama (葉は山やま アキラ, Hayama Akira) 
Subaru Mimasaka (美み作まさか 昴すばる, Mimasaka Subaru)
Yua Sasaki (佐さ々さ木き 由ゆ愛あ, Sasaki Yua)
Madoka Enomoto (榎えの本もと 円まどか, Enomoto Madoka)
Takumi Ishiwatari (石いし渡わたり 拓たく己み, Ishiwatari Takumi)
Fumio Daimidō (大だい御み堂どう ふみ緒お, Daimidō Fumio)
Satoshi Isshiki (一いっ色しき 慧さとし, Isshiki Satoshi)
Roland Chapelle (ローラン・シャペル, Roran Shaperu)
Isohachi Hasegawa (長谷川はせがわ 五十八いそはち, Hasegawa Isohachi)
Gin Dōjima (堂どう島じま 銀ぎん, Dōjima Gin)
Tokihiko Sakuma (佐久間さくま 時彦ときひこ, Sakuma Tokihiko)
Hiromi Sena (瀬名せな 博巳ひろみ, Sena Hiromi)
Jōichirō Yukihira (幸ゆき平ひら 城じょう一いち郎ろう, Yukihira Jōichirō), né Saiba (才さい波ば, Saiba)
Riko Ebisawa (海老えび沢さわ 理り子こ, Ebisawa Riko)
Azami Nakiri (薙な切きり 薊あざみ, Nakiri Azami), né Nakamura (中なか村むら, Nakamura) 
Jun Shiomi (汐しお見み 潤じゅん, Shiomi Jun)
Hiromi Sena (瀬名せな 博巳ひろみ, Sena Hiromi)
Mana Nakiri (薙切 真凪なきり まな, Nakiri Mana)
Hisanao Kageura (景浦かげうら 久尚ひさなお, Kageura Hisanao) 
Leonora Nakiri (薙切なきり レオノーラ, Nakiri Reonōra)
Kazune Nishizono (西薗にしぞの 和音かずね, Nishizono Kazune)
Hiroi (広井ひろい, Hiroi)
Endō (遠藤えんどう, Endō) 
Berta (ベルタ, Beruta)
Cilla (シーラ, Shīra)
Sōe Nakiri (薙切なきり 宗衛そうえ, Nakiri Sōe)
Asahi Nakiri (薙な切きり 朝あさ陽ひ, Nakiri Asahi), formerly known as Asahi Saiba (才さい波ば 朝あさ陽ひ, Saiba Asahi)
Japanese names of characters from Food Wars! Shokugeki no Soma: FAQs
What is Food Wars called in Japanese?
Food Wars is called Shokugeki no Soma (食戟のソーマ) in Japanese.
Also Read