Ramen is simply the best comfort food don't you think? Here is your ultimate guide on the world famous Ippudo Japan Menu.
There is nothing like a hot steaming bowl of Tonkotsu that cannot be fixed. It can really warm you up on cold winters and make you forget all about your short days.
With hundreds of ramen restaurants and chains scattered all around Japan, a new traveler might find the task of selecting and ordering a simple bowl of ramen daunting.
Keep one thing in mind, wherever there are hungry shoppers around, Ippudo Restaurant is sure to be close by as it is a haven for everyone!
Ippudo is a chain often missed because of its modest and tiny buildings. If you're new to Japan, the traditional atmosphere of the place, sliding doors and the wooden facade may be somewhat intimidating.
However, they cater to everyone and provide both an English and Japanese menu.
Ippudo has an affordable range of Japanese food, so, without waiting, let's check the latest Ippudo Japan Menu-
The Menu at Ippudo Japan offered four different types of ramen.
Ippudo Japan Menu
Shiromaru Motomi
If this is your first visit to Ippudo, I would personally recommend the Shiromaru Classic which is Ippudo's original homemade tonkotsu ramen hakata-style noodles and broth.
The rich and fragrant silky soup is simmered for eighteen hours and you can also indulge in the special version which has some extra pork, a soft-boiled egg and  roasted seaweed.
Akamaru Modern:
Is a modern take on tonkotsu ramen that is made heavenly in a miso paste and fragrant oil along with some homemade medium-thick noodles. Enjoy the depth and harmony of the different flavors in this bowl of ramen.The special version is also available too.
Ippudo Karaka:
This type of ramen is made by mixing a silky pork broth mixed with sweet soy bean paste,chili bean paste, minced meat and a chili oil made with Japanese sansho peppers.
All these ingredients add to the richness and spiciness of the dish. You can choose from 5 different levels of heat. There is also a special version available too.
| | |
| --- | --- |
| MENU ITEM | PRICE |
| Shiromaru Motomi | ¥850 |
| Akamaru Modern | ¥950 |
| Gokukaraka Noodles | ¥990 |
| Hakata ramen + gyoza set | ¥1650 |
| Hakata ramen + rice + gyoza set | ¥1870 |
| Hakata ramen + mentaiko rice set | ¥1590 |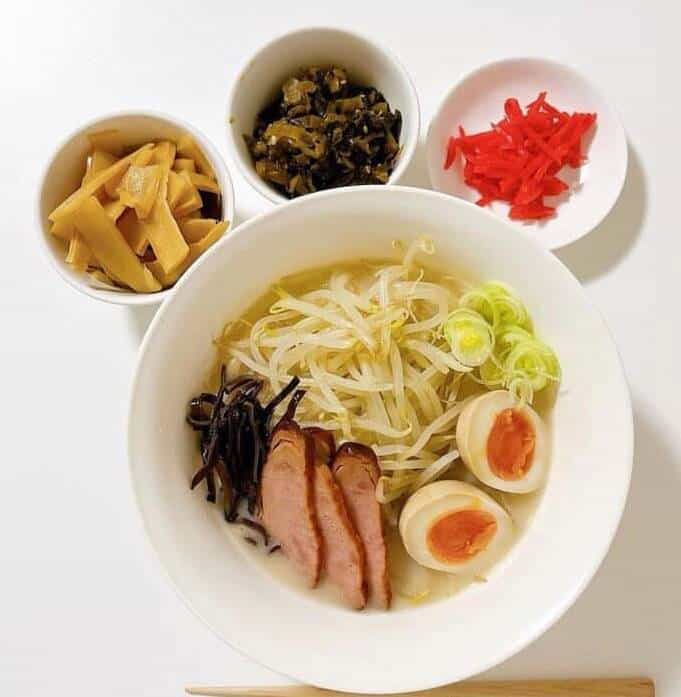 3 TOPPING SELECTIONS at ¥300 in Ippudo Japan Menu:
There is an option to add toppings to any bowl of ramen at an additional cost. Get any three toppings at the price of ¥300( select one from each of the following price categories)
| | |
| --- | --- |
| MENU ITEM | PRICE |
| Bean sprouts | ¥80 |
| Scallion | ¥80 |
| Kikurage mushrooms | ¥80 |
| Roasted seaweed | ¥80 |
| Seasoned quail eggs, | ¥80 |
| home-made chili oil | ¥80 |
| | |
| --- | --- |
| MENU ITEM | PRICE |
| Soft-boiled egg | ¥100 |
| Flavored soft-boiled egg | ¥100 |
| | |
| --- | --- |
| MENU ITEM | PRICE |
| Vegetables | ¥200 |
| Mentai (flavored cod roe) | ¥200 |
| Spicy meat miso | ¥200 |
| Wonton (dumplings) | ¥200 |
You can also get the following extra slice of pork for these prices-
| | |
| --- | --- |
| MENU ITEM | PRICE |
| Two extra pieces of chashu (sliced pork) | ¥150 |
| Four extra slices of pork | ¥280 |
Rice Dish Menu At Ippudo Japan Menu
| | |
| --- | --- |
| MENU ITEM | PRICE |
| Mentaiko Gohan | ¥300 |
| Hakata Chikara Meshi | ¥360 |
| Rice with Soft-Boiled Egg | ¥260 |
| Steamed White Rice | ¥160 |
Side Dishes At Ippudo Japan Menu:
| | |
| --- | --- |
| MENU ITEM | PRICE |
| Cucumber with Sesame | ¥400 |
| Chashu | ¥550 |
| Stir-Fried Sprouts | ¥550 |
| Pickled Tomato | ¥400 |
| Giblets with Ponzu Sauce | ¥400 |
| Boiled Dumplings | ¥500 |
| Hakata Bite-Sized Dumplings | ¥220(5 pieces)¥420( 10 pieces) |
Drink Menu At Ippudo Japan Menu:
You will like the fact that they offer complementary green tea. Besides this, I found it interesting how the beer here is served in a tall copper cup.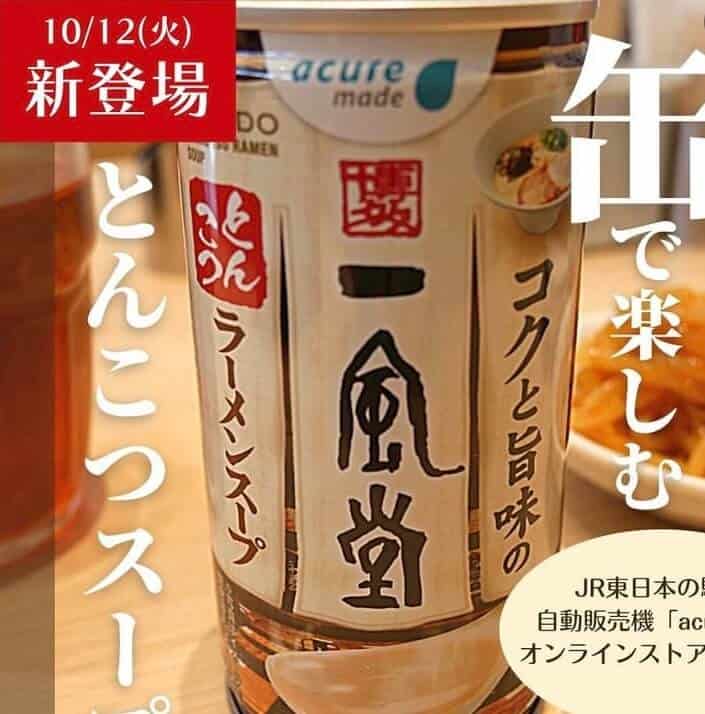 | | |
| --- | --- |
| MENU ITEM | PRICE |
| Draft beer | ¥500 |
| Bottled beer | ¥500 |
| Highball | ¥400 |
| Canned Chu-hi | ¥400 |
Assortment Of Condiments At Ippudo Japan Menu:
You can find a number of condiments on the counter and on each table. It is everything you need to add to your bowl of ramen or gyoza dipping sauce. Here is the list of the all the condiments you will find-
CONDIMENT LIST
Bean sprouts
Some pickled vegetables,
Soy sauce
Sesame seeds
Pepper
Gloves of garlic
Limited Ramen Available Only in Few Stores of Ippudo Japan:
At Ippudo, there are ramen available limited to only a few stores called the "Kokodake IPPUDO" series. Believe it or not, there are hardcore Ippudo fans who search for this limted ramen. It consists of local ingredients and is just super duper delicious.
Hakata Dandan Noodles In Ippudo Japan Menu
This is available at the Kanayama shop only with ippudo's original recipe. It consists of a yummy meat miso and spicy soup entwined with medium thin small noodles.
Hakata Tonkotsu Ramen / Hakata Soy Sauce Ramen In Ippudo Japan Menu
This is available in the Daimyo main store only which is a simple yet powerful ramen made with pork head that has been simmered for fourteen hours. They use only Jokyu Soy sauce for the Hakata soy sauce ramen.
Ippudo Kasane Flavor In Ippudo Japan Menu-
Available only in these stores-Ueno Hirokoji store, Ginza Store, Yokohama West Exit store, made using chicken bones and tonkotsu as the main ingredients. The chicken pork bone soup is perfectly balanced while the umami of each is extracted.
Hakata Chinese noodles In Ippudo Japan Menu
This scrumptious ramen is limited only to the following stores-Celeo Hachioji, Asakusa ROX/3G, Sanno, Sannomiya, Lusca Chigasaki, Takeishi Inter, Lumine Tachikawa, Honatsugi Mylord East, Kariya, Takatsuki and Kurashiki. It consists of thin noodles combined with an edo style sauce to create a light but powerful flavor
Chiba RED / Chiba Black In Ippudo Japan Menu
Dive straight into this spicy cup of chili oil and miso.Or opt for the soy sauce ramen that uses local ingredients like Kaneda seaweed and Chiba soy sauce. These are available only in the Chiba store only.
This was developed and created by the owner of Chiba store as an honor to 'Katsuura Tantanmen' and 'Takeoka-style ramen.'
Kawagoe Tonkotsu Soy Sauce In Ippudo Japan Menu
Available only in the Kawagoe Inter store only
Tanrei Chinese noodles In Ippudo Japan Menu
This Hakata-style Chinese noodles is limited only to the Dazaifu Inter store only
and combines homemade chicken char siu with finely chopped yuzu peel accents with ultra-fine straight noodles in a refreshing soupy and exquisite dish.
New Vegan Ramen At Ippudo Japan Menu:
We see Vegan food picking up in Tokyo and other parts of Japan.Last year, Ippudo offered a plant based ramen without any animal products and pork bones. They managed to replicate their signature Akamaru ramen's milky tonkotsu broth made from konbu seaweed,porcini mushrooms and soy milk.
For a healthier twist, the egg-free noodles are made using whole wheat instead of white flour. Finally, the bowl of ramen is topped with a mushroom medley of wood ear mushrooms, maitake and shimeji.
This is tossed in olive oil, garlic and scallions. You will find this at a cost of ¥1,000 per bowl and is only available for a limited time and only at selected locations nationwide.
Online Menu Ramen In Ippudo Japan Menu
| | |
| --- | --- |
| MENU ITEM | PRICE |
| Nanamaru 4 meals set | ¥3240 |
| Ippudo plant base ramen shiromaru akamaru | ¥1080 |
| Ippudo choi drinker set | ¥5420 |
| Hakata Silken Tonkotsu Ramen shiromaru / akamaru | ¥500 |
| Ippudo popular ramen gift | ¥3980 |
| Ippudo shiromaru sanmai gift | ¥3400 |
| Ippudo akamaru zanmai gift | ¥3560 |
| Ippudo souvenir ramen 3 types set | ¥1620 |
| Shiromaru 1 meal box | ¥572 |
| Red circle 1 meal box | ¥626 |
| Karaka 1 serving box | ¥626 |
| Ippudo shiromaru 5 meal set | ¥3740 |
| Ippudo akamaru 5 meal set | ¥4010 |
| 5 meal set from Ippudo | ¥4010 |
| Ippudo shiromaru 12 meal set | ¥6658 |
| Ippudo akamaru 12 meal set | ¥7286 |
| 12 meal set from Ippudo | ¥7286 |
| Ippudo shiromaru 24 meal set | ¥13,041 |
| Ippudo akamaru 24 meal set | ¥14,272 |
| 24 meal set from Ippudo | ¥14,272 |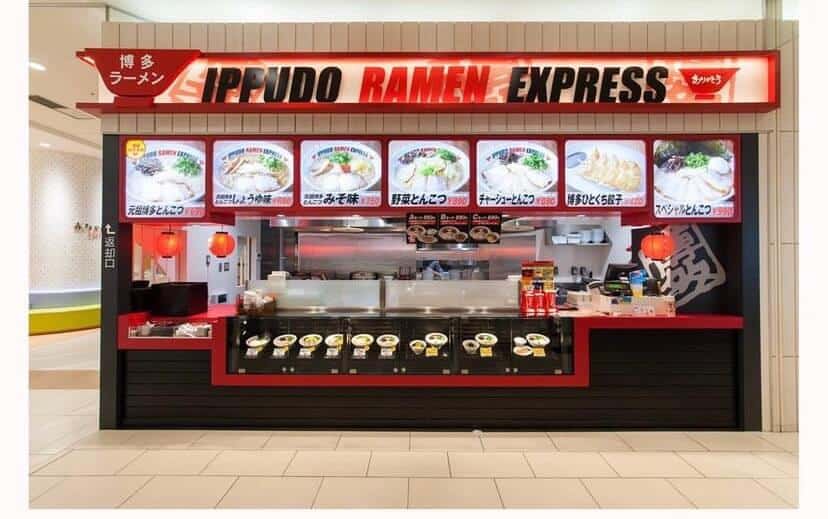 Ippudo Japan Menu: FAQs
What is the story behind Ippuddo?
The first Ippudo outlet  was opened in Fukuoka City in 1985 by Shigemi Kawahara. Since then, its reputation has expanded in other cities overseas like New York, Hong Kong, Singapore, Japan,London, Sydney,Paris, and Taiwan.
What makes the ramens served in Ippudo different from other places?
The ramen served at IPPUDO is different from any other palace simply because  customers are able to choose the texture of their noodles and  each bowl is prepared upon order.
What are the top pros of dining in Ippudo?
Top reasons to eat here are-friendly services, flavourful dumplings,beautiful modern and sleek decor,assortment of condiments and affordable food in an expensive area.
Conclusion:
All in all, in terms of convenience, it may take a bit of extra searching and frowning over a map to find an outlet, but trust me the quality of service and food is worth all the effort.
Ippudo certainly offers a good bargain, considering the tasty and delicious taste of the food.
So, now you know where to go if you are craving for traditional ramen. Don't worry as the staff is friendly and humble and will help you order the best ramen with toppings. The decor is modern, sleek and very inviting.
Did you eat at Ippudo in Japan recently? You can comment below and let us know how your experience was.
Also, if you are looking for more items, check out their entire menu on Ippudo Japan website