Christmas day in Japan is not a holiday or considered a religious day. So how Japanese celebrate Christmas in Japan?
Christmas in Japan is a beautiful day where friends and family come together to exchange gifts, love, and happiness. Find out more about Christmas in Japan here!
Christmas was not always celebrated in Japan. It has only been a few decades ever since the people of Japan have started celebrating this day. The day, however, is not seen as a religious holiday or celebration.
Why? It is because there are not many Christians living in Japan.
Christmas became a thing in Japan after the customs and traditions reached the country from the US. Now, sending and receiving Christmas Cards and presents are popular. Christmas, in Japan, is more about spreading happiness rather than celebrating.
How Japanese Celebrate Christmas?
The Japanese celebrate the eve of Christmas more than the actual Christmas day. On Christmas eve in Japan, couples spend precious time together and exchange gifts.
This is similar to how the UK and the USA celebrate Valentine's Day. You will see that couples go for walks so they can enjoy the beautiful Christmas lights and have a romantic Christmas dinner.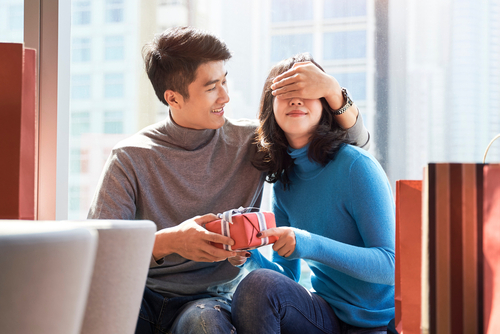 Are you interested to know how the Japanese celebrate Christmas? If yes, continue reading and you shall find some of the most interesting traditions.
Related: Guide to Hinamatsuri: Girls Day Celebration in Japan
Couples Celebrate Christmas in Japan by Going on a Date
Christmas is considered a Christian holiday all across the world. However, it is treated quite differently in Japan. It is a secular celebration and is celebrated even if you are not Christian.
In fact, you will not find many people in Japan who consider themselves Christians. But the Christmas holidays are enjoyed by people all across the nation.
One of the major differences that make Christmas in Japan different from the rest of the world is that here, Christmas is a holiday for lovers. It is not the time for family gatherings; that gathering is done on the New Year's holiday.
On Christmas Eve, couples plan a good time together. They go for a romantic dinner date or just stroll together to see the beautiful Christmas lights.
But if you have a particular religious significance attached to Christmas, there are churches that offer Christmas mass. You can find these churches in any major city in Japan.
Related: Guide to Japanese Culture Day
Kids get Presents from Santa Claus on Christmas
Santa Claus is a concept and tradition that makes Christmas fun and exciting time for both children and adults. It happens the same in Japan. On Christmas, Japanese kids look forward to getting presents from Santa Claus.
On Christmas, couples also exchange gifts. However, unlike western countries, gift-giving is not such a huge affair in Japan.
In western culture, it is believed that Santa Claus enters the homes by climbing down the chimneys. This is not the same in Japan because you will not find many homes here that have chimneys. However, Japan has its own version.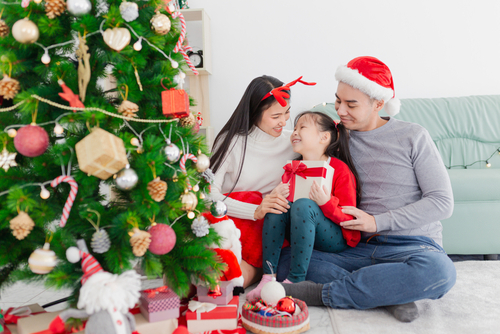 As per the Japanese, Santa is seen as some kind of a magical ghost that comes to visit you with gifts.
What happens on Christmas Eve in Japan
The day before Christmas is known as Christmas Eve. In the west, people normally spend this day with their family.
In Japan, however, this day holds a whole different meaning. Yes, it is a way of celebration for the Japanese as well, but they do not spend this time with their families.
In Japan, Christmas Eve is like a second Valentine's Day. It is the day that the Japanese love to spend with their lovers. The couples plan a beautiful day/evening with their better half.
Couples go on a beautiful walk while admiring the mesmerizing Christmas illumination that fills the streets. They also organize romantic dinner dates and exchange gifts. This is a beautiful and splendid time for couples.
Related: Guide to Kodomo No Hi: Celebrating Japanese Children's Day
What do the Japanese do on Christmas?
There are several ways in which the Japanese make the Christmas holidays fun and enjoyable for everybody. Here are some of the activities that the Japanese like to partake in to make sure that Christmas is extremely memorable.
Admiring Japanese Winter Christmas Illuminations
While lights and decorations make a huge part of Christmas celebrations all across the planet wherever it is celebrated, Japan takes it a notch higher.
Japan becomes a winter illumination destination wherein each winter, the cities in Japan become full of twinkling lights. The sight is extremely mesmerizing. In recent years, owing to the eco-friendly drive, many business owners have started using eco-friendly LED lights.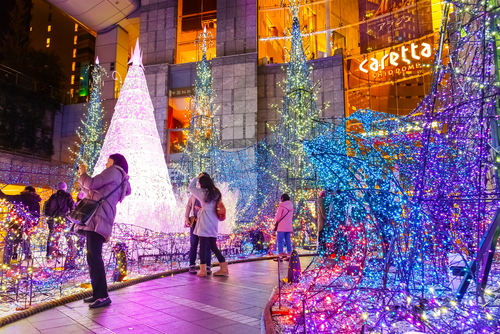 These consume less electricity as compared to their traditional counterparts.
It is not common to put up Christmas trees in one's home in Japan. However, you will see beautiful displays of Christmas trees in many businesses and shopping centers. These trees are wonderfully decorated and lit up.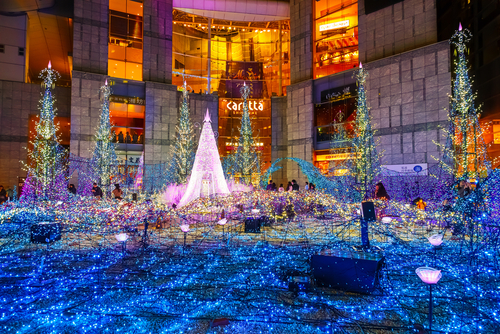 Thanks to all these efforts, a regular trip to the mall can easily change into an amazing winter wonderland experience.
Favorite Japanese Christmas Meal is KFC
Yes! Christmas in Japan is all about fried chicken. For restaurants like KFC, Christmas is one of the busiest times of the year in Japan. People start ordering fried chicken at their local fast food restaurant well in advance.
Eating KFC on Christmas in Japan is one of the most sacred Christmas traditions in Japan and it really shows their holiday spirits. The demand for this delicacy is quite high. If you wait until Christmas Day to get your hands on some fried chicken, you may have to wait for at least six hours.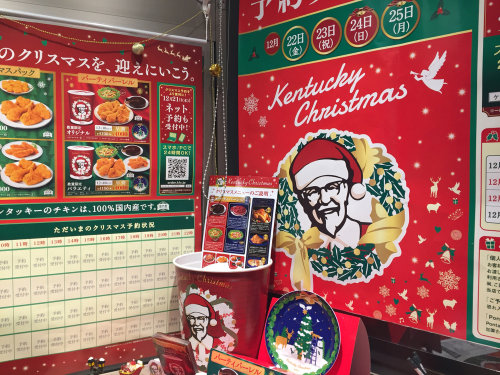 Japan Christmas Cakes
Western countries enjoy gingerbread men, cookies, or pies as dessert on Christmas. Japanese, on the other hand, eat Christmas cake, which is known as kurisumasu keeki.
The cake that is eaten here is not a regular fruit cake that is eaten in European and American countries. In Japan, this cake is a sponge cake that has strawberries and whipped cream.
The cakes are also decorated with sugar Santas as well as other Christmas-themed edible ornaments. It was by the 1970s that the tradition of eating cake on Christmas really caught on among the households in Japan.
Music Popular on Christmas in Japan
The western world sings Christmas carols on Christmas. However, in Japan, there is one piece of music that is extremely famous on this day and the end of the year. It is Beethoven's Ninth Symphony and its final act the "Ode to Joy".
The music is extremely popular and it is commonly known as "daiku", which means "number nine". The song is sung in German by choirs all across the country. It is believed that the music first came to Japan in World War One.
It was introduced by the German prisoners, and over the years, the song became highly popular.
Apart from this, Japan also has quite a good range of pop hits that are extremely popular during Christmas time. You will also find songs that are a mix of traditional and foreign pop songs.
Here are some popular Japanese Christmas songs that you can enjoy:
Tatsuro Yamashita – Christmas Eve
Junichi Inagaki – At the Time for Christmas Carol
Yumi Matsutouya – My Baby Santa Claus
Keisuke Kuwata – Snow White
B'z – Itsuka no Merry Christmas
Visiting Tokyo Disneyland on Christmas
Another popular thing that the Japanese love doing on Christmas is visiting Tokyo Disneyland. They love seeing the decorations and the parades that happen there. In Disneyland, the Christmas season begins on the second week of November and it continues till the day of Christmas. It is probably because of this Disney-themed Christmas that Christmas in Japan is not seen as a religious affair. It is more of a fun and romantic time for everyone.
Japanese Christmas Markets
Christmas markets are very popular all over Japan, and they are hosted right from the beginning to the end of winter. In these Christmas markets, you will be able to find everything from beautiful and mesmerizing Christmas ornaments to mulled wine. You really need to visit the Christmas markets if you are in Japan or are planning to visit the country during that time of the year. I guarantee that you will not be disappointed.
Christmas Shopping in Japan
Apart from all the fun, lights, and decorations, what is really popular in Japan during Christmas is shopping. There are so many things to shop for during this time of the year. You can shop for everything from traditional trees to decorating ornaments. You will also see that there are a lot of sales and offers available in major shopping centers and departmental stores. Also, since the tradition of exchanging gifts in Japan is quite big, you will see a lot of wonderful ideas.
Winter Wonderland in Japan!
Christmas in Japan truly feels like you have entered Winter Wonderland. The entire nation is glittering in marvelous illuminations with beautifully decorated Christmas trees welcoming you to shopping centers. You get to enjoy a Disney-themed Christmas at the lovely Disneyland. There are exchanges of gifts and couples spend a romantic time together. All in all, Christmas is one of the best ways times to be in Japan.
Also Read: