Now you can watch anime with your kids too! Here are Fun Kids Anime To Watch With Your Children . Check it out!
Streaming anime is one of the really cool ways to connect with your young ones at home. Initially enjoyed mostly in Japan, anime has become popular around the world over time. Lately anime movies and series have been really popular as both adults and children enjoy them.
Here's what you and your child can gain from watching the recommended kids anime series below: The first would be the common tangent among all anime series is friendship, the Japanese are admired for their way of life and culture.
They represent the same in their anime and really is heartwarming how they show friendship as the base of living a good life.
Morals are the second. Kids anime try to show the basic ethics everyone should have. I feel this subconsciously settles in for young ones.
Kids Anime To Watch With Your Children
Cardcaptor Sakura
Ages: 8 years and older
Cardcaptor Sakura, also known as Cardcaptors, is a story about an elementary school girl who unintentionally releases a sequence of magical cards. As a result, she finds her own magical powers.
The series follows Sakura, a strong female role model, as she attempts to gather the cards and return them to the book from where they were freed.
My Hero Academia
Ages: 12 years and older
My Hero Academia is set in a universe where 80 percent of the population is born with "quirks" which are beasically superpowers. 
The main character, Izuku, is born without a quirk, but that doesn't stop him from wishing to join U.A. High Academy and become a hero.
Throughout the series, you can watch Izuku grow from the timid and fearful youngster he is at the start to, well, I won't say what – that would ruin the programme.
There are a few small swear words and some cartoon violence, but nothing out of the ordinary for a kid's superhero film.
Hikaru No Go
Ages: 10 and older
Hikaru No Go tells the story of Hikaru Shindo, a 12-year-old kid who discovers a Go board while wandering in his grandfather's house. The board is haunted by Sai, a Heian period (794-1185) Go player who longs to play Go again and achieve the "perfect move."
The series follows Hikaru as he learns to play Go and discovers the value of friendship, respect, and learning from our past. Hikaru No Go is a fantastic pick for anime newcomers because it appeals to both children and adults.
Doraemon
Ages 0-10
Doraemon is on the top of my list for being the most popular anime among young tods. The show has aired all around the world for over decades. The storyline is very simple and every episode is made easy for children to understand and grasp. 
The story revolves around a elementary school kid Nobita who has a problem that every kid goes through with his school and friends. One fine day a robot from the 22nd century named Doraemon appears and helps Nobita solve his problems with gadgets from the future.
The best part of the series is that you can either watch the long series of multiple episodes or watch one shot that doesn't need you to follow the entire story making it easier for your children to understand.
Sailor Moon
Age 0-10
Sailor Moon is the series that your young daughter will love the all-girl team that has been aired since 1992 in Japan and became famous among girls. The series is still putting out new episodes every week with the latest season. 
The story is about a middle school girl named Usagi Tsukino who has the ability to turn into a Sailor Moon with her companions the Sailor Soldiers who take on villains who are in search of the legendary treasure the "Silver Crystal"
This magical anime has adapted live-action and excellent musicals that sure have a little one dance to and enjoy the magical world of Sailor Moon. 
Related: Best Japanese Anime
Pokemon
Pokemon has touched millions of hearts around the world. It started out as a game from Nintendo in 1996 that grew even more popular when it was made into an anime series in Japan. 
The anime is aired around the world focusing on a protagonist Ash Ketchum who sets out on a journey along with the iconic star pokemon Pikachu to become one the best pokemon master in the world.
Along the way, he meets friends who become family and life lessons that every child needs today.
This show has fans of all age groups including adults and is truly one of the best anime to enjoy with your young ones. 
Related: Best Anime To Learn Japanese
My Neighbor Totoro
Here is another hit show from the famous Ghibli Studio that has entertained youngsters as well as adults around the world. My Neighbour Totoro was first released in 1988 and immediately became a favorite among children for its colorful animation and mysterious creatures. 
The storyline revolves around two characters Satsuki and Mei who find themselves in between strange happenings and meeting a furry mysterious creature named Totoro. Who they meet at their family's new countryside home.
The classic adventures these two go through will have you and your child hooked for the amazing animation. 
Related: All Time Favorite Cute Japanese Cartoon Characters
Pretty Cure
Age 6-10
Pretty Cure stands out for being the best fantasy anime that helps promote creativity and imagination. Loved by modern girls since 2004 the show has grown and has been taken a liking by both kids and adults. 
The anime is about four magical girls who are transformed from young teenage girls into having superpowers to battle against an evil organization so they can bring peace and harmony to the world.
This anime is suitable for kids in their fourth or fifth grade as the storyline might be a little difficult to grasp for younger infants.
Related: Best Cat Anime
Naruto
Age 6-10
This anime really stands out for its life lessons and its portrayal of friendship, this is one of my personal favorites that I watch even today with my kids. The show was aired from 2002 till 2017 and is considered the best anime for all ages.
Among anime fans, Naruto is considered the best Japanese anime ever. The story is about Naruto who is born in a fictional world of Ninja without knowing his parents. He grows to be an amazing ninja with the help of his friends and masters.
The animation is absolutely brilliant with intense fight scenes that will have you gripping your seat. The Ninjas use various ancient techniques with the help of their inner chakra energy. The story is followed by Boruto which is the continuum of Naruto's legacy but with his son as the main character. 
Related: Is Sailor Moon Japanese or White
Crayon Shin-chan
Age 0-10
The anime has been a favorite in Japan for ages and even now among children from the time it was aired in 1992. The storyline is a comedy based around Crayon Shin-chan's mischievous behavior and the funny words he creates.
There are over a thousand episodes with his witty comedy that have been released so far. You can pick any random episode and watch it with your family and children as the story completes by itself.
I recommend this anime for children to help improve their Japanese as well as a fun comedy to cheer yourself and your toddler with. 
Ponyo
Age 0-10
Ponyo on the cliff by the sea, also known as the Ponyo is another hit from the studios of Ghibli that was released in 2008. It is a fantasy anime that is made keeping your kids' imagination in mind to help improve it and build creativity.
The story is about a five-year-old kid named Sosuke who crosses paths with a goldfish-type sea creature called Ponyo that desperately wants to turn into a human being like his friend.
The storyline is simple to understand and perfect for children to understand easily and the friendship between the boy and the goldfish is really heartwarming and special. 
Captain Tsubasa
Age 6-10
If your kid loves soccer this anime will have him reach for the star with the amount of enthusiasm and determination that is shown in this anime called Captain Tsubasa.
The story takes form from the anime written by Yoichi Takahashi. The story is inspired by many soccer superstars like Zinedine Zidane, Neymar, Andres Iniesta, and gameplays that are truly amazing to watch with stellar animation.
The story revolves around a kid star Tsubasa Ozora and his journey with soccer and his determination to be the best. 
One Piece
Age 6-10
If your child is into pirates and loves stories of the ocean like the moby dick and little mermaid. This storyline is one of the best I've witnessed with over 1000 episodes and millions of fans around the world.
This is my best recommendation of anime for building life skills and creating a high level of ambition and determination among your children as the main character Luffy is all about that.
The story takes place in a fantasy world ruled by pirates and the navy, where there are special characters who have gained the power of a devil fruit that gives them a unique power but takes away the ability to swim by the user.
Luffy is one such character who aims to find the treasure that will crown him as the king of all pirates while being a devil fruit user that gives him the power for his body to behave like rubber.
Luffy's journey of following his dreams and finding friendship is truly inspirational to watch. 
Also Read:
One Piece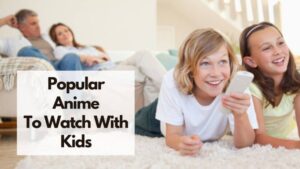 Director: Kōnosuke Uda, Junji Shimizu, Munehisa Sakai, Hiroaki Miyamoto, oshinori Fukazawa, atsuya Nagamine, Aya Komaki, Satoshi Itō
Date Created: 1970-01-01 00:33