Looking for soothing, fast relief Japanese eye drops? Here are the best Japanese eye drops that will help you keep the dryness away!
The Japanese have made a nice spot for themselves among the best producers in the world. From electronics to cars to cosmetics, Japanese products are trusted and popular with people locally as well as internationally.
When you talk about eye drops, you don't expect much of a variety or many options. Most of the time, you use them for medical purposes.
But have you ever visited a Japanese drug store and asked for eye drops?
You will be spoiled for choice. Eye drops in Japan come in a variety of options. There is a specific eye drop for every possible issue that you may face with your eye.
Rohto and Sante are the most popular and trusted brands for eye drops in Japan and have made a spot for themselves in the global market as well. These two brands give customers a wide range of products to choose from to suit their specific needs.
So what makes Japanese eye drops stand out?
The market for Japanese eye drops is a pretty big deal. These eye drops not only provide good results but also come infused with active ingredients.
Eye drops are slowly becoming a must have in every bag and purse. This is because we live in a digital age and exposure to screens is inevitable. This could cause a lot of damage to the eyes and the use of good quality eye drops can help prevent that.
Here is a list of some of the best Japanese eye drops for you to choose from.
Best Japanese Eye Drops: Quick Summary
How did we choose the best Japanese eye drops?
Our in-house team of experts went over 20 different Japanese eye drops and rated them on the ingredients used, effectiveness, availability, and pricing. After careful thought, the following list was made.
Through our research, we found that Rohto Ice All-in-One Multi-Symptom Relief Cooling Eye Drops are currently the best Japanese eye drops. It gives relief from 8 symptoms of eye discomfort and is affordable as well. 
Top Japanese Eye Drops Reviews
Rohto Ice All-in-One Multi-Symptom Relief Cooling Eye Drops
This is the perfect addition to your daily essential kit. In this technologically driven world, it's impossible for us to avoid screens. Constant exposure to screens can cause redness and dryness of the eyes. This could lead to further symptoms like itchiness, watering, and grittiness.
I dealt with all of these symptoms and I just couldn't find the right eye drops to help me. I needed something that would address all these issues and give me long lasting relief.
That's when I came across these eye drops by Rohto. And honestly, they were a gift from above.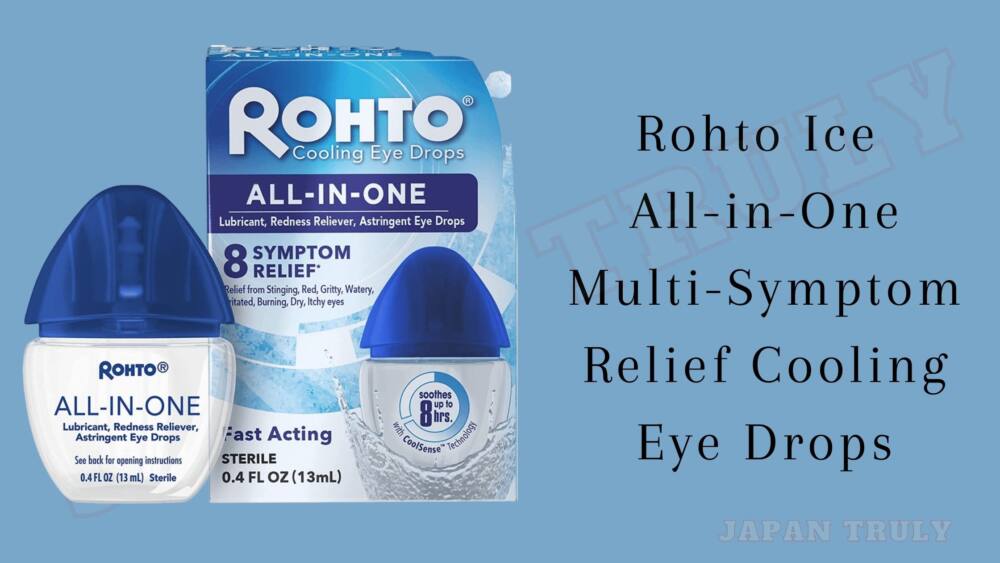 These eye drops come with a Cool Sense Technology and Freshkick Technology. They both give an instant cooling effect to the eyes. The relief is not just temporary but lasts for a good while.
With these eye drops, I said goodbye to red and itchy eyes almost instantly. They can be used up to four times a day, depending on your needs. 
Rohto Maximum Redness Relief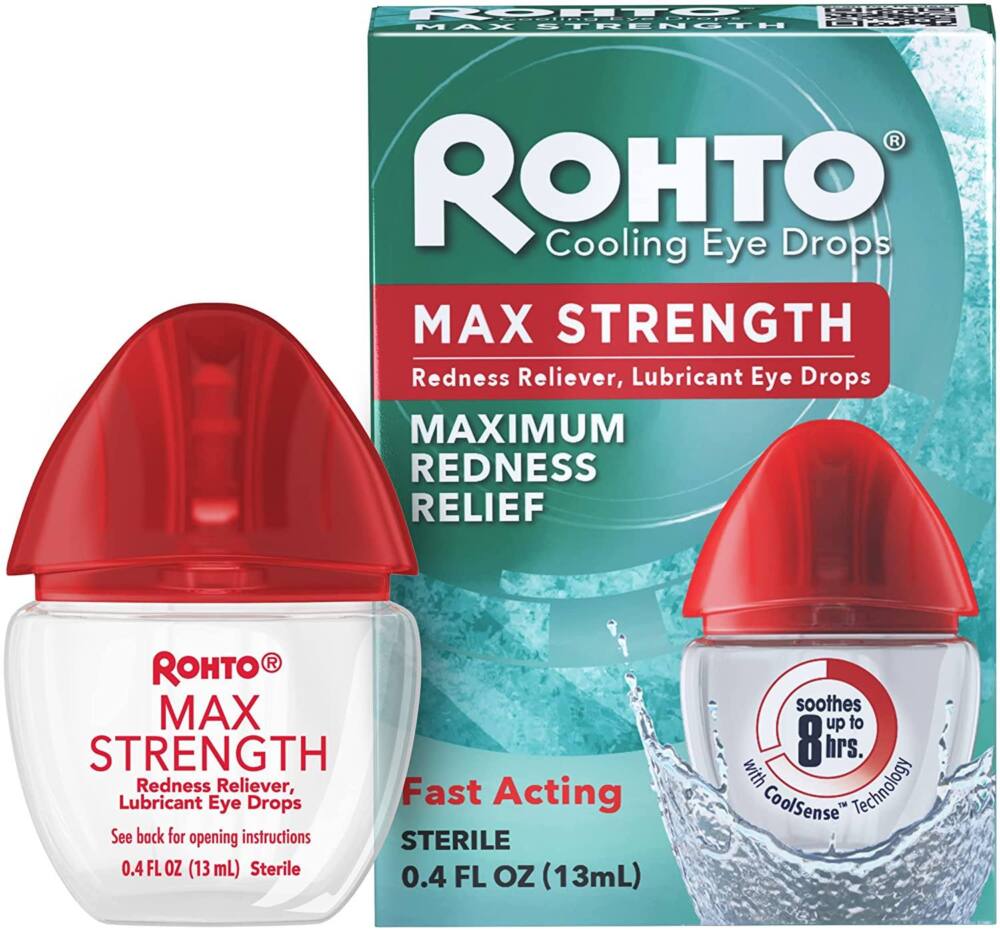 Dry eyes can be a real pain to deal with because not only do they make your eyes itchy, but they also make them red and puffy.
Another trusted product that I use to relieve redness is Rohto Maximum Redness Relief.
Besides being a product from a trusted brand, it has also proved to work wonders. It comes with a fast acting Freshkick technology that almost instantly cools the eyes and provides relief.
The eye drops have a lubricating effect on the eyes as well. They offer up to 8 hours of comfort and soothing action. 
Rohto Dry Aid Eye Relief Lubricant Eye Drops
Dry eyes are becoming increasingly common. They are not caused only due to increased screen time, but they can also be a result of hormones going crazy, environmental factors, and so on.
If you deal with your eyes being constantly dry and irritated, I recommend the Rohto Dry Aid Eye Relief Lubricant Eye Drops.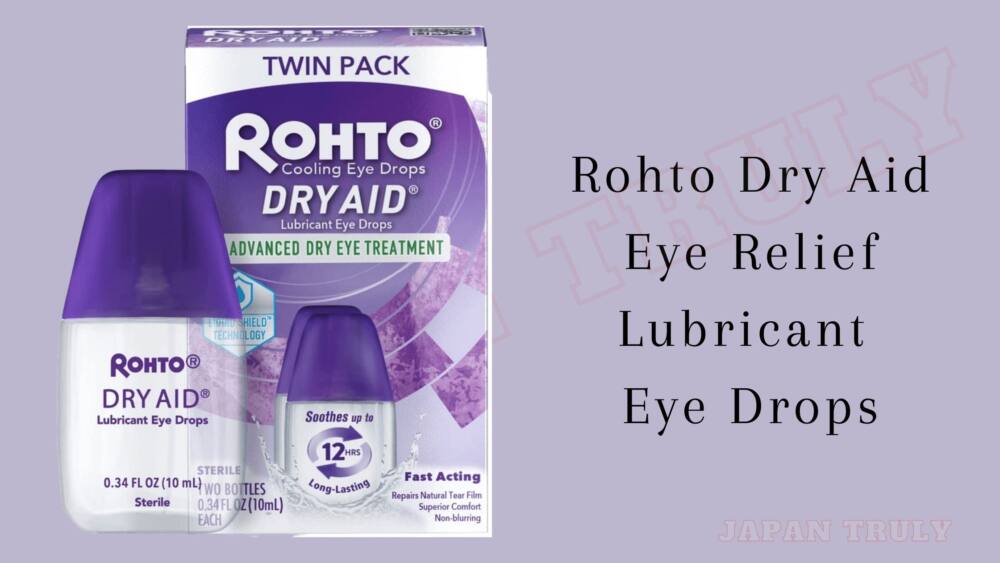 It comes with Liquidshield Technology that is fast acting and doesn't blur your vision. It also repairs the natural tear film to further prevent dryness of the eyes.
What I love about these eye drops is:
I can carry the compact bottle easily
I don't have to wait for my vision to clear up after using them
I can use just a couple of drops and I set for the next 10 to 12 hours. 
Rohto Digi-Eye Cooling Eye Drops for Digital Eye Strain
Another excellent product from Rohto is the Digi Eye Cooling Eye Drops. These eye drops are specifically made for those who spend a lot of time in from of screens.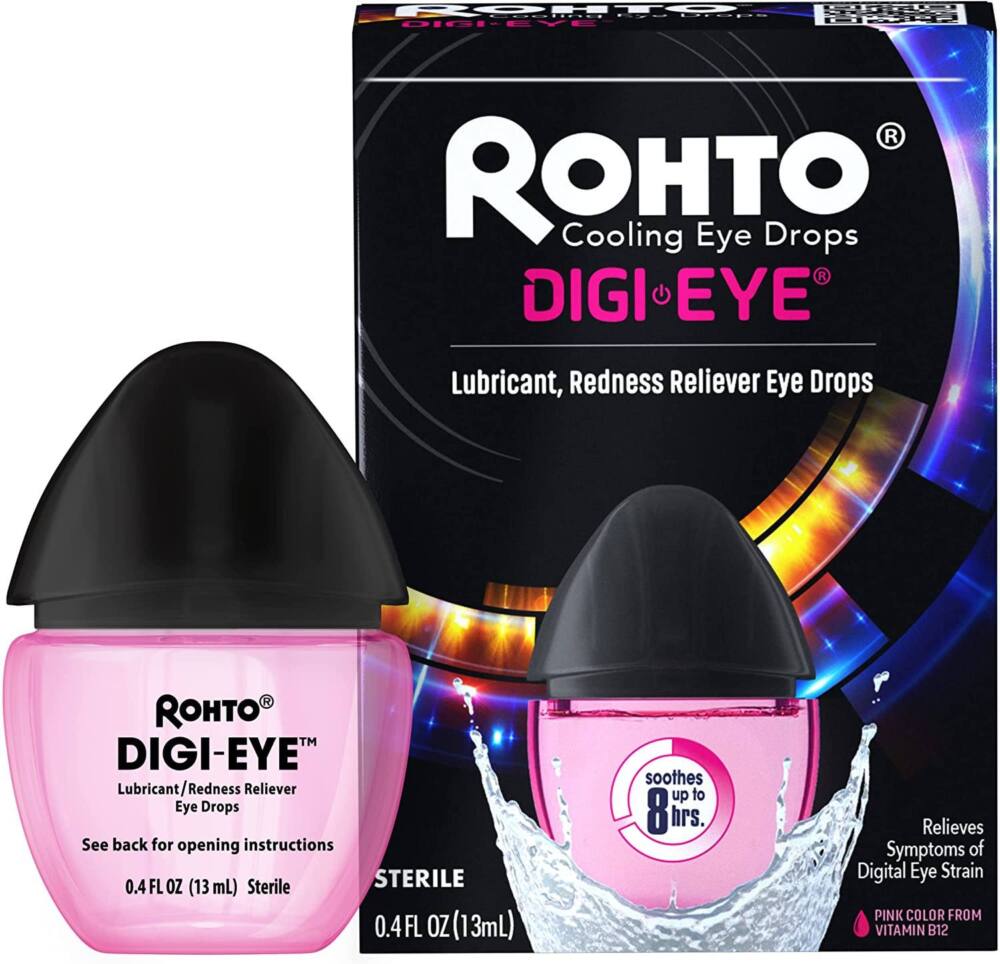 I find using these eye drops especially helpful when I pull off long nights in from of my laptop. I may have picked these up at first because of the pretty pink colour, but they proved how effective they are after just the first use.
I found that the cooling effect of these eye drops lasts for a good 8 hours. They help with eye strain and fatigue and prevent irritation and redness.
Rohto Cool The Original Cooling Redness Relief Eye Drops
The weather can affect your eyes as well. Cold weather is known to bring in dry eyes accompanied by redness, itching and irritation.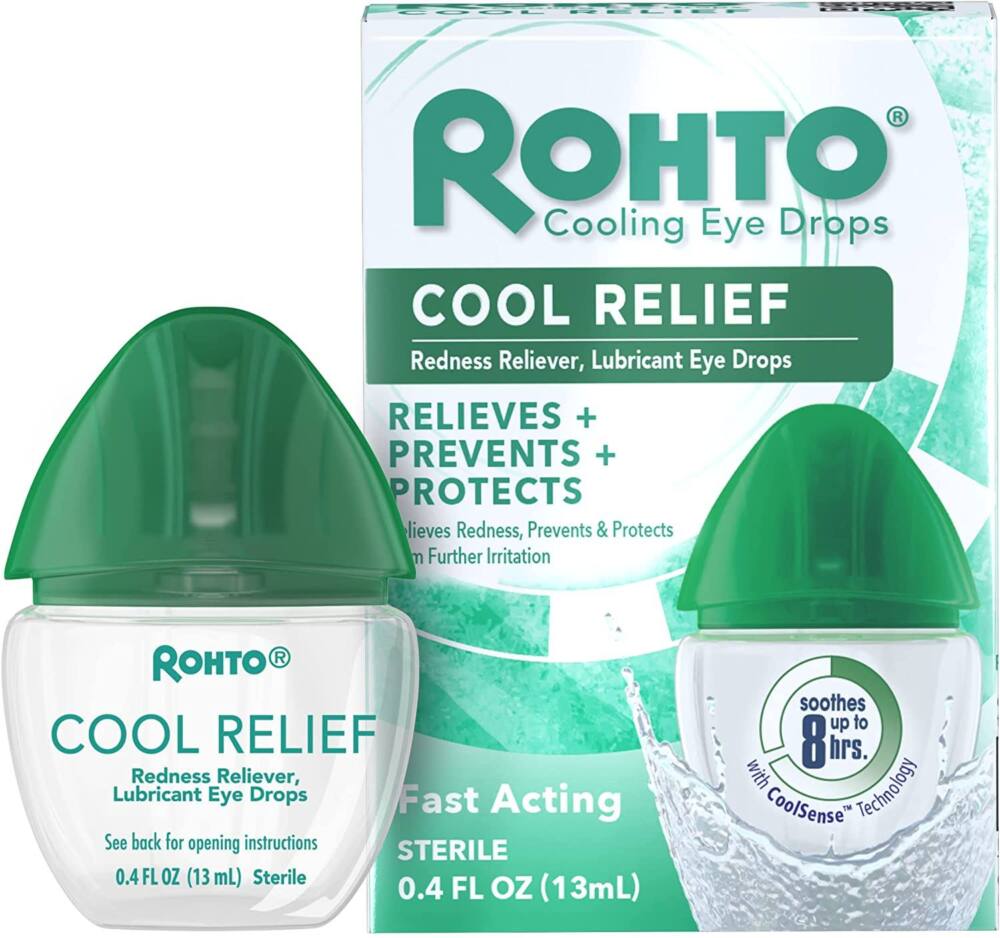 I found these eye drops by Rohto particularly helpful during winter. The weather plus long hours of screen time made my eyes tired and strained. Add irritation to that and it's just a terrible combination.
But these eye drops were a lifesaver. Their effect lasts for up to 8 hours. They come with Cool Sense Technology that gives eyes a lasting cooling effect. Like the packaging says, these eye drops proving relief, prevent and protect from further irritation.
Rohto Lycee
Besides coming in an attractive looking bottle, these eye drops are a great hit among the women in Japan. The pink packaging is sure to catch your eye (it caught mine for sure).
These eye drops are more than just attractive. They are the perfect solution for those who are exposed to UV rays. I found them to be effective on red and dry eyes.
They also have a variation that they come in that is suitable for those who use contact lenses. This variation comes with an ingredient that can penetrate contact lenses and treat the eyes.
Sante Beauteye
Sante is another leading brand of Japanese eyedrops. The Sante Beateye is specially designed for ageing eyes.
As you grow older, you are more at risk of dryness and redness of the eyes. These eye drops provide lubrication and make eyes moist and youthful.
The ingredients that go into making these eye drops help with the turnover of the eyes and protect and lubricate the cornea.
This product has become a big hit among women because of its impressive and elegant packaging.
Sante PC
Sante has come up with eye drops that are specifically designed for PC users.
These eye drops are effective in reducing and preventing damage that is caused by staring at the blue light of computers for a long time.
These eye drops lubricate tired and dry eyes and reduce strain and fatigue. This further prevents any irritation.
I love the packaging on this one! It is colourful and incorporates the PC theme so well. 
How to Use Japanese Eye Drops:
Here are some general tips and instructions to follow when using Japanese eye drops:
Do not touch the tip of the container on any surface. This prevents contamination.
Always replace the cover on the container after each use. 
In case you see any discolouration or cloudiness of the eye drops, do not use them. 
Do not overuse eye drops. Read the instructions carefully and use only the recommended dosage. 
In case of any eye pain, prolonged irritation, or change in vision, discontinue the use of the eye drops and consult a doctor immediately.
Best Japanese Eye Drops: FAQs
Are Rohto eye drops any good?
Yes, Rohto is one of the leading Japanese brands of eye drops. It is popular not only in Japan but all over the world for its excellent quality products.
What are some side effects of using eye drops?
Usually over the counter eye drops are safe to use. However, it is always advised to consult a doctor before using them. Some side effects of using eye drops are:
Widened pupils
Blurred vision
Redness and irritation of the eyes
If you experience any of these symptoms, discontinue use of the eye drops immediately and consult a doctor. 
Also Read
Rohto Ice All-in-One Multi-Symptom Relief Cooling Eye Drops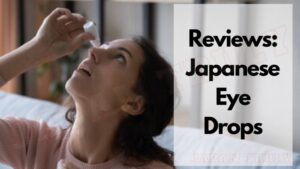 Here are the best Japanese eye drops. Check it out!
Product SKU: 8912469164YGH0933891
Product Brand: ROHTO
Product Currency: USD
Product Price: 15.69
Price Valid Until: 2022
Product In-Stock: InStock