Looking for the best Japanese deodorant? Keep yourself fresh 24/7 with these refreshing Japanese deodorants. We reviewed the best deodorants from Japan for you. Check it out!
Deodorants are an absolute must all throughout the year, no matter the weather or season. I find that deodorants are especially required during the hot summer months when sweat and humidity work extra hard to give us a nasty odor.
There are different types of deodorants that you can get: roll-on, spray, lotion, sheets, and more. And I agree that choosing one deodorant out of all the options that are available out there can be a bit too overwhelming.
But fret not, I have tried and tested several of the best Japanese deodorants and I have brought them for you here today. I am pretty sure you will find these deodorants meet your expectations.
Best Japanese Deodorant –Quick Summary
How we tested the products?
I tried several of the most popular Japanese deodorants and tested them out based on the following criteria:
Odor Resistance
For this, I applied the deodorant and went about all my chores. To see how effective it was, I used a special instrument to analyze the smell.
Sweat Blocking
Another test was to see how well these deodorants work at blocking sweat. To test this, I wore a gray T-shirt and kept checking for sweat stains. The main point taken into consideration was how long the deodorant could hold back perspiration.
Out of all the deodorants I tested, the ones with antiperspirant features formed a barrier over the skin and worked effectively at blocking sweat.
Longevity
The last test was to see how long these deodorants last. So, what I checked after applying the deodorants were how much I was sweating, the smell, and if my skin was still soft and smooth. The best performing deodorants in this category were the stick-type ones.
From my own experiences, the following are the most effective Japanese deodorants.
Which is the best Japanese deodorant?
I have tried and tested several Japanese deodorants to see which one is the best out of all. There were several criteria based on which I tested these deodorants – odor control, sweat-resistant, freshness, and application. I found that Deonatulle Soft Stone E is the absolute best Japanese deodorant. And here's why:
Deonatulle Soft Stone E Japanese deodorant gives you a minty fresh odor that stays on throughout the day. This deodorant from Japan is also quite easy to apply and dries quickly. Also, it left my skin quite smooth and I didn't feel any stickiness after applying this deodorant. Deonatulle Soft Stone E deodorant from Japan doesn't leave stains on clothing either which makes it the best Japanese deodorant!
Deonatulle Soft Stone E Deodorant
The Deonatulle Soft Stone E Deodorant is one of the most convenient Japanese deodorants that you can get. I have tried this deodorant and believe me, I was quite surprised to see how easy it was to apply it. It also lasted the entire day, even when I was out and about completing all my chores.
I love the minty scent of the deodorant; it gives a very refreshing touch that lasts for quite a long time. However, there is no cooling sensation, unlike other minty deodorants.
Also, it is absolutely perfect for when you are in a rush because it dries quite quickly and does not leave behind the white residue. So, there is no issue with any stains. There is also no stickiness, which is an added bonus.
Pros:
Easy to apply
Lasts the whole day
Does not cause stains
Refreshing minty scent
No stickiness
Dries quickly
Cons:
Does not give you a cooling sensation
Related: Best Japanese Face Lotion
OXY Cooling Deodorant
This is my go-to deodorant on a hot summer day, thanks to the amazing cooling sensation it provides. This is also unlike other deodorants because it comes with a spray nozzle. This feature also makes it one of the most hygienic options because the applicator does not touch the skin.
It leaves you feeling very fresh. Apart from that, this deodorant also helps to get rid of sweat and odor.
The fragrance is quite sweet and refreshing, which is very mild. The deodorant also comes with antiperspirant and anti-bacterial features that are great for combating sweat and smell.
Pros:
Cooling sensation
Antiperspirant and anti-bacterial features
Combats sweat and smell
Comes with a spray nozzle
Sweet and refreshing scent
Hygienic
Cons:
The effect wears off quickly
Gatsby Spot Deodorant Stick
This is quite a smooth stick-type deodorant that is so easy to apply and does not tug the skin at all. It is also non-sticky and it does not leave behind that annoying white residue. I also did not find any stains on my clothes after applying. It also helped block sweat, so there was no odor after I applied the deodorant.
Pros:
Smooth deodorant
Does not tug the skin
Non-sticky
Does not leave behind a white residue
Blocks sweat
Eight Four Roll on Deodorant
The roll-on deodorant has ingredients such as licorice, which is quite essential at making the deodorant antibacterial. I found it to be extremely effective because it really helped to work against smell and odor. And it did not just do that, it also blocked sweat, making it one of my favorite antiperspirants.
However, the drying time is not very quick. It takes a couple of minutes to dry after application. So, this is not what I would go for when I need to run out.
Pros:
Antibacterial and antiperspirant
Works against smell and odor
Blocks sweat
Cons:
AG Deo 24 Deodorant Stick DX
The AG Deo 24 Deodorant Stick DX is a popular deodorant option in Japan, known for its long-lasting and effective odor control. It comes in a sleek and easy-to-use stick format, making it convenient for on-the-go use.
One of the standout features of this deodorant is its 24-hour odor protection claim. Many users have reported that it effectively controls sweat and odor throughout the day, even in hot and humid weather.
The formula is gentle on the skin and does not cause irritation or dryness, making it suitable for those with sensitive skin.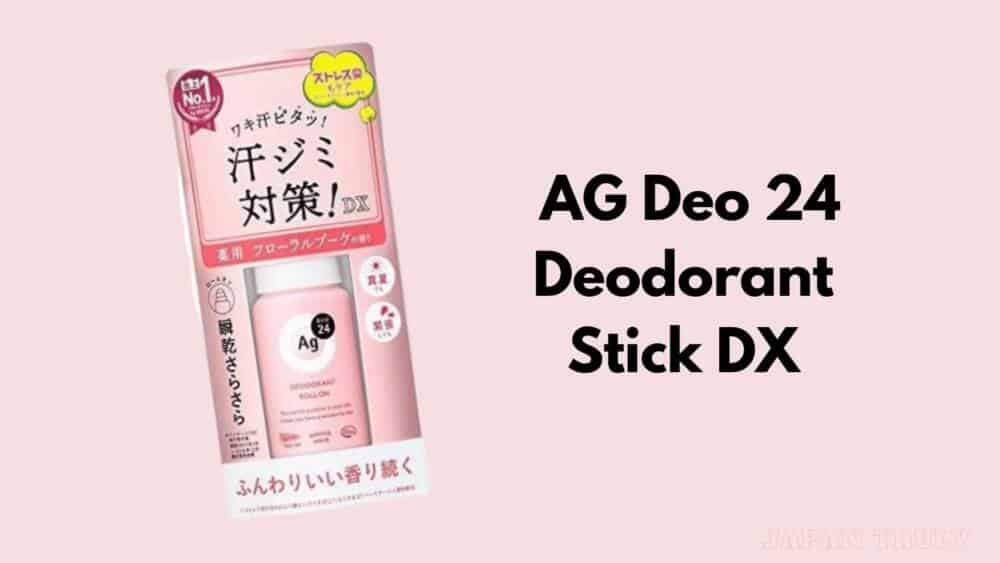 The deodorant stick has a subtle and refreshing scent that is not overpowering, which is appreciated by those who prefer a more subtle fragrance.
The stick glides on smoothly and does not leave any sticky or greasy residue on the skin, allowing you to apply it quickly and easily.
However, some users have reported that the deodorant does leave white marks on clothing, so it is important to allow it to dry fully before getting dressed.
Additionally, some individuals may find that the scent is not strong enough to mask particularly strong body odor.
Overall, the AG Deo 24 Deodorant Stick DX is a reliable and effective deodorant option that provides long-lasting odor protection without causing irritation or dryness.
Its subtle scent and easy-to-use stick format make it a great option for daily use, though it may leave white marks on clothing if not allowed to dry fully.
Pros:
Long-lasting 24-hour protection against sweat and odor
Gentle on the skin and does not cause irritation or dryness
Subtle and refreshing scent that is not overpowering
Easy-to-use stick format allows for quick and mess-free application
Does not leave a sticky or greasy residue on the skin
Cons:
May leave white marks on clothing if not allowed to dry fully
Scent may not be strong enough to mask particularly strong body odor
May not provide adequate protection for individuals with excessive sweating or hyperhidrosis
More expensive compared to some other deodorant options on the market
How to Choose the Best Japanese Deodorant?
Are you thinking of getting yourself a Japanese deodorant? These are the points you need to look out for:
Type of Deodorant
The first and foremost decision that you need to make is the type of deodorant you need. There are five main types – sprays, roll-ons, sticks, creams, and sheets. Each of these has its own set of pros and cons.
#1 — Sprays
Spray-type deodorants are quite great and personally my favorite. You can use this to freshen up even when you are out and about. It is quick and gives you an instant bout of freshness. Also, since the nozzle never touches your skin, it is also extremely hygienic. However, the one thing that I do not like about this type is that the effect is not long-lasting.
#2 — Roll-ons
This is absolutely a gem when it comes to the application process; it just glides on your skin and does not leave behind any white stains on your clothes. However, they may take time to dry.
#3 — Sticks
Stick-type ones are actually like glue sticks. You need to twist the deodorant out of the tube and apply it to your underarms. They are quite easy to use and stick to your skin. You may, however, find a residue on your clothes.
#4 — Creams
Creams are long-lasting and are perfect if you sweat a lot. You can also use as much or as little as you want. But since this type comes in jars or tubes, you need to use your hands to apply it, which can be quite messy.
#5 — Sheets
These sheets are great for a quick clean-up after a tough workout session or a sweaty night. These are portable and can be used anywhere. Even though these are quite easy to use, you cannot use them solely as deodorants.
Check out the various ingredients and their effects
Another to consider when getting a deodorant is the ingredients and their effects. Most of the ingredients used in deodorants are known to block swear, fight bacteria, or eliminate odor. Depending on what you want, look out for the ingredients and what they do.
Feel and Smell Good, Always!
These were my top favorite Japanese deodorants that are so good, I always find myself switching between them. With these deodorants, you can simply wave a happy goodbye to all your pesky concerns such as bad odor and excessive sweating. I have found out that I always smell fresh when I apply my favorite Japanese deodorant.
My confidence has also sky-rocketed after using these because I know there is nothing funky coming out of me. So, try out these deodorants and you will see that your walk changes to one that is filled with confidence, especially when the weather outside is too hot and humid.
Also Read
Deonatulle Soft Stone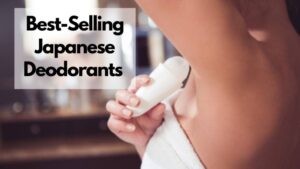 We tried and tested Japanese deodorants to find the best Japanese deodorants! Read on to find the results!
Product SKU: 008975565BDS1200258
Product Brand: Deonatulle
Product Currency: USD
Product Price: 17.95
Price Valid Until: 2021
Product In-Stock: InStock