How to get flawless makeup? Well, the first step is to get the right concealer. So check out these best Japanese concealers to create a seamless palette for all your makeup products! These Japanese concealers are formulated with skin-friendly ingredients that will help your skin get better as well.
The formulas won't dry out your skin but will hide any creases, fine lines, dark spots, and any other signs of aging. You can choose between a stick type Japanese concealer to easily target specific spots on your face or cream type concealer for more coverage. So check out these best Japanese concealers and have blemish-free skin always!
Best Japanese Concealers — Quick Summary
Top Japanese Concealers
#1 — Canmake Color Mixing Concealer
Best Japanese Concealer For Dark Circles
Canmake is a cult favorite in Japan. It offers good-quality products and the packaging is really cute too. Canmake concealers are one of the best Japanese concealers.
The color mixing concealer does its job really well by concealing blemishes, dark circles, and dark patches. It glides smoothly on to the skin. It has three concealers in one pack. Mix the three shades to get the one that suits your skin. This three-shade Canmake concealer features natural, light, and dark shades.
The product even has a mixing palette where you can mix the three shades to create a custom-made shade that matches your skin perfectly. This concealer is safe on the skin as it is formulated with a moisturizing agent and is free from tar-based pigments, UV absorbers, preservatives, and artificial fragrances. With a creamy and silky consistency, it contains skin-nourishing ingredients like sodium hyaluronate and squalane.
#2 — Shiseido Maquillage Concealer Stick
Best Japanese Cosmetics 2020 Brand
Shiseido is one of the best Japanese cosmetics brands and very popular all over the world.
The Maquillage Concealer by Shiseido is one of the best Japanese concealers in the market. The concealer has a creamy consistency that covers dark spots or blemishes to give your skin a seamless look. And because of the creamy consistency it doesn't dry out your skin either.
It easily blends into the skin and covers up the appearance of crow's feet and any other signs of aging.
The packaging is slick which makes it all the more irresistible. Because it's a stick, it's really easy to use and you can control the amount of product that goes into your skin. You can target specific blemishes so this is great for touch-ups.
It makes for a great base for the foundation as it provides a smooth palette for your face. The concealer also contains SPF25 which is great cause it gives you extra protection against the UV rays.
Related: Improve your skin texture and strengthen your hair with these best Japanese collagen supplements!
#3 — Pore Cover Pen Concealer
Best Concealer For Blemishes
Unlike your typical concealers that you'd use for your entire face – this Pore Cover Pen Concealer is specially formulated for the nose area. It evens out your skin around the nose area.
It covers up the pores so you can put on your foundation and your makeup looks seamless. This concealer will effectively cover up pores or white heads so your makeup looks flawless.
Related: Add one of these best Japanese serums to your skincare routine to boost the effectiveness of your skincare products!
#4 — IPSA Creative Concealer
Best Japanese Creaseless Concealer
Here's another cult favorite concealer from Japan. This is one of the best Japanese concealers that comes as a three-shade palette. With this concealer, you can mix up the shades to create a shade that will suit your skin perfectly and you can target specific blemishes or dark spots. You can create a custom shade for your skin.
The concealer has an amazing consistency and works perfectly well for the delicate areas around the eyes. Since it has such a smooth consistency, it won't dry out your skin so it keeps the wrinkles and crow's feet hidden. It blends really well and gives you full control when you're using it.
Related: For silky, soft skin try one of these body lotions from top Japanese skincare brands!
#5 — Cezanne Stretch Concealer
Best Japanese Concealer That Improves Skin
This is a liquid concealer and comes with a soft sponge tip which makes it really easy to apply. The brush is gentle and works perfectly for the delicate skin around your eyes as well. The concealer offers great coverage and helps hide dark circles really well.
The concealer also contains SPF28 and PA+++, so it protects your skin against the harmful UV rays as well. Which is why it makes a great pick for everyday use. Once you apply the concealer, wait for a few minutes until it sets and only then applies the foundation. If you apply the foundation before the concealer sets, you'll see the appearance of cracks and creases.
Related: Check out these gentle yet hydrating face washes from top J-beauty brands!
#6 — Calypso Magic Concealer
Best Japanese Concealer For Acne Scars
This Japanese magic concealer by Calypso is formulated to effectively cover blemishes, dark spots, acne scars, and other signs of aging. The concealer glides on to the skin smoothly and blends well to give you a seamless look. It offers good coverage and helps even out your skin tone so your makeup looks flawless!
You can also apply this concealer around your eyes but make sure to not rub your eyes, it might wear off. The concealer comes in three shades beige, yellow-being, and pink beige so you can mix these shades to get the perfect shade for your skin tone.
Related: Get rid of every last bit of dirt and grime with these nourishing Japanese cleansing oils. Check it out!
#7 — KATE Stick Concealer THE BASE ZERO
Best Japanese Concealer For Dull Skin
Here's another best Japanese stick concealer you'll like. Unlike most other stick concealers, this best Japanese concealer by Kate does not have a dense formula so you can use it around the eyes as well. It's got good coverage so it spreads easily and you'll get a smooth coat with just one swipe.
This concealer is a really good option if you feel like your skin is dull. I love how this concealer simply glides on the skin. But it doesn't exactly cover up the blemishes 100% but rather just makes it dull. So this will work great for you, if you're dark circles aren't that bad. Check it out below!
Related: Try a look this season with these nourishing Japanese hair dyes!
#8 — 24h Cosme Care Mineral Concealer UV
Best Japanese Concealers For Yellow Skin Tones
Here's another one of the best Japanese skin concealers. This concealer works especially well on yellow-ish skin tone. This is a 2-color palette that has a light creamy formula and spreads really well. The concealer doesn't crease so it works really well under the eyes as well.
The brush applicator blends the colors really well to match your skin tone. It's not the best option for pale skin tones as the colors are rich and deep which might stand out against pale skin.
Related: Cover up your grey hair with these amazing color depositing shampoos from Japan!
#9 — Clé de Peau Beauté Correcteur Éclat Pour Les Yeux
Best Japanese Concealer Stick Type
This is another one of the best Japanese concealers. It has great coverage but isn't the most long wearing of the lot. It's a bit dense so it might be best suited for the under eye area. If you do decide to use it under eye ensure that you've blended it in really well to avoid creases later. Even though this is a great concealer it does require touching up now and then.
Related: Style your hair with these Japanese hair dryers that reduces frizz and tames your hair!
#10 — The Saem Cover Perfection Tip Concealer
Best Japanese Concealer for Spot Correction
What I absolutely loved about this best Japanese concealer is the applicator. The tip of the applicator is angled so it makes it super-easy to target a specific fine area.
The concealer, however, is quite dense and dries pretty quickly so not the best option to directly apply under your eyes or to cover eye bags. But this is a great concealer for larger areas like to cover up freckles on your cheeks and to cover up dark circles or eye bags gently tap your beauty blender upwards from the cheek area. This works great to cover up any pigmentation. Check it out below!
Related: Give your hair deep nourishment and moisturization with these amazing conditioners from top Japanese hair care brands!
#10 — Shiseido Spot Cover Foundation And Concealer
Best Japanese Concealer For Undereye Circles
The next one on our list is the Shiseido Spot cover foundation. Shiseido is one of the most popular brands in Japan and all over the world. And this creamy concealer is one of the brands best-selling concealers. It has a luxuriously creamy texture and spreads smoothly on your skin. It provides a great coverage and your under eye circles will basically disappear once you use this product.
The concealer is available in two colors C1 and C2. C1 is a pure white shade and C2 is yellow. The best thing to do is mix and blend both of these to get the perfect shade for your skin.
Even though it requires a bit of work with blending the two shades, it's a great option to cover up your dark circles! You can also use this Shiseido concealer to cover up blemishes, dark spots, and hyperpigmentation seen on the skin.
The concealer adheres to your skin very well to give you a natural finish and will last long as well so you won't need regular touch-ups throughout the day!
Definitely one of the best Japanese concealers. Check it out below!
Related: Hair fall trouble? Here are some effective anti hair fall shampoos for Japan for you!
#12 — bareMinerals BarePRO Coverage Concealer
Best Japanese Concealer For Dry Skin
If you have dry skin, you'll know the trouble of applying makeup – the makeup won't adhere to the skin properly and it can all look very cakey. Ew. Which is why it is super important to look for products that are specially formulated for dry skin. Basically, this means to look for products that don't have drying agents that you would normally find in products that are meant for oily skin or acne prone skin.
Which brings us to our next product – the holy grail for those with dry skin – bareMinerals BarePro Coverage Concealer. This will literally feel like you're applying butter on to your skin. And no, I'm not exaggerating. Because its texture is light and oh-so-creamy, this one has great coverage.
It doesn't get cakey and you can easily build coverage by layering. It sticks to the skin well, even around the delicate under eye skin. The good news here is that, unlike our previous product, this one comes in multiple shades suited for different skin tones so you should be able to find something that works for you.
The concealer will give you a natural, smooth finish.It's crease-proof and sweat-proof so you don't have to worry about regular touch ups. The Mineral Lock Long Wear Technology that this concealer was formulated with, allows it to last long with mineral pigments and lipids derived from plants.
It's the same technology that helps the concealer bind to your skin so well! The concealer has also clinically proven to help your skin attract and maintain moisture to improve skin's hydration.
I think I can go ahead and say that it's one of the best stick type concealers I've come across. It's super easy to touch up as well. And if you're the kind of person who wakes up 10 minutes before they have to go to work and have absolutely no time to do your makeup then just quickly apply this concealer so you won't look like you just woke up.
#13 — ACSEINE Skin Color Control
Co-developed with dermatologists, ACSEINE products are specifically made to produce hypoallergenic items that are perfect for sensitive skin.
ACSEINE Skin Color Control is a cream-type concealer that gives you an effortless makeup application that you can rely on every single day.
Simply apply it to the parts of your face or skin which you feel need concealer before foundation. The concealer is designed to naturally cover redness, skin dullness, and dark circles under the eyes.
The concealer also contains an essence that helps to keep your skin moisturized and supple, making it easier to apply your next layer of foundation. This double-functioning concealer, providing both skincare and a full coverage effect, makes it the ideal product for women on the go.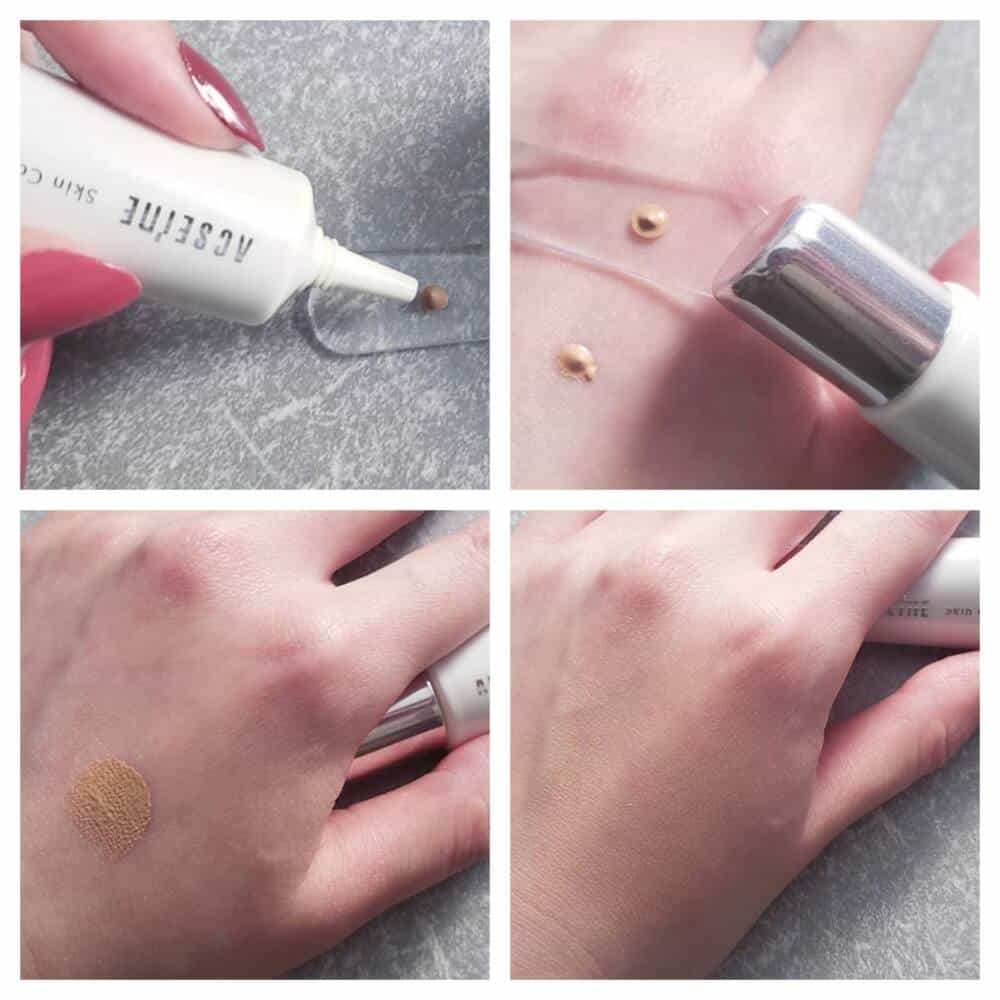 The ACSEINE Skin Color Control is perfect for those days when you want to look your best but doesn't have the time for lengthy makeup routines. Its natural coverage allows you to obtain full coverage with just a few dabs and it can be used alone or under the foundation for a perfect finish.
It's hypoallergenic and perfect for those with sensitive skin, so you can rest assured you'll be safe from any allergic reactions or soreness. 
#14 — ETVOS Mineral Concealer Palette
ETVOS is a makeup brand based in Tokyo whose philosophy is to create makeup products made with a mineral base and kind to the skin.
ETVOS Mineral Concealer Palette can help you achieve a flawless complexion with a gentle and light formula that requires no harsh chemicals.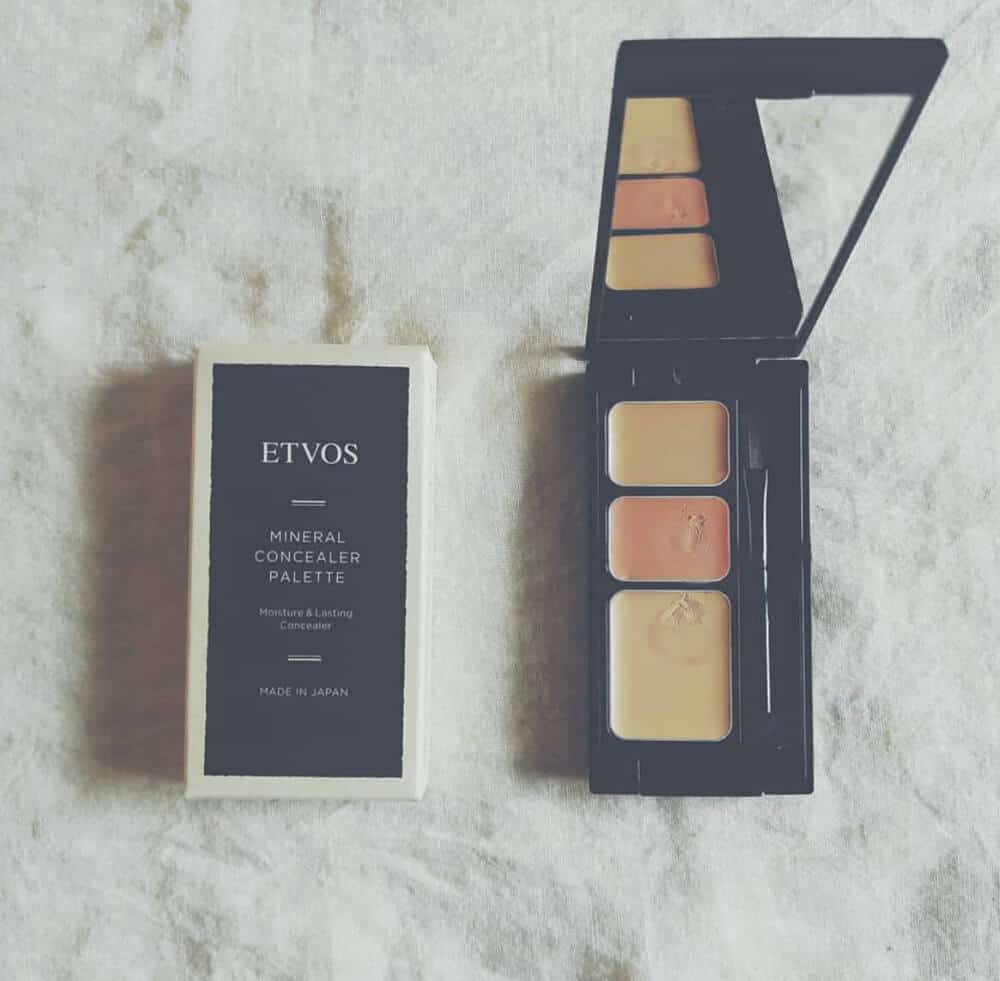 This compact palette contains three shades of natural beige, orange beige and ochre beige to blend perfectly to match your skin complexion.
When I used this concealer I found that the texture of the concealer is creamy and yet light and it is easy to spread evenly across the skin.
It was an absolute pleasure to use the ETVOS Mineral Concealer Palette. You will be amazed at how quickly and seamlessly it blends onto your skin!
Furthermore, if you find that the coverage is too heavy for certain areas, you can easily soften it using a brush, sponge, or other application tools. Just one layer of this concealer will lift and brighten those areas in seconds.
#15 — Diem Couleur Color Blend Powder Concealer by POLA
If you're looking for an amazing Japanese concealer that can cover up dark circles and redness well – look no further than Diem Couleur (POLA).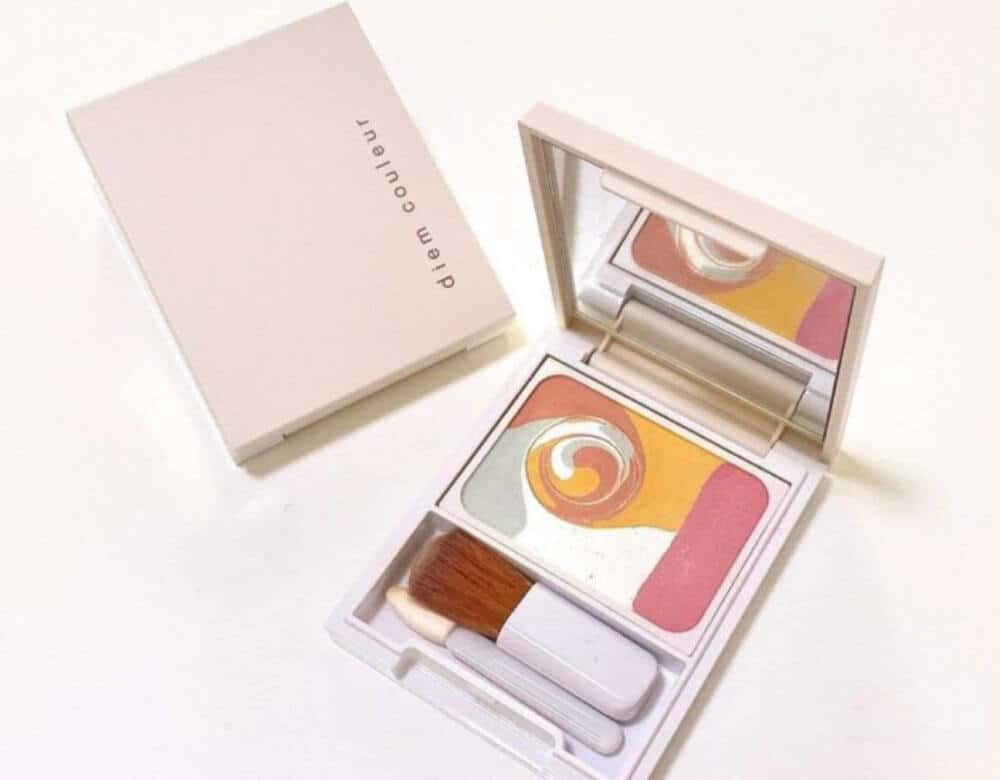 This cosmetic brand knows the importance of looking your best and they have created an innovative Color Blend Powder Concealer.
The beauty serum and key ingredients in this concealer work to transform dull skin into something brighter and luminous. This concealer is moisturizing, which helps to keep your skin feeling hydrated throughout the day.
The Color Blend Powder Concealer has been designed to provide the perfect coverage. The smooth texture makes it easy to apply and blends perfectly into the skin, giving you a natural-looking finish that lasts all day.
This palette can also be used as a blush and lip primer too, making it the ultimate all-in-one concealer.
Which is the best Japanese concealer?
I tested several Japanese concealers based on coverage, texture, formula, application, ingredients, and even value for money. I found Canmake Color Mixing Concealer to be the best Japanese concealer. Here's why:
Canmake Color Mixing Concealer is made with three silky concealer shades. It features a mixing palette for quick and easy mixing of shades. It has good coverage and effectively covers dark circles, blemishes and dark spots. Canmake Color Mixing Concealer is formulated with skin-friendly ingredients like odium hyaluronate and squalane. It is free from tar-based pigments, preservatives, UV absorbers, and fragrance moisturizing agents.
So these were some of the best Japanese concealers I've tried. All of them have their own benefits and cons. However, my favorite Japanese concealer in this list is Canmake's color mixing concealer and Shiseido's Maquillage Concealer Stick. Both of them have good coverage and work really well to cover up dark spots and blemishes.
How to choose the best concealer for your skin?
Choose a concealer that's a coupe of shades lighter than your skin tone. This is because concealers gets slightly darker as it dries.
Choose a texture that suits your skin and gives your enough coverage to cover your blemishes or dark circles. If you pretty much clear skin then a light concealer will do. Remember, heavier the concealer, the tougher your skin will look – making it look unnatural.
Choose the Japanese concealer which is easy to use. This is subjective obviously. I travel a lot so I prefer stick concealers cause it's easy to carry and apply. For heavier makeup I use liquid concealers for better coverage. If you want to use concealer on smaller, specific areas then stick concealers are the best. For larger areas or more coverage liquid concealers are a better option.
Are Japanese concealers good?
Japanese concealers are one of the best in the world. They are formulated with skin friendly ingredients that help your skin get better. And most of the concealers have SPF to help protect your skin against the UV rays. Japanese beauty brands offer both stick type and cream type concealers. And most Japanese concealers do a really good job at covering up spots, blemishes, freckles, etc.