Give your skin a deep cleanse with the best Japanese body exfoliator. For truly glowing skin, a simple step like exfoliating your body regularly makes a whole lot of difference. The Japanese boast of smooth, soft and glowing skin by using the best Japanese body exfoliators to get rid of the dead skin cells and dirt that can't be removed by a body wash.
Why should you use a body exfoliator?
Dead skin cells make the skin look duller. They can clog the pores causing blackheads and acne. Body Exfoliators gently scrub away these cells revealing brighter skin. When the skin is cleaned, it can absorb your skincare products better.
Best Japanese Body Exfoliator: Quick Summary
Which is the best Japanese body exfoliator?
I tried and tested several Japanese body exfoliators to find the best one. I tested them based on their cleaning power, hydration, and gentleness on skin. I found that TOYO Cure Natural Aqua Gel Water Skin Exfoliator is the best Japanese body exfoliator.
TOYO Cure Natural Aqua Gel Water Skin Exfoliator is formulated for all skin types and especially suits dry skin. Formulated with rosemary extract, aloe extract, and Gingko extract, this Japanese body exfoliator has anti-inflammatory and moisturizing properties. The unique hydrogen water formulation enables the scrub to stick to the dead skin cells and wash away as you rinse. Free of colorants, fragrances, or preservatives, this body exfoliator is free of irritants.
Read on for the reviews of the Best Japanese Body Exfoliators below:
Top Japanese Body Exfoliator
House of Rose Original Oh Baby Body Smoother
Best Japanese Body Exfoliator For Smoother Skin
The "Oh baby" body exfoliator by House of Rose will have your shower smelling of sweet roses and your skin soft and glowing.
This body scrub is slightly rough but not too abrasive, just the right amount to get to the tougher skin on your body, like that of the elbows, heels, and knees, and gently remove the dead skin cells. Wash it away and you can immediately experience smoother and softer skin.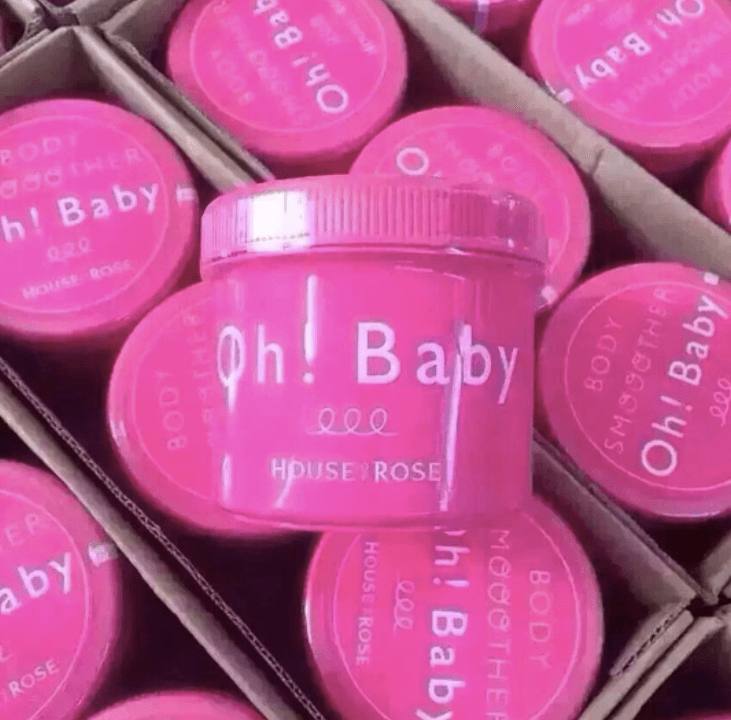 This is my personal favorite Japanese exfoliator because it leaves my skin smooth and soft and definitely smells superb. I also like how well it's formulated.
Key Features:
Mildly abrasive texture
Has a sweet rose fragrance
To be gently massaged into the skin
Effectively removes dead skin cells
Leaves skin feeling softer and smoother
Pros:
A gentle physical exfoliator that smoothens the skin
Ratings:
Ingredients: 9/10
Exfoliation: 10/10
Affordability: 9/10
Related: Best Japanese Serum
CURE: Natural Aqua Gel
Best Japanese Body Exfoliator For Sensitive Skin
The Natural Aqua Gel, Cure is one of the most popular Japanese body exfoliators and is quickly becoming one of the most used exfoliators around the world. This exfoliator is water-based and is safe for all types of skin, even the most sensitive.
Made with 91% hydrolyzed water and the goodness of aloe vera, this exfoliator gently removes the dead skin cells, revealing brighter and fresher skin underneath.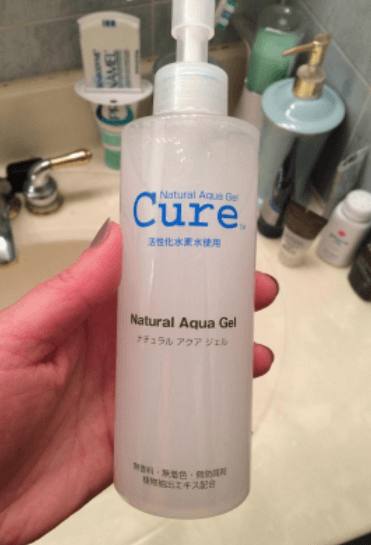 I recommend it to everyone who has sensitive skin because this is a mild exfoliator formulated with goodness. I also like this exfoliator
Key Features:
Physical exfoliating formula
Made with 91% hydrolyzed water
Contains extracts of aloe vera leaves, rosemary leaf extracts and ginkgo Biloba leaf extracts
These ingredients soothe the skin, reduce inflammation and act as good antioxidants
The gel is soft and gentle on the skin
When massaged into the skin, the gel effectively removes dead skin cells 
Free of fragrances, artificial dyes, and other possible allergens
Pros:
A gentle physical exfoliator for all types of skin
Ratings:
Ingredients: 9.5/10
Exfoliation: 9/10
Affordability: 8.5/10
Sabon – Natural Body Scrub
Best Japanese Body Exfoliator For Stimulating Circulation
The blend of real salt from the dead sea with sweet almond oil makes the Sabon Natural Body Scrub just what your dull skin needs for a pick me up. It is super effective on cracked areas like your heels to smoothen them and get rid of the dead skin cells, dirt and grime and leaves your skin feeling soft.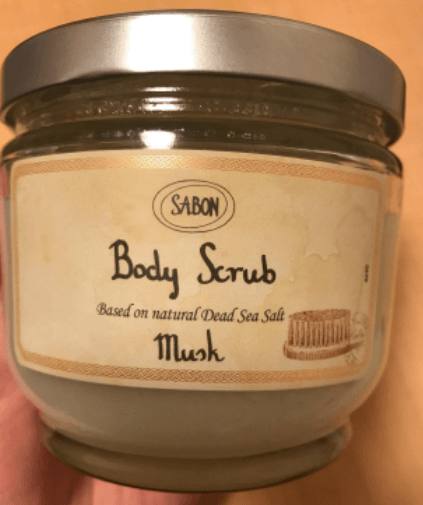 I love Sabon Japanese scrub because it's superb and help me get of my dead skin cells and leaves my skin soft and smooth.
Key Features:
Contains dead sea salt, vitamin E, sweet almond oil and jojoba oil as the main ingredients
Dead sea salt effectively removes hard skin, dead skin cells and dirt
Stimulates blood circulation in the areas this is massaged into
Sweet almond oil and jojoba oil soften the skin, nourish it and condition it
Makes the skin brighter
Pros:
Revitalises the skin
Available in many fragrances like white tea, ginger orange, lavender and patchouli, jasmine, green rose and rose tea
Ratings:
Ingredients: 10/10
Exfoliation: 10/10
Affordability: 9/10
Related: Best Japanese collagen supplements!
Laline Body Scrub
Best Japanese Body Exfoliator For Dry Skin
Bring the scent of the Cherry Blossoms into your shower and to your skin with the lovely Laline Body Scrub. With the texture of melting sugar, this body scrub is mildly abrasive, just the right amount to get rid of the dirt and uneven skin and leave you with fresher and softer skin. If Cherry Blossom isn't your most preferred scent, you can choose from many other aromatherapy fragrances and enjoy the same soothing effect.
Key Features:
Contains natural minerals that act as exfoliants for the skin
Infused with avocado and grape seed oil
Moisturises as it exfoliates
Makes the skin shine
Choose from many different fragrances
Pros:
The aromatherapy fragrances leave you feeling relaxed and calm
Deeply moisturising, best for dry skin
Related: Best Japanese Moisturizer
Salux Nylon Bath Wash Cloth
Best Japanese Body Exfoliator For Daily Gentle Exfoliation
You don't have to always spend a lot of money on an expensive body scrub. Sometimes the best products are just a few bucks and the popular bath washcloths and towels used by the Japanese is proof of that. The Salux Nylon bath Wash Cloth is a cost effective bath towel that is soft on the body and can be used with your body wash or shower gel instead of a loofah.
Key Features:
Soft yet slightly abrasive towel that is structured to exfoliate the body
Use body wash or shower gel and lather on wet bath towel
Removes rough skin, dead skin cells and dirt
Makes the skin softer and smoother
Pros:
Inexpensive
Easy to wash and reuse
Long lasting
ARCH&M Exfoliating Towel
Best Japanese Body Exfoliator For Exfoliation on a Budget
The exfoliating bath towels and washcloths by Arch & M are made from high-quality nylon that is textured to give your skin some mild, yet effective exfoliation. These towels are long enough to scrub even hard-to-reach places like your back. You can replace your regular loofah with this towel for shiny and smooth skin every single day. 
Key Features:
Textured nylon fabric
Soft and gently abrasive
Remove dead skin cells and smoothens skin
Gives a good massage when lathered and used in the shower
Machine washable
Low maintenance
Pros:
Inexpensive
Long towel that is convenient to use
Reusable
Nyk1 Exfoliating Gloves
Best Japanese Body Exfoliator For Spa-Like Exfoliation
If you find bath towels or washcloths not very convenient to use, check out some really cool exfoliating gloves by Nyk1. Wear them like regular gloves and scrub away the dirt and dead skin cells from your body. These gloves or mitts are built from material that is flexible and durable. Though they are soft, they are textured to give you a good exfoliating effect.
Key Features:
Textured and gentle exfoliation
Removes dead skin cells, dirt and fake tan
Reduces ingrown hair and formation of cellulite
Made from heavy duty durable material
Long lasting
Available in two colours
Pros:
Convenient to use
Reusable
Songwol Exfoliating Large Viscos Bath Gloves
Best Japanese Body Exfoliator For Low Budget Exfoliation
Songwol keeps it very simple with a hybrid between a washcloth and an exfoliating glove. This genius design makes it super easy when you want to quickly exfoliate in the shower using your regular shower gel or body wash. These large bath gloves are durable and last forever. They can be easily machine washed and dried for maintaining hygiene.
Key Features:
Made from rayon fabric
Soft and textured for effective exfoliation
Gently removes dead skin cells and rough spots
Lathers the bath soap or shower gel
Leaves skin smooth and soft
Pros:
One of the cheapest options
Low maintenance
MAPUTI Organic Body Scrub Exfoliator
Best Japanese Body Exfoliator For Brightening
Some body exfoliators strip the skin off the natural oils, but Maputi's Organic Body Scrub Exfoliator is just the opposite. This is a soft cushion exfoliator with hydrating cream that infuses moisture into your skin and nourishes it as it softly exfoliates the skin. Your skin also looks brighter and whiter when you use Maputi regularly.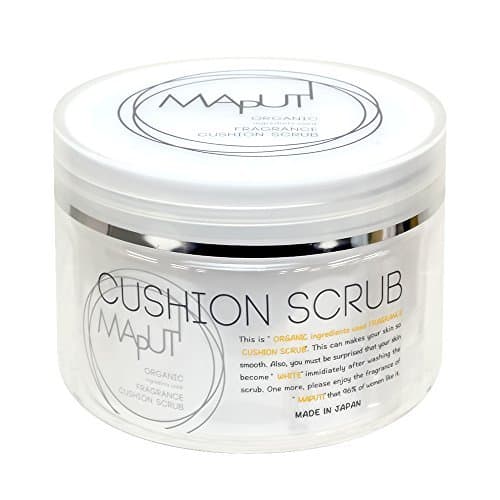 Key Features:
Cushion type of exfoliator
Gently and softly exfoliates
Infuses moisture into the skin
Has a brightening and whitening effect on the skin
Safe on skin even if there is some amount of exfoliator left back on it
Pros:
Moisturising body scrub that is great for dry skin
KUMA Bath Washcloth
Best Japanese Body Exfoliator For Full Body Exfoliation
Kuma is a high end brand that makes bath washcloths from premium natural fibres. This fabric is gentle and safe on your skin, so soft that it doesn't even feel like you are actually exfoliating. These are some of the most authentic Japanese exfoliating towels. Kuma towels are super long, dry very quickly and are very durable.
Key Features:
Made from naturally derived fibres from tapioca roots, corn starch and sugar came mixed with 45% Ramie
Soft and gentle on the skin
Very long, measures 38 inches
Easy to wash and dries quickly
Pros:
Safe on the skin
Made from environmentally friendly fabric
What to consider when buying a Japanese exfoliator?
Exfoliators are great to get rid of dead skin cells, impurities, etc. and bring back your body glow. Here are a few points on how to choose the right exfoliator below: 
Skin type: It's important that your body exfoliator is suiting your skin type to address the particular skin concerns you have. For dry skin, exfoliators with ingredients such as hyaluronic acid, aloe extracts, etc. are good. An exfoliating towel or scrub works equally well to remove the flakiness and smoothen the skin. Oily skin types can go for ingredients like lemon, honey, and sugar that will exfoliate, smoothen as well as keep the moisture level balanced. For acne-prone skin, go for ingredients like AHA and BHA that will prevent breakout and pore-clogging. Mature skin types can look for a mild exfoliant with retinol that improves aging signs. 
Ingredients: Look for ingredients that only benefit your skin and are plant-based. Don't go for ingredients that can potentially damage your skin like alcohol, mineral oil, parabens, sulfate, etc. 
Read reviews: Check for reviews to know how the product actually is. Most of the reviews given come from experience and will tell you all about the nature of the product, beyond its description. Positive reviews are always preferred, obviously.
Benefits of Body Exfoliator:
​​If you're not using a body exfoliator, then you're seriously missing out! Here are just a few of the benefits that you can enjoy by incorporating this simple step into your skincare routine:
1. Exfoliation helps to remove dead skin cells, which can leave your skin looking dull and tired. Regular exfoliation encourages cell turnover, resulting in brighter, healthier-looking skin.
2. Exfoliation can also help to unclog pores and prevent the build-up of oil and other impurities on the skin. This can in turn help to reduce the formation of acne and other blemishes.
3. By stimulating blood flow and circulation, exfoliation helps to tighten skin and keeps the skin healthy.
Best Japanese Body Exfoliator: FAQ
Do Japanese people exfoliate?
Yes, Japanese people do exfoliate their faces and bodies for glowing and smooth skin. It eliminates dullness, removes impurities, brightens complexion and brings a youthful glow. They exfoliate twice or thrice a week.
How do the Japanese exfoliate?
Japanese exfoliate their face and body in an extremely simple way by applying the exfoliant to their dry skin. The polymer-based liquid balls combine with sebum and as you massage, the balls rub against your body and exfoliate your skin removing dead skin, brightening your complexion etc.
Also Read: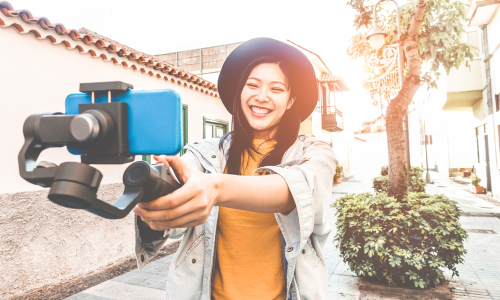 Hiya! I'm the main author of Japan Truly. I love everything Japan and love testing out Japanese products, be it skincare and makeup or gadgets! You'll find reviews of some of the best selling Japanese products (tried and tested) right here!
Cure Natural Aqua Gel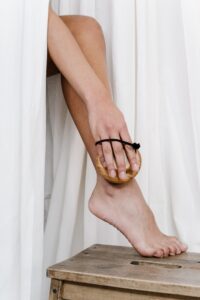 Here are the best Japanese body exfoliator for soft supple skin! Do check out Cure Natural Aqua Gel which is the best body exfoliator. Read further to know more about it.
Product SKU: 000987YUH789
Product Brand: CURE
Product Currency: USD
Product Price: 37.99
Price Valid Until: 2022
Product In-Stock: InStock